Chinese stocks expected to further gain after May Day holiday
Global Times
1588288861000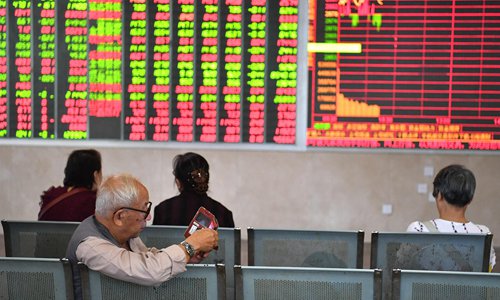 Investors monitor stocks at a trading center in Chengdu, Southwest China's Sichuan Province. (Photo: VCG)
Chinese stocks rallied on Thursday, the day when several signs pointed to a further economic rebound, such as the official manufacturing Purchasing Manager's Index (PMI) for April, which continued to suggest economic expansion after March, and as Beijing lowered its COVID-19 emergency response level. This comes a day before the country enjoys its week-long May Day holiday that should further boost consumption.

On Thursday, the Shanghai Composite Index edged up by 1.33 percent, the Shenzhen Component Index rose by 1.97 per-cent, while the tech-heavy ChiNext board rose by 1.92 percent.

A surge of tech shares mostly drove the rally. 6G shares rose by 6.53 percent, 3D sensing shares hiked by 5.89 percent, while the Tesla related shares increased by 4.76 percent.

Tesla had posted a profitable first quarter with a net income of $16 million despite coronavirus-related problems. Consumption shares corrected a little a bit despite the upcoming May Day holiday should be a good chance for consumption to pick up in the epidemic-battered country. Leisure food shares edged down by 1.12 percent, while ordinary chemicals shares edged down slightly by 0.38 percent.

But Yang Delong, chief economist at the Shenzhen-based First Seafront Fund Management Co, said that it would be the trend for consumption shares to rebound as consumption gradually recovers from the negative impact of the coronavirus.

He also noted that the markets are cheered by the anticipation that China's economy will speed up recovery in the next few months, as indicated in the PMI data re-leased on Thursday.

China's official factory PMI was recorded at 50.8 in April, down from March statistics of 52.0, showing activity expanded, albeit at a slower pace, according to data released by the National Bureau of Statistics (NBS).

China's top political advisory body pro-posed opening its annual session on May 21, and the top legislature will begin its yearly session on May 22. As the markets expect more stimulus policies to be rolled out during the sessions to boost the domestic economy, it will lay the foundation for the stocks to edge up further, Yang said.