Deal benefits US factories, farms, financial firms
Global Times
1579054742000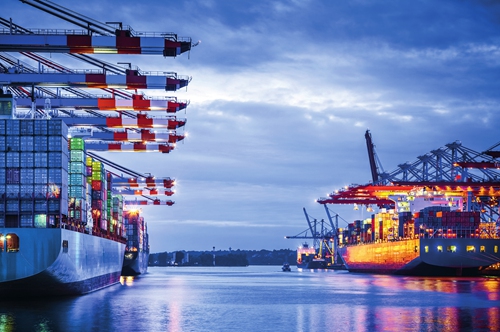 (Photo: VCG)
US manufacturers, energy suppliers, farmers and financial services providers will benefit from China's vast import potential and purchases, Chinese analysts said on Tuesday, as the two countries are poised to sign a phase one deal to achieve a trade war truce.
Chinese Vice Premier Liu He, the nation's chief negotiator for the China-US trade talks, is in Washington to sign a phase one trade agreement.
With the signing of the deal, China is expected to increase its imports of US products and services significantly, and a number of sectors in particular stand to benefit, according to Chinese analysts.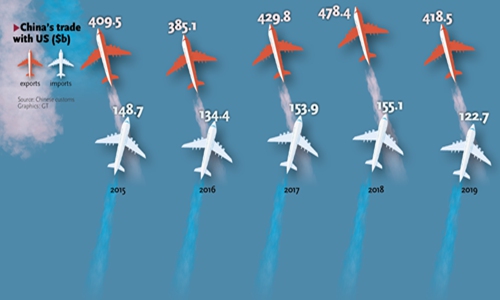 (Graphics: Global Times)
Significant increase
Past experience combined with new trends generated by China's favorable policies on imports underline the possible significant increase of Chinese purchases of US products, analysts noted.
Liu Min, China market analyst at FXTM, told the Global Times on Tuesday that given the public information on the text of the deal available so far, stakeholders in the US technology, agriculture and financial industries stand to benefit from the agreement and its implementation.
Liu said that as seen from the 2019 figures, China's trade with the US still has much room to grow. In 2019, China's dollar-denominated trade with its largest trading partner - the EU - stood at $705.1 billion, while trade with the US was $541.2 billion, per Chinese customs.
China posted a sharp increase in imports of meat, vegetables and fruit during the first 11 months of 2019, noted Liu, citing data from the General Administration of Customs (GAC). The 18-month dispute has taken a heavy toll on China-US trade. China's 2019 trade with the US shrank 10.7 percent year-on-year in yuan terms and the Association of Southeast Asian Nations rose to become China's second-largest trading partner, data from the GAC showed on Tuesday.
In 2018, China imported $155.1 billion worth of goods from the US. In the first 11 months of 2019, the figure was $122.7 billion.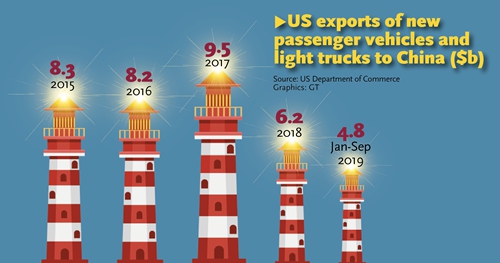 (Graphics: Global Times)
Favorable policies
However, imports from the US have been rebounding since November and December with the implementation of stimulus policies favorable for trade, a GAC official said on Tuesday. In December, agricultural imports doubled to 14.1 billion yuan ($2.04 billion) and 23,000 auto vehicles were imported, an increase of 50 percent year-on-year. US soybean and pork imports also increased.
In December, China excluded retaliatory tariffs it previously imposed on US-originated soybeans and pork. It also generally reduced import duties for a large number of goods from January 1.
The first batch of US chicken feet totaling 23.94 tons arrived in Shanghai Monday afternoon, marking the return of US poultry to the Chinese market after a five-year ban, according to media reports. China lifted the ban in November 2019.
In terms of energy, an annual purchase of 10-15 billion cubic meters of liquefied natural gas (LNG) would not be difficult, although global crude prices, demand and competing alternative sources have also to be factored in, said Jin Lei, an associate professor at the Beijing-based China University of Petroleum.
"China purchased around 2.9 billion cubic meters of LNG from the US in 2017, up about six times from 2016, and that shows the potential of China's liquefied natural gas imports from the US," Jin told the Global Times on Tuesday.
As China further opens its financial sectors, US companies, which boast an advantage with their expertise in the field, are set to see more exports in the form of services to China, FXTM's Liu said.
US banking giant Goldman Sachs is planning to double its work force in China over the next five years to 600 people, according to media reports on Monday.