Investors stay cautious on China's sci-tech board as investment values are murky
Global Times
1563737745000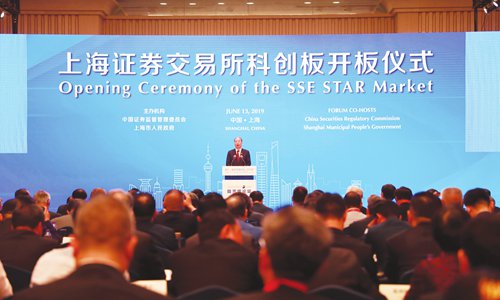 Yi Huiman, Chairman of China Securities Regulatory Commission (CSRC), speaks at the opening ceremony for the SSE STAR market during the 11th Lujiazui Forum 2019 in Shanghai on June 13. (Photo: IC)
China's much-anticipated stock trading board for high-tech startups is off to a bounding start, as capital floods the new board with rising public anticipation for returns.
However, as time draws near for the science and technology innovation board to officially commence public trading, the market is becoming increasingly alert to some "abnormal" phenomena during the new board's IPO entrants in recent days, triggering discussions among experts and industry insiders on domestic media platforms.
In particular, doubts have been raised about the "three highs" during IPO fundraising on the new high-tech board, namely, the high price earnings ratio, high IPO price and high over-raised funds.
Experts and industry professionals have expressed other worries, such as China's law enforcement capabilities against board regulation violations, as well as long-term investment values of high-tech companies on the board.
Three highs
Statistics show that on the new board, "three highs" are becoming a common occurrence.
Of the 25 science and technology innovation board companies that have completed IPO fundraising thus far, the average price earnings ratio, or P/E ratio, is 53.4. One such stock, the Shenzhen-based semiconductor maker Cmsemicon, has an IPO P/E ratio of 170.75, the highest among those companies.
That compares to the 23 IPO P/E ratio ceiling on the A-share markets in recent years.
P/E ratio, the ratio of a company's price per share to the company's earnings per share, is a widely used method for valuing a company's stock.
According to domestic media reports, more than 80 percent of the aforementioned 25 companies are expected to raise funds larger than their initial fundraising plan. In particular, the Shandong-based Yantai Raytron Technology's expected fundraising total of 1.2 billion yuan ($174 million) has exceeded its original plan to raise 450 million yuan by more than 166 percent.
In terms of IPO price, by the Global Times' calculation, only one-fifth of the 25 companies have their IPO issue price below 20 yuan per share. In comparison, it's quite common for A-share stocks to have an IPO issue price below 10 yuan.
In particular, TF Securities, the cheapest new stock in 2018, priced each of their shares at only 1.79 yuan at IPO.
The "three highs" have caused many discussions among analysts and industry insiders, and some have expressed worries concerning the situation.
Gui Haoming, a senior expert at Shenwan Hongyuan Securities research center, for example, has published a commentary in the Securities Times newspaper stressing that the new board should dissolve potential risks caused by the "three highs" phenomenon.
Another report from the Securities Times also listed a number of methods suggested by industry sources regarding how to "melt" the three highs.
A reflection of board nature
However, experts and industry insiders whom the Global Times talked to have looked at the matter from a rather calm perspective, as they say the "three highs" represent investors' high anticipations for the new board.
A Shanghai-based veteran securities firm employee said that in his observation, of all the people or companies that he knows are qualified to open accounts for the new science and technology innovation board, most of them have already opened accounts.
"Most investors have high expectations for the new board. They are viewing this board from a positive perspective and wouldn't want to lose the opportunity to invest in it. This is causing a little imbalance in supply and demand at the beginning," he told the Global Times on Monday.
He anticipated that despite the initial passion, the stock price will gradually tend toward a balancing point that reflects the companies' genuine values. "If the high P/E ratio can't be supported by proof of steady company growth or business records, the stock price will correct on the secondary market. Many shares on the ChiNext board have gone through a similar process of price correction," he said.
Xi Junyang, a professor at the Shanghai University of Finance and Economics, said that the "three highs" are a "natural result" of the new board's nature, which is free of government guidance on IPO issue price, unlike other mainland boards.
"There are no such definitions as 'high' or 'low' on the science and technology innovation board. All prices are a reflection of market demands and therefore are reasonable," Xi told the Global Times on Tuesday.
What they are more worried about is whether Chinese investors can shift their investment mindset to adapt to the new rules adopted by the high-tech board.
"Now there are investors who have blindly thrown money into the new board without a full understanding of the risks. They should bear in mind that they must be totally responsible for the investment decisions they make instead of blaming others, like securities regulators in some cases in the past," Zhao Xijun, deputy director of the Finance and Securities Research Institute at the Renmin University of China, said.
Yang Zirong, an assistant research fellow at the Department of International Finance, under the Institute of World Economics and Politics at the Chinese Academy of Social Sciences, said that investors tend to tie the upcoming new board with government strategy.
"This 'tie-up' thinking is one important reason behind the active IPO subscription on the board, and some even think that they won't lose money because of government support. This is wrong. The science and technology innovation board is an important experiment but it never means government endorsement of listed companies' share prices," he told the Global Times.
Worry for long-term
Despite active participation in the beginning stages, some industry workers still have doubts about the long-term investment values of companies on the board.
One private fund executive surnamed Su told the Global Times on condition of anonymity that thus far, only the 'first-tier' fund managers dare to invest in the new board, and they are doing this only as a way to test the waters.
"So far the new board has not shown a clear development trend. To smaller companies like us, the new board has too small a scale and too high risks," he said.
He also has worries as to which direction the board will turn in the long run, as he remembers that the ChiNext board had a similar trajectory in its initial phase and was also passionately pursued by capital in the beginning, but now the board is full of companies with low investment values.
Xi said that in the future, it's very likely that the science and technology innovation board will diverge with both good and bad companies being listed. "But considering the high-tech orientation of the board, we can expect the emergence of its 'shining stars' at some point in the future," he said.
According to Yang, in the long run there must be companies that withdraw from the board due to poor performance.
"Therefore it's necessary to perfect the withdrawal channel on this board," he said.
Worries about law enforcement
Some experts have also expressed doubts about the penalty mechanism with regards to the new board.
"China still has weaknesses when it comes to securities law enforcement. For example, we lack enough lawyers, court prosecutors and judges who can deal with securities cases. The country also lacks public security officers who specialize in economic crimes," Zhao said.
According to him, settlements of legal cases related to the main board are not easy due to a lack of professional staff, not to mention sufficient manpower to discipline companies on the science and technology innovation board, which has even more complicated regulations.
But Xi pointed out that although the stock-issuance threshold is lower for the new high-tech board, management is in fact stricter with higher requirements on information exposure, and higher responsibilities for intermediary agencies.
Therefore, the cost of legal violations would be higher on the new board, pressuring the listed companies to abide by relevant regulations.