Tokyo stocks closed mixed on buybacks, global economic outlook weighs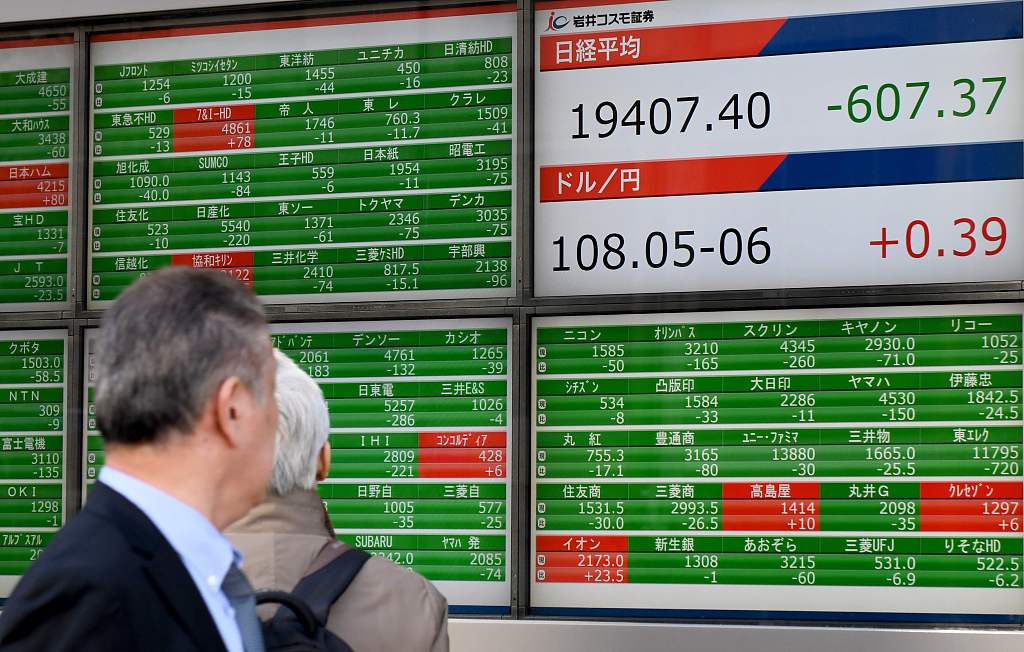 File photo: VCG
TOKYO, Sept. 4 (Xinhua) -- Tokyo stocks ended mixed on Wednesday as investors bought back some issues following recent declines but concerns over the future course of the global economy continued to weigh on sentiment.
The 225-issue Nikkei Stock Average added 23.98 points, or 0.12 percent, from Tuesday to close the day at 20,649.14.
The broader Topix index of all First Section issues on the Tokyo Stock Exchange, meanwhile, lost 3.98 points, or 0.26 percent, to finish at 1,506.81.
Tokyo stocks opened slightly lower on Wednesday after inheriting a weak lead from Wall Street overnight on continued concerns over trade issues and jitters related to Britain's planned exit from the European Union, local brokers highlighted.
But investors buying back issues previously oversold recently after a sluggish start helped trim losses, they added, with issues sensitive to domestic demand finding favor.
Domestic retailers like convenience store operators advanced, with FamilyMart Uny Holdings adding 0.9 percent and Seven & I Holdings climbing 1.7 percent.
But technology issues exposed to external factors lost ground, as investors remained concerned over global economic issues, and silicon chip wafer maker Sumco dropped 1.2 percent, while Yamaha Motor fell 1.4 percent. Machine tool maker Okuma, meanwhile, ended the day 1.7 percent lower.
By the close of play, marine transportation and miscellaneous product issues led those that gained, while pulp and paper, and iron and steel-linked issues comprised those that declined the most, and issues that fell outpaced those that rose by 1,587 to 482 on the First Section, while 81 ended the day unchanged.
On the main section on Wednesday, 900.11 million shares changed hands, rising from Tuesday's volume of 841.23 million shares.
The turnover on the third trading day of the week came to 1,593.1 billion yen (15.00 billion U.S. dollars).