Japan's economy enters recession for 2nd quarter after virus-hit decline
TOKYO, May 18 (Xinhua) -- Japan's economy shrank for a second straight quarter in the January-March period and entered a technical recession as a result of the adverse effects of the coronavirus pandemic, the government said in a report on Monday.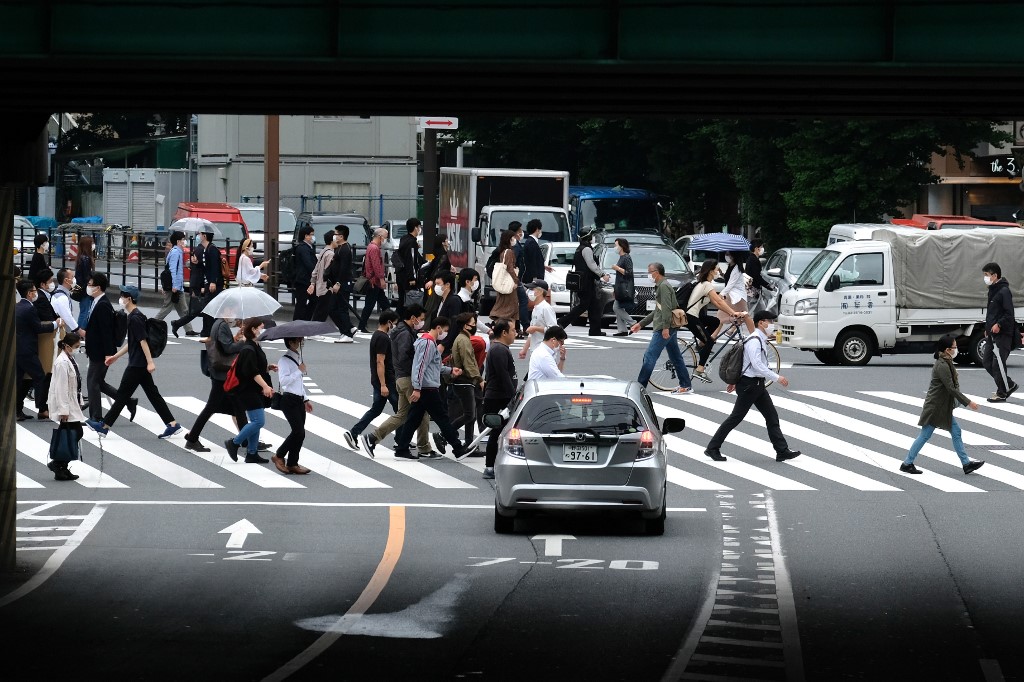 Pedestrians walk on a crossing in Tokyo on May 18, 2020. (Photo: AFP)
According to the Cabinet Office, the economic shrank by an annualized real 3.4 percent in the January-March period from the previous quarter.
The decrease in the quarter corresponds to a 0.9-percent decline on a seasonally adjusted quarterly basis, the Cabinet Office said.
The preliminary reading of inflation-adjusted gross domestic product, comes of the heels of a contraction logged in the previous October-December quarter.
In the final quarter of 2019, the economy shrank 7.3 percent, owing mainly to a consumption tax rate hike from 8 percent to 10 percent in October last year, but also due to a powerful typhoon wreaking havoc on the country during the period.
The second straight quarter of economic decline means that the world's third largest economy has fallen into a technical recession.
Accounting for around 60 percent of the Japanese economy, private consumption fell 0.7 percent from the previous quarter, as spending on travel and dining out dropped sharply, particularly after the stay-at-home request was issued by the government, the latest data showed.
The Cabinet Office also said that private capital expenditure declined 0.5 percent, in the recording period, while private residential investment fell 4.5 percent.
Trade was also significantly impacted by the virus, with the export of goods and services plunging 6.0 percent, with demand for cars and auto parts marking a significant drop, the data showed.
Imports, meanwhile, declined 4.9 percent, as the virus hit demand, with falling energy prices also taking their toll, the office said.
Japanese Economic Revitalization Minister Yasutoshi Nishimura told a press conference on Monday that the downside effects of the coronavirus pandemic on Japan's economy are expected to deteriorate further.
The economy will "slow down to a considerable extent for the time being," Nishimura said.
He went on to explain that the coronavirus' impact on the economy was considerable and set to get worse due to the declined economic activity.
Looking ahead to the April-June quarter, he indicated that a further contraction was expected from April to May due to the state of emergency declaration, which saw businesses shuttered and the movement of people restricted.