Tesla's Model 3 price cut boosts its Chinese suppliers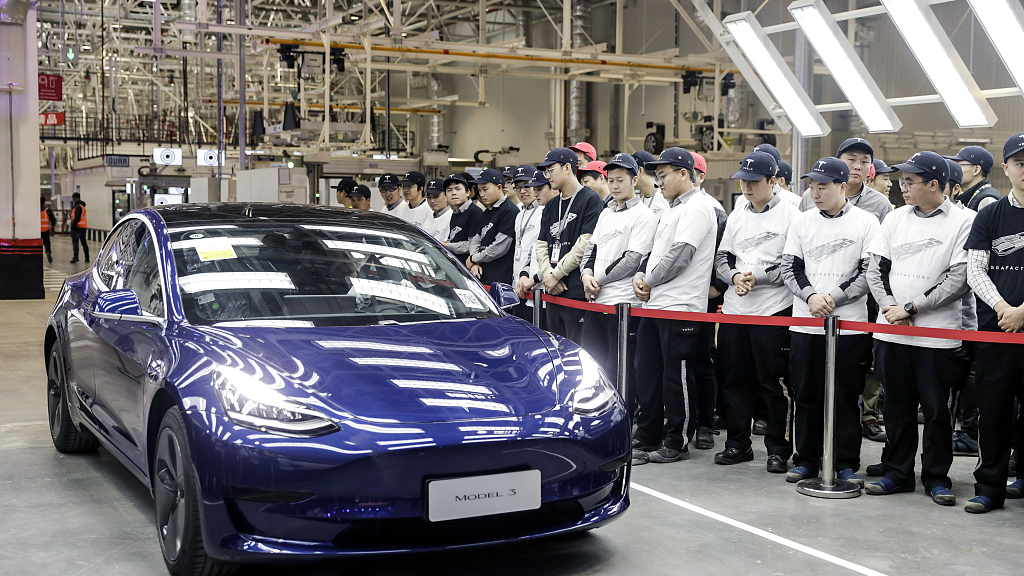 Tesla Inc. delivered its first China-built cars at the company's Gigafactory in Shanghai, China, December 30, 2019. (Photo: VCG)
News that US electric car giant Tesla Inc. was about to deliver its first China-made Model 3 sedans sent the stock prices of its Chinese suppliers flying on Monday.
Tesla will officially hand over its first China-made Model 3 sedans to the public on January 7 at an event at its first offshore Gigafactory.
The company last Friday also announced a price cut of 9 percent on its Model 3 cars, putting the retail price at 299,050 yuan (42,919 US dollars) after the Chinese government set a 25,000 yuan subsidy for new-energy cars.
Given Tesla's international glamor and popularity among Chinese consumers, the price tag makes it competitive with Chinese rivals' products, such as Nio's popular SUV ES6, which is priced at 358,000 yuan.
The Tesla Index, consisting of 31 constituent stocks of Tesla's supply chain in China, surged by 5.9 percent on Monday, with four stocks rising to daily limits of 10 percent after the market closed, according to financial data services provider Wind.
Appliance parts maker Zhejiang Sanhua Intelligent Controls, a Tesla supplier, saw its shares rise to the daily limit and a record high, ending the day with a 6.83 percent increase.
Stocks of other suppliers, including Ningbo Tuopu Group Co. and Ningbo Xusheng Auto, also rose to near the daily limit or to multi-year highs after Monday's trading.
The California-based Tesla also reported a new record for quarterly global deliveries of 112,000 units in the final three months of 2019.