Chinese deliverymen going abroad for work opportunities
People's Daily
1591563302000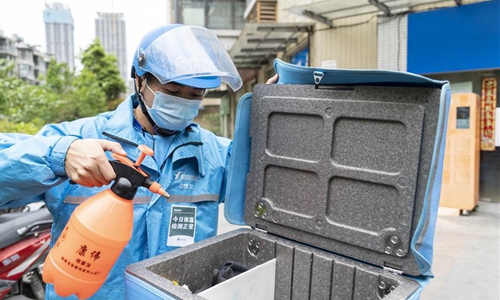 Qiu Youhazi disinfects the food delivery box in Chengdu, capital of southwest China's Sichuan Province, April 22, 2020. (Photo: Xinhua)

The Chinese food delivery sector has seen rapid growth in recent years, with more and more people in China finding they are unable to live without the service, particularly during the COVID-19 pandemic when most restaurants were closed due to the lockdown. And now, Chinese deliverymen have been seen on Tokyo's streets, which is changing people's lives in the city.

A Weibo user called "Song Wei Qiang" posted a video on China's short video platform, Douyin - the Chinese version of TikTok - on Wednesday.

In the video, the user interviews a deliveryman who stops at the side of a street in Tokyo and appears to be checking his cellphone for the next food order. The man is on a motorcycle with a yellow box on the back seat, which is very similar to those in China and wearing a helmet and a mask.

"I work for a food delivery company and all the employees are Chinese," says the deliveryman to "Song Wei Qiang."

The deliveryman says he can earn at least 300 yen (approximately $2.80) for one order, and the amount of money he gets is usually based on the delivery distance. "I work for about six hours a day and can earn about 200,000 yen a month," he noted, adding that most of their customers are Chinese people in Japan.

The video attracted a lot of attention on the Chinese internet and has received more than 730,000 likes and over 46,000 comments. Many netizens said that they were jealous of those Chinese deliverymen working in Japan, as they can earn much more than those working even in China's first-tier cities.

"I work eight hours a day and often work overtime, but I can't even make half as much as he earns," one netizen complained in the comment sections.

According to Zhilian Zhaopin, one of China's biggest employment portals, the average monthly salary in Beijing after the Spring Festival in 2020 was 11,874 yuan ($1,673).

However, some netizens said that the salary that the deliveryman mentioned in the video is not that high, considering Japan's relatively high cost of living.

"The groceries are so expensive here in Japan. Prices are usually double or even triple those in China," said one netizen.

Some netizens also questioned if the deliverymen were well-prepared for the coronavirus pandemic and if they are allowed to enter residential compounds in Japan.

According to a video shared by Feidian Guoji on Sina Weibo, Chinese people who live in Japan can order hot pot, kabab, dumplings, and bubble tea - all popular Chinese items - from a food ordering app, which is very similar to those used in China.