As business trickles back, hotels compete on cleanliness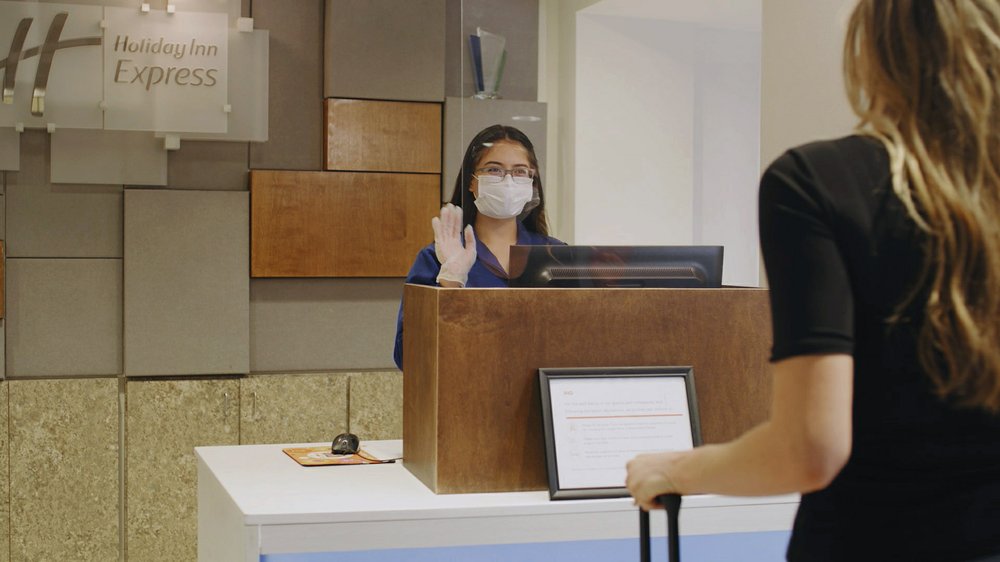 A masked front desk agent gestures to a hotel guest at a Holiday Inn Express in Austin, Texas. (Photo: AP)
Marriott, Hilton and other big hotel companies are used to competing on price or perks. Now they are competing on cleanliness.
From masked clerks at the front desk to shuttered buffets, hotels are making visible changes in the wake of the pandemic. Signage will tout new cleaning regimens: Red Roof Inns promise "RediClean," while Hilton boasts of "CleanStay with Lysol."
But hotels are still mostly empty in the U.S. occupancy stood at 37 percent the week ending May 30, down 43 from the same period a year ago, according to STR, a data and consulting firm. But leisure travel is starting to pick up, and hotels see cleaning standards as a way to soothe jittery guests – and possibly win back business from rivals like home-sharing companies like Airbnb.
Hilton and other companies have called in experts to develop new standards. Marriott and IHG – the parent company of Holiday Inn – are working with EcoLab, which makes industrial cleaning products. IHG is also getting advice from the Cleveland Clinic. Hilton has partnered with the Mayo Clinic. Hyatt is working with ISSA, a global cleaning industry association.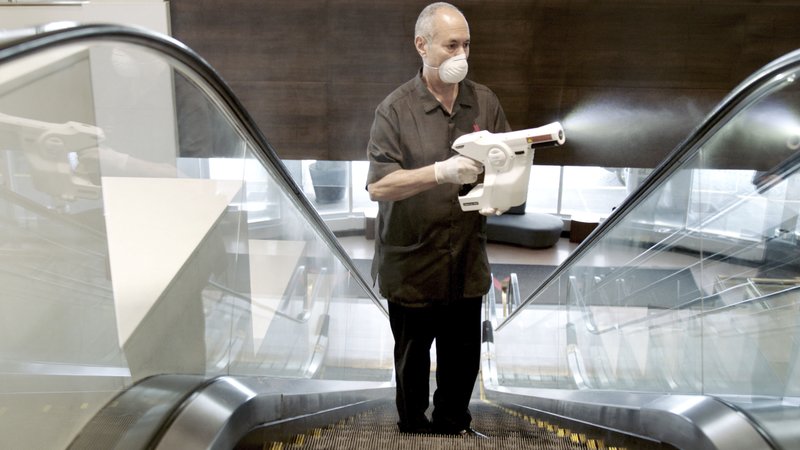 A staff using an electrostatic sprayer to clean public areas at the Brooklyn Bridge Marriott in New York. (Photo: AP)
Hotels walked through the guest experience and made changes at every touch point. Hilton's hotel shuttles will be disinfected hourly and passengers will have access to wipes. MGM Resorts, which is reopening four Las Vegas hotels on June 4, will ask restaurant guests to view digital menus on their own phones.
Changes vary by hotel. Guests may find lobby furniture moved further apart or hand sanitizer stations next to elevator keys. Shared coffee stations are gone. DoubleTree still offers warm chocolate chip cookies, but only upon request.
Inside the rooms, surfaces like TV remotes and light switches will get an extra cleaning. Best Western is getting rid of decorative pillows, pens and other unnecessary items. Red Roof is telling staff to bag up dirty sheets inside its rooms, to limit spread of disease. Once a room is cleaned and disinfected, Hilton will put a sticker on the door so guests know no one has been inside.
Hotels are experimenting with new technology. Marriott and others are using electrostatic sprayers to spritz lobbies with disinfectant. Many hotel brands are also encouraging guests to access their rooms using their mobile phones. Hilton says 4,800 of its 6,100 hotels have that capability so far. Marriott offers keyless check-in in 3,200 hotels.
Airbnb CEO Brian Chesky thinks guests will prefer separate homes to hotels filled with people. Airbnb – which is also working with EcoLab and former U.S. Surgeon General Dr. Vivek Murthy – will continue to upgrade its cleaning protocols, he said.