1.5 million orders delivered in 2 hours: Dada-JD Daojia sets record on Singles' Day
People's Daily app
1573659182000
China's leading on-demand logistics and e-commerce firm Dada-JD Daojia announced on Tuesday that it set several new delivery and sales records on Singles' Day, the world's largest online shopping event.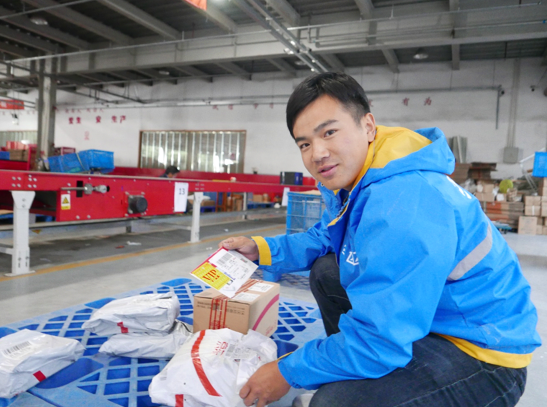 Dada, the local on-demand logistics platform of Dada-JD Daojia, helps JD.com and other e-commerce platforms to achieve better order fulfillment on Singles' Day, which occurs in China every November 11.
Dada's deliverymen distributed nearly 1.5 million packages to consumers between 10 am to noon on November 11.
During Singles' Day, the sales in lower-tier cities on JD Daojia, the online-to-offline e-commerce platform of Dada-JD Daojia, increased by 5.7 times year-on-year. Consumers in lower-tier markets have released their accumulated purchasing power and enthusiasm. This helps JD Daojia expand in small- and medium-sized cities in China.
Mr. He, who lives in Chengdu, received his package from JD.com at 0:45 am on November 11. This was the first package of JD.com sent out on Singles Day. It only took 10 mins from ordering to receiving, and was delivered by Dada. As Dada-JD Daojia's logistics platform, Dada provides speedy grocery delivery service to consumers, not only in Beijing and Shanghai, but also in lower-tier cities in China.
As the largest shopping event in the world, Singles' Day's orders for Dada are several times more than its daily average. The peak delivery is expected to last from November 11 to 13, while the total delivery distance traveled by Dada's deliverymen is expected to exceed 300 million kilometers.
The leading logistics systems used by Dada allowed packages to be quickly and efficiently delivered on Singles' Day.
Singles' Day, also known as Guanggun Jie in Chinese, has become by far and away the largest shopping event in the world. As Chinese e-commerce companies offer massive discounts over the 24-hour period, consumers celebrate their singlehood and participate in the online shopping carnival every year.
However, entering the second decade, Singles' Day is not a traditional online shopping festival only for Alibaba and T-mall in China. With the "one-hour shopping" trend, more consumers prefer shopping via JD Daojia, Dada-JD Daojia's online-to-offline e-commerce platform this year.
According to JD Daojia, Singles' Day's sales of some lower-tier cities, such as Datong in Shanxi, Shaoguan in Guangdong, Yichang in Hubei, Nanchong in Sicuang and Guilin in Guangxi, increased by more than 6.5 times compared with the average sales in the third quarter.
Milk, paper, vegetables, rice and fruits became the most popular categories in lower-tier cities. Both 10 am and 4 pm are the peak times for consumers to order via JD Daojia, 2 hours before meals.
Cosmetics and fresh food are the fastest growing categories. The sales of household appliances, textiles, health services, toys and imported goods increased by more than 2.5 times year-on-year. With these daily necessities becoming increasingly popular, the trend of "one-hour shopping" has expanded rapidly in all regions, all categories and for all customers.
On Singles' Day, the sales of retailers and brand partners on JD Daojia's platform also achieved rapid growth. Walmart's sales were 1.7 times higher compared to sales of same period last year, becoming the largest retailer on JD Daojia's platform in sales. Yonghui increased by 3.5 times, Vanguard by 7 times, and 7 FRESH by 3.5 times. Meanwhile, JD Daojia together with Unilever, Pepsi, Mars Wrigley, Yili, Yihai Kerry and other famous brands provided more than 7,300 items and over 250 new products in the shopping festival, including wines, snacks, oil, toiletries and other hot items. The Singles' Day sales of a new products, coffee Coca-Cola, increased by 9.2 times compared with the same period last month.