New policies to deepen Lingang opening-up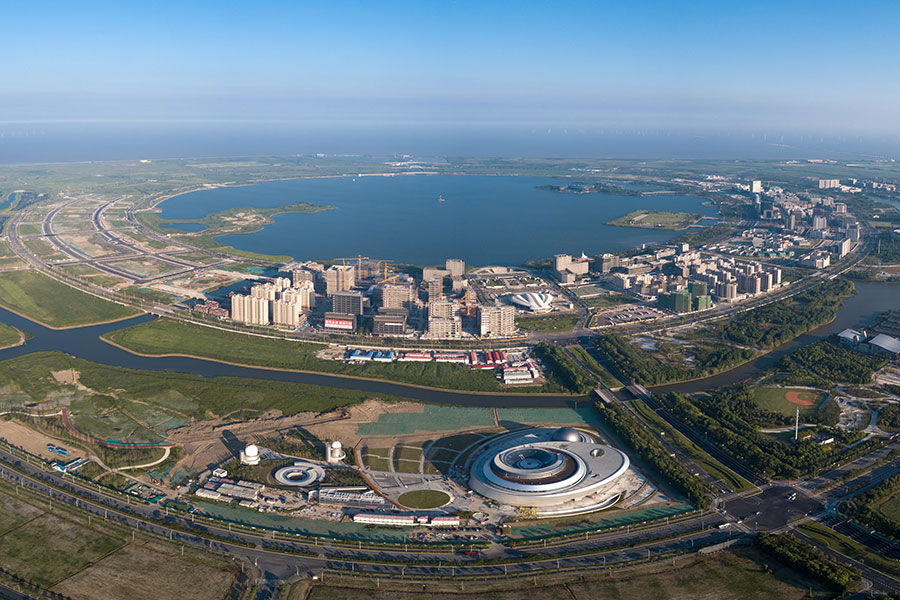 An aerial view of the Lingang Special Area of the China (Shanghai) Pilot Free Trade Zone in Shanghai. (Photo: China Daily)
Efforts geared to attract more talent from home and abroad, say experts
The municipal government of Shanghai announced 50 measures for the newly added Lingang Special Area of the China (Shanghai) Pilot Free Trade Zone on Friday to make it an influential and competitive special economic zone in the world.
The measures cover eight major areas including relaxed regional administrative authority, talents, fiscal and finance, land use, industrial development, housing, transportation and infrastructure.
Yuan Baiwei, inspector of the Shanghai Municipal Finance Bureau, said that the municipal government will launch a development fund within the year to support the strategic industries in Lingang. The fund will provide more than 100 billion yuan ($140 billion) of fiscal support in five years to nurture research and development, technology renovation and new products.
There will also be special tax arrangements in Lingang, pending final approval from the Ministry of Finance, said Yuan.
Lingang Special Area was launched on Aug 20, with a startup area of 119.5 square kilometers. Ma Chunlei, director of the Shanghai Municipal Development and Reform Commission, said that the 50 measures have been introduced to stabilize companies' expectations on policies so that they can make long-term plans in Lingang.
Talent policies are the highlight of the newly released measures, targeting professionals from home and abroad. Specifically, talents, who have worked in Lingang for certain years and promise to continue working in the area for at least two more years after obtaining Shanghai residential licences, can be granted Shanghai household registration within five years, instead of seven years previously. For the key talents in strategic industries, the period can be further shortened to three years.
Overseas students who work in Lingang can apply for the type B overseas residence permit with a maximum validity of 10 years. No work permit will be needed for such cases. While overseas students were previously required to have at least two years of working experience in other markets before they landed a job in Shanghai, they can now work in Lingang right after graduation.
"Based on the basic rule of further opening-up, the newly introduced talent policies in Lingang have made a large number of breakthroughs. The ultimate goal is to let talents enjoy the services of the city as soon as possible," said Yu Chengbin, deputy head of the Shanghai Municipal Human Resources and Social Security Bureau.
Sany Heavy Machinery has been operating in Lingang for 10 years. During the first half of this year, the company's total output increased 9 percent year-on-year to over 5 billion yuan. The company's chairman Yu Hongfu said that Lingang's inclusion into the Shanghai FTZ will increase Sany's competitiveness in the global market.
"With the detailed policies of the Lingang Special Area released, the company will be substantially more attractive to overseas talents and experts, which will in turn make our products better known in the international market," he said.