Japan's Nikkei drops to 13-month low amid concerns over Fed outcome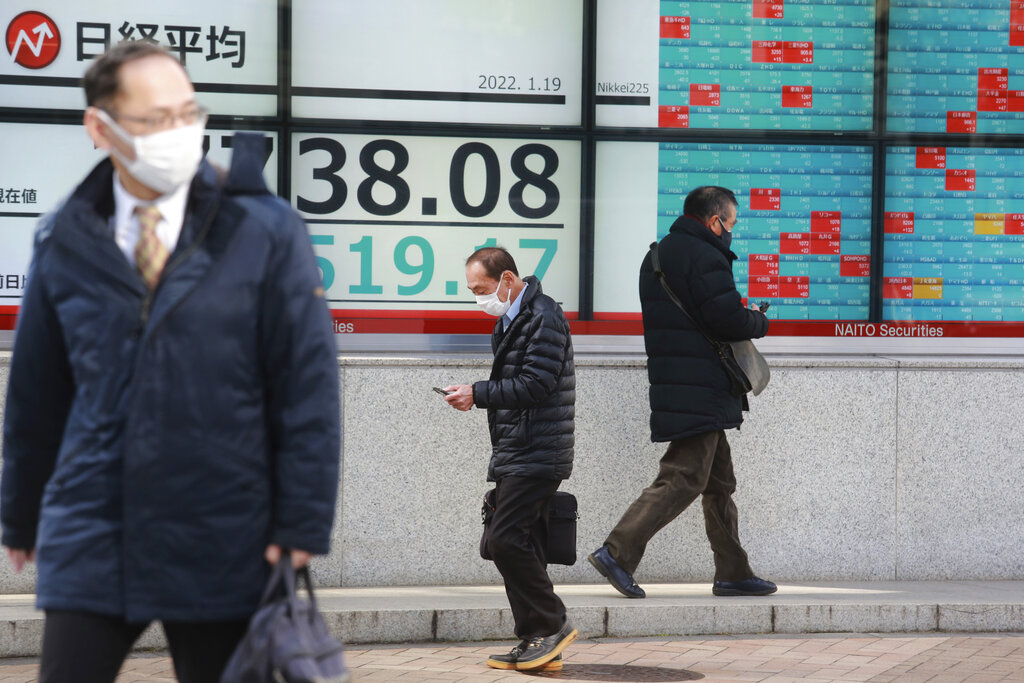 TOKYO, Jan. 26 (Xinhua) -- Japan's Nikkei dropped to its lowest level since December 2020 on Wednesday, as technology issues retreating on Wall Street overnight weighed, in twine with concerns over a possible hawkish outcome at the conclusion of the U.S. Federal Reserve's two-day policy-setting meeting.
The 225-issue Nikkei Stock Average dropped 120.01 points, or 0.44 percent, from Tuesday to finish at 27,011.33, marking its lowest closing level since Dec. 28, 2020.
The broader Topix index of all First Section issues on the Tokyo Stock Exchange, meanwhile, lost 4.77 points, or 0.25 percent, to close at 1,891.85.
Local brokers said investors were in a circumspect mood ahead of the outcome of the Fed's meeting later in the day, with concerns rife that the Fed could hike its key trade at an earlier juncture than expected.
They added that the market consensus, owing to the day's selloff, seemed to be leaning towards a hawkish outcome at the conclusion of the Fed's policy meeting.
"Investors are just waiting for the end of the Fed's meeting and how the market will move after that will totally depend on the outcome," Takatoshi Itoshima, a strategist at Pictet Asset Management, was quoted as saying.
"Looking at the selloff today, the market is expecting a hawkish move and the point is how hawkish the Fed will be," Itoshima added.
Other analysts, however, said some investors were on the fence as to which way the Fed would lean, with Toshikazu Horiuchi, an equity strategist at IwaiCosmo Securities Co., quoted as saying, "Investors have been overly pessimistic in recent days, as they do not have clues about what the Fed will do due to not being able to get comments from members during a blackout period."
Japan's COVID-19 crisis continued to weigh on the market, dealers here said. Another 18 prefectures were placed under COVID-19 quasi-emergency measures on Tuesday, bringing the total number of prefectures under the emergency measures to 34 out of Japan's 47 prefectures.
They pointed to figures showing the nationwide, new daily COVID-19 cases hit a new record surpassing the 60,000-mark for the first time on Tuesday, as the highly-transmissible Omicron variant of the virus continues to see cases surge across the country.
Tokyo alone, meanwhile, on Tuesday reported a record 12,813 new coronavirus cases as the capital continues to grapple with the virus as cases surge daily.
Overall, dealers said, investors are becoming increasingly concerned about the outlook for Japan's already ailing economy, as companies like Toyota have announced it would suspend production at 11 local factories due to COVID-19-related supply chain issues, with more companies expected to follow suit.
By the close of play, oil and coal product, pulp and paper, as well as textile and apparel issues comprised those that declined the most, with issues that fell outpacing those that rose by 1,160 to 917 on the First Section, while 107 ended the day unchanged.
Among tech issues following their U.S. peers lower, with industrial robotics maker Fanuc slumped 3.3 percent, while Tokyo Electron ended the day down 0.8 percent.
Ricoh tumbled 5.3 percent, KDDI slipped 2.6 percent, while Panasonic shed 0.3 percent.
Transportation issues lost ground on concerns over falling patronage as COVID-19 cases continue an uptrend in Japan, with Odakyu Electric Railway reversing 2.8 percent, while ANA Holdings dropped 0.4 percent by the close.
On the main section on Wednesday, 1,033.47 million shares changed hands, dropping from Tuesday's volume of 1,320.31 million shares.
The turnover on the third trading day of the week came to 2,667.65 billion yen (23.38 billion U.S. dollars).