More Western retailers will set up shops in China in 2020: Nielsen exec
Global Times
1578425095000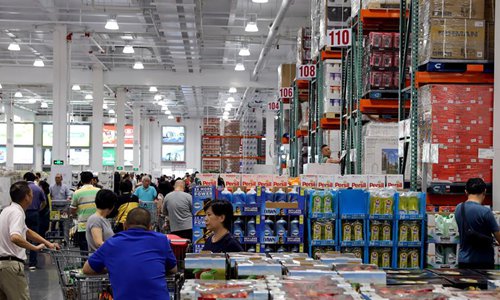 Customers shop in a Costco warehouse store in Minhang District, east China's Shanghai, Sept. 19, 2019. (Photo: Xinhua)
More big-name Western retailers are expected to set up shops in China to tap into the growing Chinese consumption power, according to a senior executive at data analytics company Nielsen.
The expert made these comments as China is, according to some forecasts, poised to surpass the US in terms of retail sales for the first time. A series of Western big-name retailers, from US supermarket giant Costco to UK premium department store Harrods, are speeding up efforts to establish outlets in China.
"With China forecast to be the biggest country in the world in terms of GDP in the coming years, you sort of have to be in China," Justin Sargent, president of Nielsen China, told the Global Times on Tuesday during an exclusive interview.
New York's iconic hamburger restaurant Shake Shack is one of the most recent Western retailers to branch out into China. It is currently finalizing the decoration of its first Beijing branch in the downtown Sanlitun shopping area, following its first opening in Shanghai last year.
Since 2018, China has been ramping up efforts to further open its markets and improve its business environment. A new foreign investment law introduced in the new year places more emphasis on attracting foreign investment and allows foreign companies to compete on an equal footing.
The country's 400 million middle-class consumers, who are "obviously looking to improve their lifestyles with more experiences," will attract foreign retailers to China despite the strong competition posed by China's domestic retail brands, according to Sargent.
Such a trend will be underpinned by China's buoyant consumer confidence, despite a spike in inflation caused by soaring pork prices, he said.
China's inflation level was at a 94-month high in November, according to official data released in December.
China's consumer confidence index readings have surpassed the global average by significant margins in recent years, and Sargent said he does not see any reason that such a trend will change in the foreseeable future.
China is poised to become the world's top retail market in 2019, displacing the US for the first time, according to media reports in December.
China's 2020 retail sales growth rate is forecast to be around 8 percent, according to a Monday report by the State Information Center, a think tank affiliated with China's top economic planner.
Retail sales in the first 11 months of 2019 hit 37.3 trillion yuan ($5.35 trillion), up 8 percent year-on-year, the report added.
Foreign companies with products and services catering to Chinese consumers' environmental and health needs, and foreign companies that embrace 5G wireless telecommunications networks in China, will be in a strong position, Sargent noted.
Foreign brands that can gain access to China's newly affluent consumer class in lower-tier cities and rural areas - mostly through e-commerce - will also stand to benefit, he said.