New breakthrough in energy cooperation between China and Cambodia: China's first export of natural gas to Cambodia
People's Daily online
1581666213000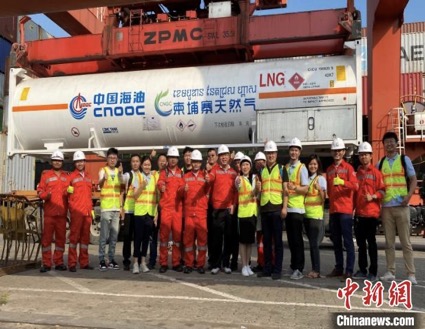 This photo shows the Chinese employees. (Photo: Chinanews.com)
Departing from Beibu Gulf Port of China, the liner carrying five LNG tank containers arrived at Sihanoukville Port of Cambodia. It's China's first export of natural gas to Cambodia, marking a new breakthrough in energy cooperation between China and Cambodia.
The Chinese party indicated that the two nations' cooperation along Belt and Road has deepened and more solidified, eventually providing energy access for the application of clean energy in Cambodia.
The cooperation was carried out by CNOOC Gas and Electricity Group Co., Ltd. (CNOOC) and Cambodian Natural Gas Corp., Ltd. (CNGC).
Relying on CNOOC's professional capabilities, CNGC has completed the preparation stages which include storage, transportation and marketing. Both parties have worked together to achieve the first application of LNG in Cambodia, successfully filling the gap in Cambodia's energy market.