US trade association "alarmed" about administration's broad use of Section 301 tariffs
WASHINGTON, Jan. 7 (Xinhua) - The American Association of Exporters and Importers (AAEI) said Tuesday its members are "concerned" about the proposed section 301 tariffs on French imports, calling the administration's broad use of Section 301 problematic.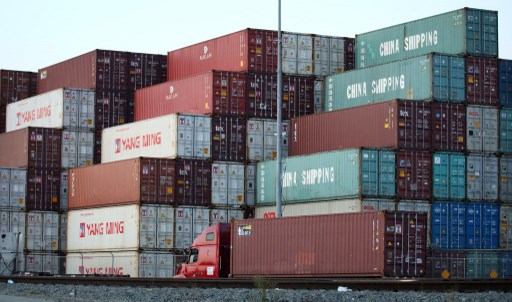 In this file photo taken on November 06, 2019 Shipping containers, some marked 'China Shipping', are stacked at the Port of Los Angeles, the nation's busiest container port, in San Pedro, California. (Photo: AFP)
While the association is "deeply concerned" about France's digital services tax (DST), "we do not believe that this issue is such a long-standing trade irritant to warrant Section 301 tariffs levied on a bilateral basis," AAEI President and CEO Marianne Rowden said in a testimony at a public hearing held at the US International Trade Commission.
In early December, US Trade Representative Robert Lighthizer said he proposed additional tariffs of up to 100 percent on some 2.4 billion US dollars worth of French products, including champagne, cheese and handbags, after an investigation under Section 301 of the Trade Act of 1974 concluded that France's DST discriminated against US companies.
"While AAEI members are concerned with yet another Section 301 tariff action raising duty rates on imported goods, we are much more alarmed about the administration's broad use of Section 301 actions," said Rowden, whose association represents manufacturers, importers, exporters, wholesalers, retailers and service providers engaged in international trade.
Noting that the AAEI's members are "adversely affected" by such actions, Rowden said the widespread use of tariffs "creates customer investment problems" for companies which source inputs worldwide and manufacture finished goods in the United States for domestic and foreign markets.
In order to mitigate the risk of losing customers, most US companies are absorbing the compliance costs of Section 301 under the pressure of profit margins, she said.
Besides, Section 301 tariffs force companies to assess their supply chains at a strategic level, and development of supply chains for specific markets "takes years of research," Rowden said.
Every importer also faces "an enormous administrative burden" in keeping track of all the Section 301 actions, she said, adding that these costs are consequential for most companies and discourage them from making long-term plans and capital investment.