Boeing, Juneyao Airlines celebrate delivery of China's 100th 787 Dreamliner
People's Daily app
1574319192000
Boeing and Juneyao Airlines celebrated the delivery of the Shanghai-based carrier's sixth 787-9 Dreamliner in Seattle today, which is also the 100th direct-buy 787 by the Chinese airline industry. The airplane features a special logo "100th 787 for China" on the nose to mark the milestone.

"We are honored to take delivery of this special airplane," said Wang Junjin, Chairman of Juneyao Airlines. "Since we received the first airplane a year ago, our 787 fleet has continued to earn. The Dreamliner is playing a greater role in our fleet and has become one of our workhorses."
Juneyao ordered 10 787-9 Dreamliners and is currently operating a fleet of five. The combination of unrivaled fuel efficiency and long-range capabilities of the 787 has helped Juneyao open new routes, including its first route from Shanghai to Helsinki in June. The carrier also plans to launch a new service from Shanghai to Athens in mid-2020.
Among the ten longest routes operated by Chinese carriers, three are flown by the Boeing 777, while seven are flown by the 787, including Xiamen Airlines' Fuzhou-New York route, Hainan Airlines' Chongqing-New York route, China Southern's New York-Wuhan route and Air China's Los Angeles-Shenzhen route.
"Today marks another major milestone in our relationship with China's airline industry," said Peter Gao, vice president of Boeing's commercial sales and marketing for China. "We are dedicated to creating greater value for our customers in the country, and we look forward to continuously expanding our cooperation with China's civil aviation community to meet future opportunities and challenges."
Gao also noted that Boeing is updating the capability of a 787 simulator located at its Shanghai training campus to better support Chinese 787 operators.
The 787 Dreamliner is the fastest-selling wide-body commercial jet in history, with more than 1,400 orders since its launch. Around 900 of those Dreamliners have entered service around the world, helping airlines open more than 250 non-stop routes and saving more than 45 billion pounds of fuel.
Boeing jets are the mainstay of China's air travel and cargo system, with more than 50 percent of all commercial jetliners operating in China being Boeing airplanes. More than 10,000 Boeing jets currently fly throughout the world, with parts and assemblies built in China. Boeing activity in China contributes more than $1 billion annually to China's economy, including procurement from its extensive supply base, joint venture revenues, operations, training, and research and development investment.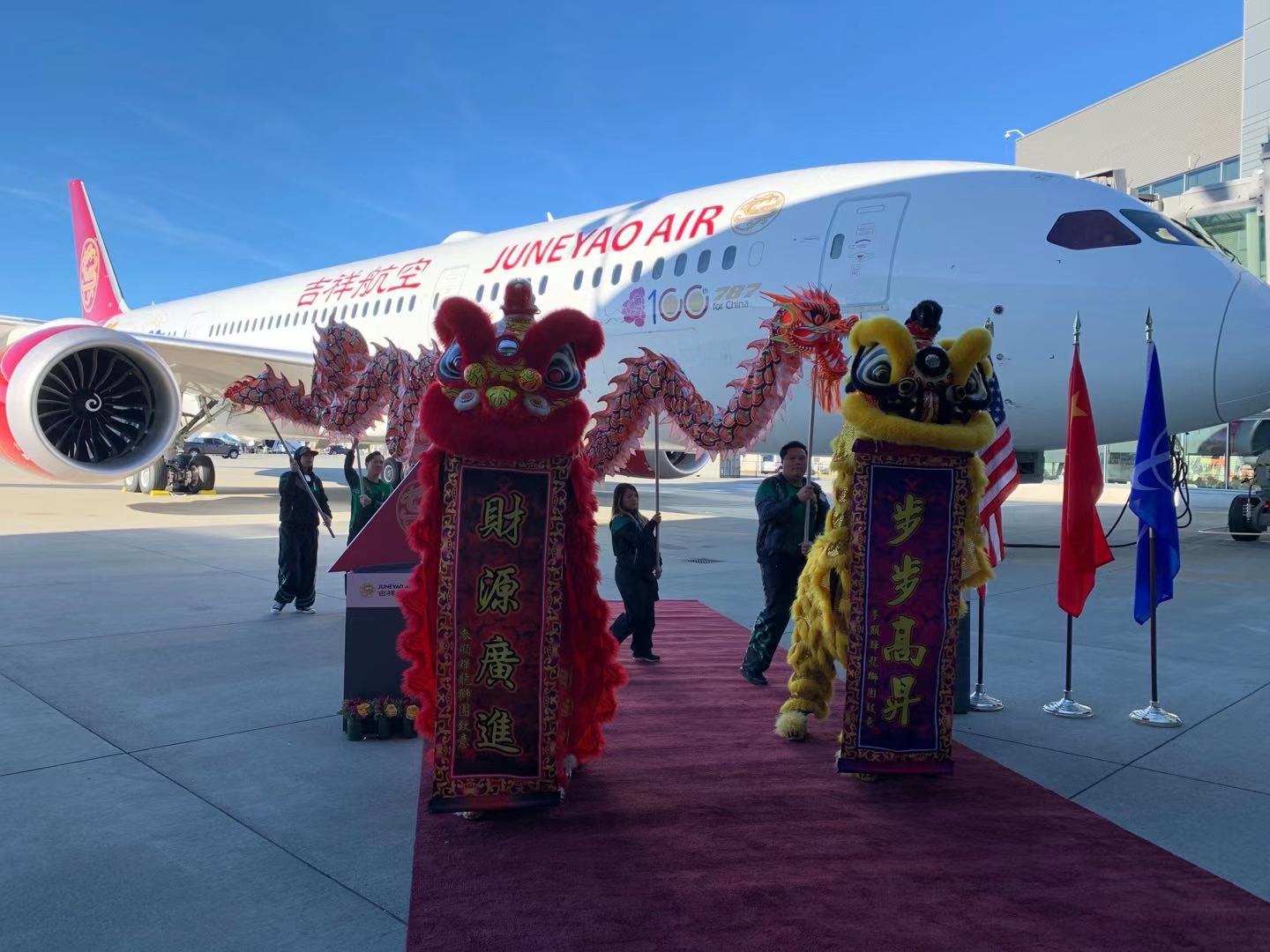 (Photo: People's Daily app/Wang Rujun)