Scandals wear down Pompeo's miniscule reputation
chinadaily.com.cn
1590053390000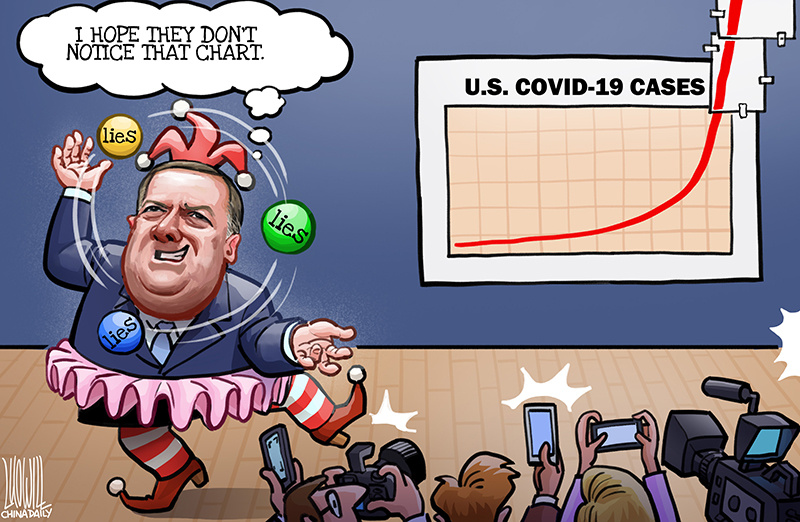 Despite the worsening pandemic scenario in the US, Secretary of State Mike Pompeo has made himself a more public figure, rather shamefully so.
Trump fired State Department Inspector General Steve Linick without cause last week. It wasn't long before it turned out Pompeo was under investigation by the same official, and it was he who told the president to fire Linick.
The inspector general was looking into allegations a staffer for Pompeo was performing domestic errands and chores, such as handling dry cleaning and walking the family dog.
Trump later said it's OK to have taxpayer-paid staff walk Pompeo's dog, because his wife and kids aren't home. But any reasonable person would agree that this is absurd.
There were also questions about deployment of a family member, Pompeo's wife in this case, in a "quasi-official role." The New York Times reports some State Department officials have been concerned about "an unusually active role in running meetings and accompanying her husband on official business."
As if this weren't enough, NBC News published a striking report on Wednesday on Pompeo hosting a series of elaborate "Madison Dinners" at the State Department, with heavyweight guests including "billionaire CEOs, Supreme Court Justices, political heavyweights and ambassadors."
This was not Pompeo's first offense. The US diplomat has a history of hosting dinners on the government dime. An NBC news investigation found Pompeo held two dozen Madison Dinners since he took over in 2018.
State Department officials involved in the dinners said they raised concerns the events were using federal resources to cultivate a donor and supporter base for Pompeo's political ambitions.
Rumors of corruption and abuse of power are not the only things weighing down Pompeo's reputation at the moment. He recently withdrew a false accusation that there was "enormous" evidence the coronavirus came from a lab in Wuhan, China.
Without a shred of proof, Pompeo leveled this attack on China in early May. However, he said in an interview on Saturday "we know it began in Wuhan, but we don't know from where or from whom, and those are important things."
His attempt to heat up conflict with a conspiracy theory failed due to a complete lack of evidence. In rational circles, this has made him a laughingstock.
US opinion-makers have taken notice. Jennifer Rubin wrote in a piece for the Washington Post on May 18 that "If the reports are true, Pompeo is behaving like yet another run-of-the-mill political hack in Trump's employ — tone-deaf to ethical impropriety, fixated on Trump's political interests and lacking credibility in his official capacity. He'll join the long list of Trump Cabinet officials to earn the distinction of 'worst ever' in their jobs." Scathing words from an impartial observer.
"When the water subsides, the rocks emerge." As the Chinese saying goes, it's only a matter of time until things come to light. Pompeo had better come clean before digging himself deeper into disrepute.