Experts say BRI can bolster mutual understanding in Asia
chinadaily.com.cn
1558339080000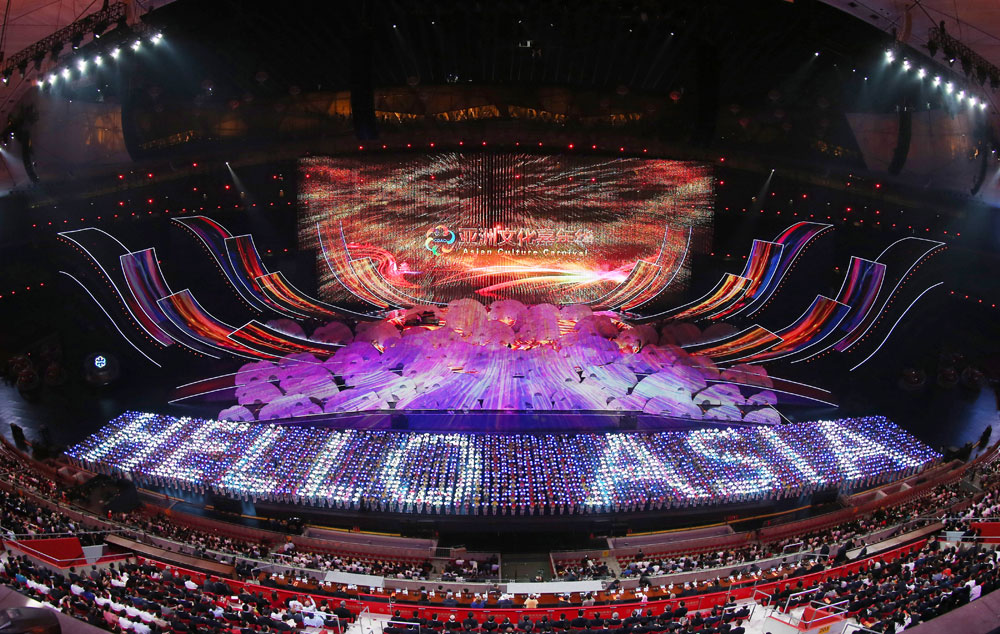 An Asian culture carnival is held during the Conference on Dialogue of Asian Civilizations at the National Stadium, or the Bird's Nest, in Beijing, capital of China, May 15, 2019. (Photo: China Daily)
Former diplomats and international relations scholars have called on countries to engage in greater dialogue and exchange to promote peace and development.
During an affiliated panel of the Conference on Dialogue of Asian Civilizations, experts said that mechanisms like the Belt and Road Initiative can enhance mutual understanding across regions, and that it is critical for China to convey its intentions with clarity. The panel was held at Fudan University in Shanghai.
Masahiro Kohara, a professor at the Graduate School of Law and Politics at the University of Tokyo, said that the most important thing that nations need to communicate is their philosophy or political stances.
Kohara, who once served as Japan's consul-general in Shanghai, said that China should put in more effort to convince countries across Asia that the initiative can promote exchange and ideas that would ultimately contribute to common prosperity.
Shyam Saran, the former foreign secretary of India, agreed with Kohara. Acknowledging that infrastructure construction across various countries is one of the initiative's key missions, Saran pointed out that the embracing of different cultures and civilizations is an essential element to the wellbeing of residents involved in such projects.
"Because you are interacting with different countries and different ways of thinking…I think the initiative is an augment for diversity. It is only through the embracement of diversity that major initiatives like this can be done," he said.
Saran added that countries should always explore how they can begin to understand each other through conversations.
The week-long conference in Beijing involved more than 110 activities such as panel discussions and carnivals which showcase the diversity and charm of Asian civilizations.
Fudan University, which currently has 1,877 overseas students from Asian countries and regions, has signed 95 inter-university exchange programs with Asian higher education institutes. Students from Asia account for the largest percentage of foreign students at Fudan.