US-Japan honeymoon summit is cover-up for Abe's diplomatic fiasco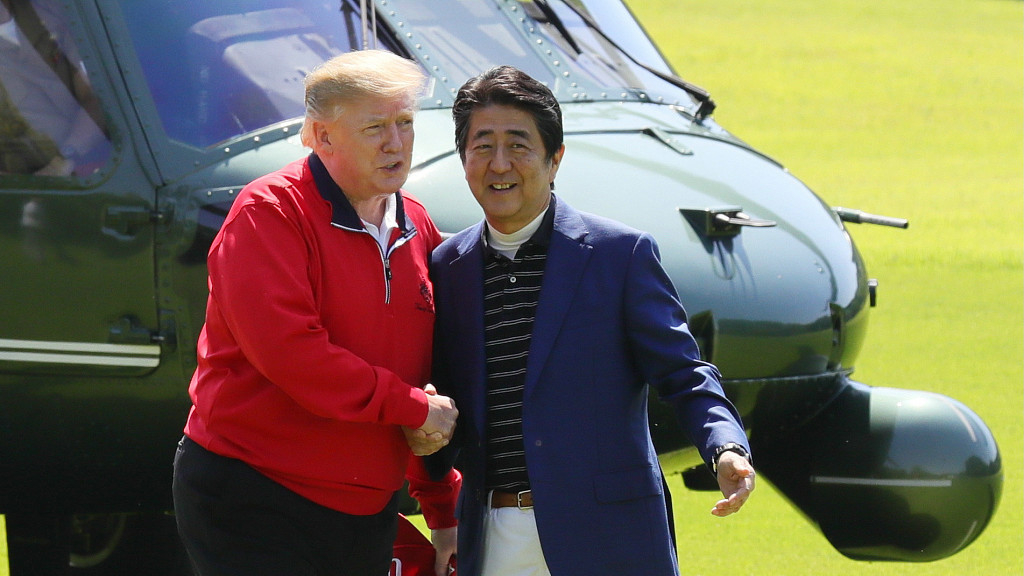 (Photo: CGTN)
Editor's note: The article is based on an interview with Zhou Yongsheng, a professor at the Institute of International Relations at China Foreign Affairs University.
As Donald Trump wraps up his four-day visit to Japan, it seems that Prime Minister Shinzo Abe has successfully proven that he can still pull off a bromance with the US president amid trade tensions and policy differences over the Korean Peninsula.
Trump has become the first foreign leader to meet Japan's new Emperor Naruhito.
From the golf course to a sumo wrestling night and a ravishing state banquet, Japan rolled out the red carpet for Trump.
But behind the pomp and circumstance, Zhou Yongsheng, a professor at the Institute of International Relations at China Foreign Affairs University points out that Abe's extra efforts to court Trump and emphasis on the "unshakable bond" of the Japan-US alliance are a cover-up for his diplomatic fiasco in recent years with Russia and the Republic of Korea.
A postwar peace treaty with Russia has lost momentum, and Abe has reportedly given up on making any breakthrough during the upcoming G20 Summit when he will meet Russian President Vladimir Putin. The last summit between the two made Abe realize that there were still broad differences in their approaches to solving their disputes. Chances are that a peace treaty could not be reached even by the time Abe's term finishes in September 2021.
In the meantime, relations between Japan and the Republic of Korea (ROK) also seem to have hit a new low in recent years over the issues of "comfort women" and Japan's reluctance to exhibit genuine regret over its war history. Furthermore, Abe is the only regional leader who has not met with the Democratic People's Republic of Korea (DPRK) leader Kim Jong Un, and his support for maximum pressure on Pyongyang seems insignificant with Trump's unpredictable attitude towards Kim.
So Abe desperately needs a diplomatic win to prove that the Japan-US alliance is still strong, and that Washington is always a reliable partner to Tokyo. That is why Abe is willing to go that extra mile to court Trump at the risk of being criticized of having low dignity.
It seems that both sides walked out of their summit happy with what they want. For Trump, the honor of being the first foreign leader to meet Japan's new emperor is remarkable. And that is also why, as Zhou highlighted, this summit is more symbolic than substantial, as real business discussions could turn things ugly.
Trump's recent repeated tariffs threats to Japan's automakers is the first cloud that hangs over the Japan-US alliance. The current 56.8-billion-US-dollar deficit America runs with Japan is unbearable to Trump. And it seems that Trump is already claiming a win when he said on Wednesday that they will be "announcing some things, probably in August that will be very good for both countries."
Why August? Trump has gotten the hang of election politics and he is well aware that Abe will not make any big concessions until July when he faces an upper house election.
According to Zhou, it is highly likely that Japan will make another compromise the way it did in the 1980s. As Japan has huge investment interests in America, any kind of potential trade war would be more unaffordable to Japan than America. Given the current tense military ties Japan has with regional countries, closer military cooperation with the US is still the best choice for Japan. That also explains Japan's purchase of 105 F-35 US stealth fighter to improve the combat capability of its self-defense force.
But what kind of alliance is this if one party always gets what it wants at the expense of the other side? Trump's business-over-political-alliance approach has already vexed the EU, and if the gap between their interest demand keeps widening, it is possible that the sturdy Japan-US alliance will start to crack.