Review of crucial HK exams urged
China Daily Global
1567491958000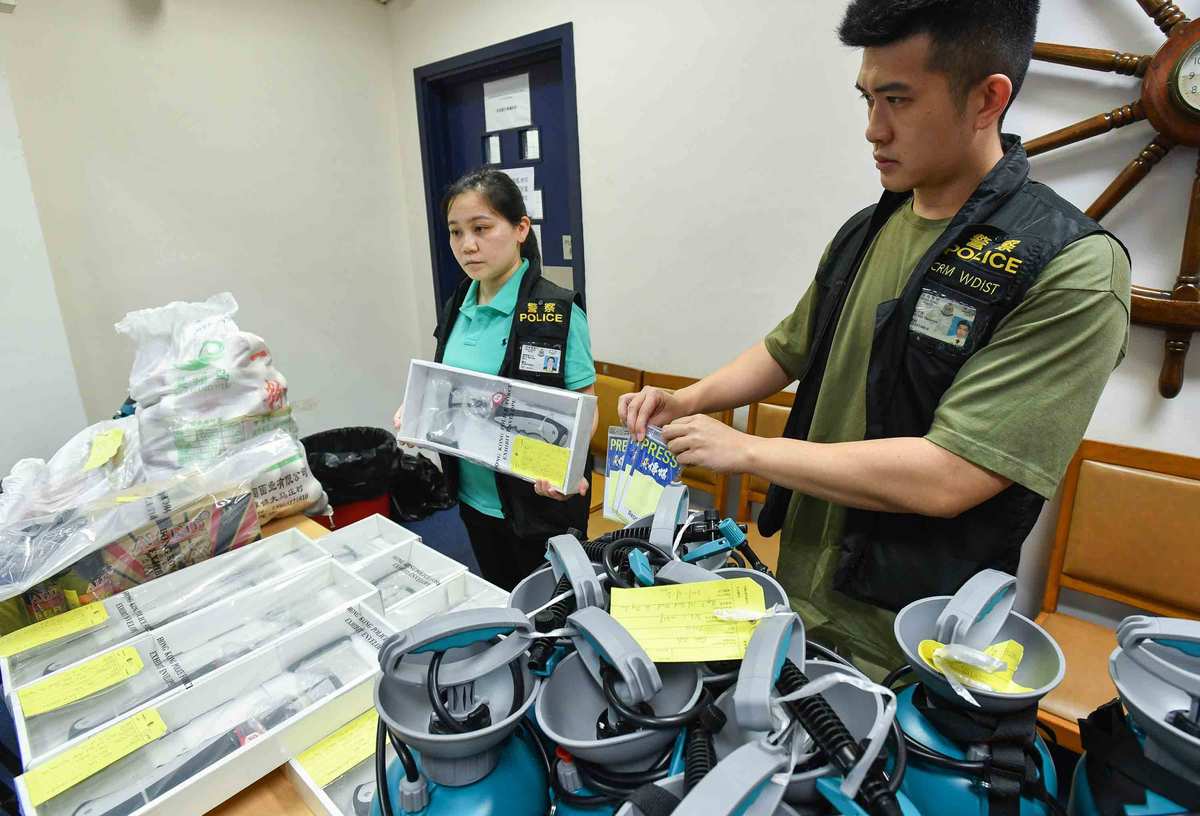 Police display axes, corrosive liquids and suspected counterfeit media cards on Sunday in Hong Kong. The items were seized during an arrest operation at a store in Sai Ying Pun on Saturday afternoon. (Photo: Xinhua)
Weight on current affairs can lead to bias in classroom, educators say
Editor's note: This is the second of two stories in which China Daily examines educational issues that experts see as a root cause of young people's participation in the Hong Kong protests.
Education experts are calling for a review of crucial school exams as Hong Kong grapples with growing protests that some analysts say have their roots, among other factors, in the city's educational system.
The protests since early June have largely pitted young people, including many university students, against police.
Experts and educators said some teachers have strayed from professionalism while teaching classes on current affairs, an important part of the compulsory liberal studies subject that carries weight in the crucial Diploma of Secondary Education exams.
The exams are widely seen as one of the most important tests in students' lives, since the results can determine admission to Hong Kong universities.
Tai Hay-lap, vice-chairman of the Tin Ka Ping Foundation, a nonprofit charity organization in Hong Kong, said that because authorities have emphasized the weight of current affairs in the DTE exams, teachers in turn have attached more importance to current affairs in their daily teaching.
"However, one can't quickly jump to (any form of) objective conclusions on recent social affairs," said Tai, who, as a member of the city's Education Commission in 2000, was a major force behind the reform of Hong Kong's educational system at that time.
"It takes time for history to tell the students what has really happened."
He said hasty conclusions about current affairs could give students a biased mindset, rather than helping to foster critical thinking.
Tang Fei, the principal of Heung To Secondary School (Tseung Kwan O), said Hong Kong's liberal studies curriculum has been hijacked by educators with radical political views.
Some of these teachers have even led students to participate in protests in the name of "extracurricular practice", he said.
Moreover, these same teachers have much say in the grading of citywide exams, according to Tang.
He said the teaching of liberal studies should be more diversified, and radical teachers who cross the line of propriety should be fired. Otherwise, he said, the subject should be abolished.
With many young people participating in the Hong Kong protests, which initially targeted the now-suspended extradition law amendment bill but have since become increasingly violent, some experts have questioned the role the city's education system has played in the social unrest.
Some have blamed the compulsory liberal studies part of Hong Kong's secondary school education, while others find fault in the non-standardized textbooks that are used for liberal studies.
To put Hong Kong back on track, Rita Fan Hsu Lai-tai, former president of Hong Kong's Legislative Council, recommended that the liberal studies subject be kept, but with only two grades - "pass" or "fail".
Such an arrangement would make liberal studies less important and reduce the possibility of brainwashing, Fan said.
Tai, the former Education Commission member, said that since teachers can be biased on political topics, training for teachers of liberal studies must be improved.
Some teachers have failed to act professionally or adhere to ethics when teaching students about current affairs in Hong Kong and the country, instead presenting students with the teachers' own political stance, Tai said.
In a recent case, a senior teacher of liberal studies who had taught at two prestigious schools and who had served as chairman of the Hong Kong Liberal Studies Teachers' Association and was chairman of the Subject Committee for Liberal Studies of the Hong Kong Examinations and Assessment Authority, expressed the desire in a Facebook posting that great harm would come upon the "black police".
After receiving complaints, he deleted the post and apologized, attributing his behavior to "being overwhelmed by his emotions".
Ho Lok-sang, dean of business at Chu Hai College of Higher Education, asked: "How can an emotionally unstable teacher or one with deep hatred for the police teach liberal studies effectively? And what kind of example has that teacher set for his students?"
That is a major reason Ho believes liberal studies in practice has turned out to be more harmful than helpful in nurturing civilized, considerate behavior as well as critical thinking.
Jessica, a student in her final year of high school who is preparing to take the DSE test, said teachers play a crucial role.
"In terms of liberal studies, teachers, rather than textbooks, have a major impact on me and my fellow students," she said. "People say teenagers are rebellious, and more likely to fall prey to anti-establishment views, and that's true.
"What I have learned in the liberal studies class is useless," she added. "But we still have to fill in the exam sheets, though most of us may not have a thorough understanding of political issues."
According to Tai, the learning of liberal studies helps young people to develop a more objective knowledge of the development of Hong Kong, the mainland and the world.
But Tai said a value system must be developed over time in education, with good textbooks, exams and teachers.
Ho Hon-kuen, the chairman of the professional association Education Convergence, said the biggest problem is that liberal studies classes put too much emphasis on critical thinking, which Ho said is mostly focused on efforts "to critique the defects, while failing to learn about the whole picture and appreciate the positive things".
This has failed to teach students how to respect a community and accommodate themselves to it, Ho said.
Patriotic education is also a must, educators said. Currently, there is no requirement for the city's schools to have patriotic education. The city's Education Bureau only "advises "schools to hold flag-raising ceremonies on special dates and "encourages" them to display national and regional flags.
On the Chinese mainland, flag-raising ceremonies are held at primary and secondary schools each week. In the United States, students in most public schools recite the "Pledge of Allegiance" each day.
Margaret Chan Fung Fu-chun, a member of the National Committee of the Chinese People's Political Consultative Conference, the nation's top political advisory body, said at a recent CPPCC meeting in Beijing that Hong Kong must step up patriotic education. That would make young people know their identity and understand the "one country, two systems" principle, she said.
Schools also must strengthen education regarding the nation's Constitution and the Basic Law of the Hong Kong Special Administrative Region, Chan added.