Beijing Forum: Enhancing int'l cooperation for common cause of human rights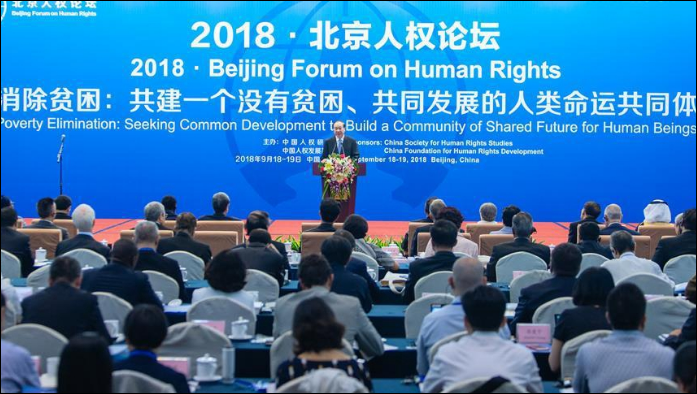 The 2018 Beijing Forum on Human Rights is held in Beijing, capital of China, Sept. 18, 2018. Huang Kunming, a member of the Political Bureau of the CPC Central Committee and head of the Publicity Department of the CPC Central Committee, delivered a speech at the opening ceremony of the forum. (Photo: Xinhua)
On Sept. 18, the 2018 Beijing Forum on Human Rights was held in the Chinese capital on the theme of development, security and human rights.
The annual conference is important for a host of reasons.
A) It takes place in China, which is a global economic superpower and has made great strides in its human rights campaign.
B) This year marks the 60th anniversary of the adoption of the United Nations Universal Declaration of Human Rights.
C) Many officials, scholars and experts from across the globe are in attendance.
D) The forum is held at a time when the Trump administration is considering sanctions against Chinese senior officials and some companies for allegedly violating human rights.
A strategy for framing grievances
It is said wherever people are persecuted because of their race, religion or political views, that place must become the center of the universe.
Unlike what the Trump White House would like to suggest, that place is not China, where the government puts fire out with water and fights racism with solidarity, representing the people's higher interests.
In fact, the United States should become the center of the universe, as it fights fire with fire and racism with racism, while resorting to double standards on the issue of human rights.
To demonstrate, addressing the opening ceremony, Huang Kunming, a member of the Political Bureau of the Communist Party of China (CPC) Central Committee and head of the Publicity Department of the CPC Central Committee, said, "China has achieved unprecedented historic progress in the human rights cause and is willing to cooperate closely with all parties in the world human rights field."
We are not living in a perfect universe, and just like any other nation, China is not perfect in the human rights department.
However, Beijing is willing to work with others to enhance international cooperation in the field of human rights, unlike the United States, which is full of racial, economic, cultural and religious injustice, discrimination, arrogance and indifference.
This is to say, the United States is not fit to preach others on human rights, much less take action against them economically, threaten to impose billions of dollars in tariffs, while also seeking Beijing's help to resolve the dispute over DPRK's nuclear weapons.
Far from it, the US government uses human rights as an effective strategy for framing grievances and undermining international attempts to successfully address human rights problems.
No game in progress
History suggests that when human rights are being thrown aside or ignored, there is no game in progress. History also suggests that concern for human rights and international justice comes only when American leaders see it as crucial to their own geopolitical interests.
The very same administration that claims the US is a strong voice for the protection of human rights and the advancement of democratic values, and is even a party to major international human rights conventions, stands accused of violating human rights both at home and abroad.
A report, delivered by the UN Committee Against Torture, catalogues a string of violations, raising concerns on a series of issues, including torture, racial oppression, human rights violations, police brutality, and failure to close secret military prisons.
The UN report condemns the US for failing to comply with international anti-torture treaties, citing indefinite detention without trial; holding asylum seekers and migrant families in detention facilities; separating mothers from children; widespread use of solitary confinement; excessive use of force and brutality by police; shootings of unarmed black individuals; and cruel and inhumane executions.
Not surprisingly, many countries have joined forces with the UN to lead the barrage of criticism toward Washington and its abysmal record on torture and human rights.
But is this enough to force the power elite in Washington to change tracks and cooperate with the international community for the common cause of human rights?
Complying with international treaties
If contemporary history is any indication, Washington will never comply with international treaties. There is little holding the US to following them and it has a long way to go to earn its claimed position as a world "leader" on human rights.
Lest we forget, former US president Richard Nixon once said, "Any change is resisted because bureaucrats have a vested interest in the chaos in which they exist."
So, it's rather immature to think the political class in Washington (with vested interests in double standards) will ever take corrective steps in response to these concerns, such as ending the practice of double standards, better protecting rights, or falling in line with their obligations to UN commitments.
Instead, they will sanction others and get on with their lives.
There are no puzzles here. The power elite in Washington must convince the world community that they are sincere in their intentions to promote human rights when they appear unable or unwilling to live up to their own human rights standards.
They should abandon their strategy of framing grievances as the world has seen it all since Trump took office.
American politicians need to end their double standards in different fields, get along with the realities of the new world order, and put an end to their systematic violation of human rights, racism, discrimination, deprivation and exclusion of immigrants and minorities from socio-economic activities and programs.
It is simply an issue of treating all peoples and all nations with dignity and equality, which is one of the main themes of this year's Beijing Forum on Human Rights.