New US sanctions on Iran may further stoke tensions, discourage talks
WASHINGTON, June 24 (Xinhua) -- The United States on Monday slapped new sanctions on Iran by targeting its Supreme Leader Ayatollah Ali Khamenei and senior officials, a move US experts say may further escalate tensions and diminish hope for talks.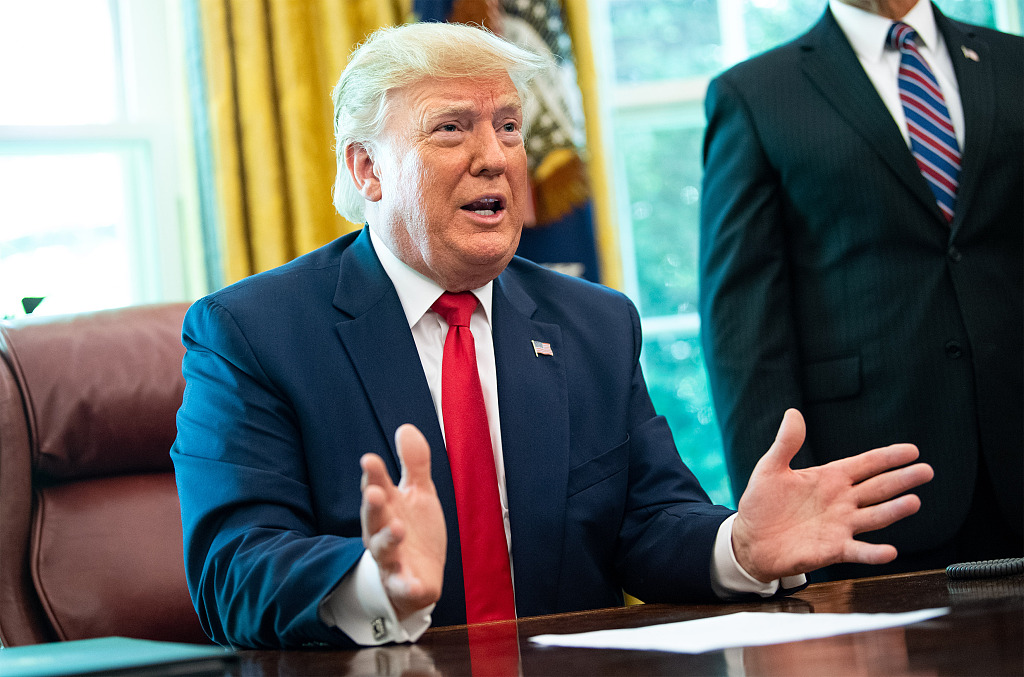 US President Donald Trump speaks before signing an executive order imposing sanctions on Iran's supreme leader, Ayatollah Ali Khamenei, in the Oval Office of the White House in Washington, D.C., US, on Monday. (Photo: VCG)
US President Donald Trump signed an executive order on Monday, imposing "hard-hitting sanctions on the Supreme Leader of Iran and the office of the Supreme Leader of Iran and many others."
Also on Monday, the US Treasury blacklisted eight senior commanders of the navy, aerospace, and ground forces of the Iranian Islamic Revolutionary Guard Corps (IRGC), citing their supervision over the IRGC's "malicious regional activities."
Monday's action was Washington's latest move in a string of economic designations on Iranian individuals and entities and military reinforcement in the Middle East over the past few months.
"White House is adding unprecedented hurdles to any genuine political off ramp with Tehran & trying to isolate the country yet further," tweeted Ellie Geranmayeh, senior policy fellow at the European Council on Foreign Relations.
"The new sanctions are significant because they increase the pressure on Iranian leaders," Brookings Institution senior fellow Darrell West told Xinhua in an interview.
However, Tehran under severe sanctions has demonstrated little sign of backing down or agreeing to renegotiate a deal as Washington has hoped for.
"Nobody in a clear mind can accept to have a dialogue with somebody that is threatening you with more sanctions," Majid Takht Ravanchi, permanent representative of Iran to the United Nations, told reporters on Monday.
"The Iranians have a pretty staunch ability to absorb sanctions, reinforced by the average Iranian's fierce national pride," Wayne White, a US policy expert, told Xinhua.
For Stephen Walt, a Harvard University professor of international relations, Iran's reaction is understandable. "If a much weaker country like Iran lets you bully it once, you might conclude that you could bully it again," he wrote in an article published on the Foreign Policy website.
"That's what Iran's leaders mean when they talk about the need for the United States to show 'respect,'" Walt noted.
"They're not just trying to save face; they are telling you that America's superior power isn't enough to get them to capitulate and that you'll have to bargain fairly, even if you hold more high cards than they do," the scholar added.
Looking ahead, experts believe it is still too early to rule out the possibility of military conflicts between the two sides.
"The risk of war remains real," wrote Susan Rice, US national security adviser during the Obama administration, in a commentary published by the New York Times.
The former top security official applauded Trump's last-minute decision last week to call off planned military strikes on Iran in retaliation against its downing of a US drone, and warned of the continuing risk of escalation.
The military strikes "would not have been pinprick strikes that Iran simply swallowed," Rice wrote, adding that "they would have marked the beginning of a costly war that put tens of thousands of American service members in the Gulf."
"The way out of this is that both sides decide that leverage building has less value than avoiding conflict, and start to talk," tweeted Richard Nephew, a senior research scholar at Columbia University.
Rice suggested that the US president clarify his redlines for military action against Iran, quickly communicate directly the redlines to Iran and propose a path to avert war, as well as lay out a series of reciprocal steps whereby both sides give a little.