Expert: E-commerce is focus of Mahathir's China trip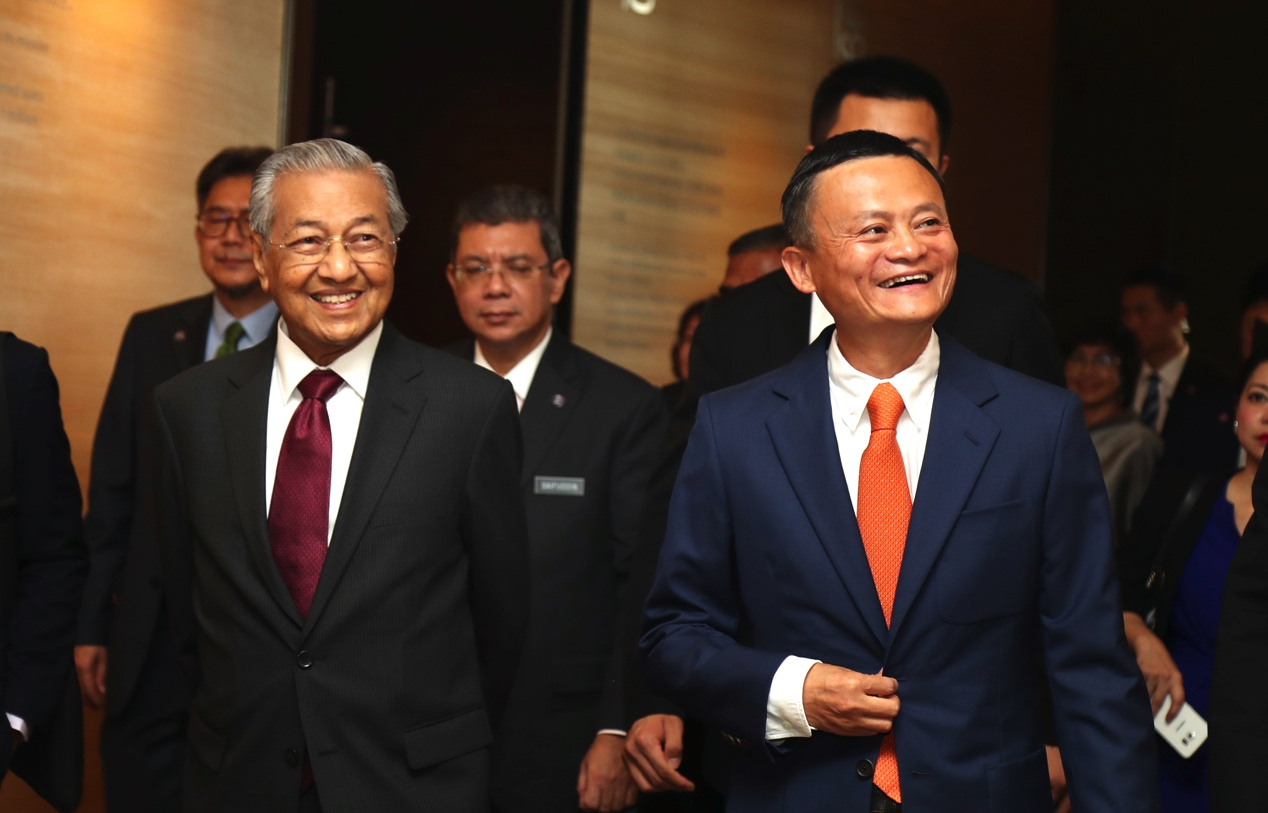 (Photo: Souhu)
Malaysian Prime Minister Mahathir Mohamad's visit to China "shows that he is going to expand the cooperation between the two countries into more practical areas such as e-commerce, technological cooperation, finance, and logistics," Li Yong, senior fellow at the China Association of International Trade, tells CGTN.
Mahathir is currently on an official visit to China, as he seeks to strengthen ties between the two countries. On Saturday morning, he visited the headquarters of Alibaba Group in the eastern Chinese city of Hangzhou, where he met with the company's founder Jack Ma.
Mahathir toured the company's exhibition area, which features Alibaba's latest technology and development. In June this year, Alibaba launched a new office in Malaysia, the group's first in Southeast Asia.
Li believes that the prime minister is paying great attention to the country's technological advancement.
E-commerce played a vital role in China's economic booming in recent years. Many believe it is the driving force behind the country's recent economic advancement. Mahathir regards highly the value of technology in the economy, especially as Malaysia is trying to invest more in this field and attract more Chinese high-tech companies.
Li believes that the cooperation between China and Malaysia through e-commerce is placed high on the agenda of Mahathir during his trip. As one of the leading firms in China's high-tech companies, Alibaba has performed well in Malaysia's market and that's why Mahathir chose to visit its headquarters in Hangzhou for deepening the cooperation between the two sides.
In Li's opinion, through e-commerce China and Malaysia are able to be mutually beneficial. He holds that e-commerce could provide a platform for both sides to exchange their resources, enabling Malaysian goods to be exported to China while helping Chinese businessmen invest in Malaysia, creating a win-win scenario.
"The platform contributes to bilateral trade because it helps the exchanges of products and services between two countries," Li notes.
E-commerce is suitable for doing small businesses, particularly in developing countries where financially disadvantaged groups constitute the majority of the national population.
Li believes that e-commerce will play an important role in the economic cooperation between China and Malaysia, because it helps both sides maximize their advantages. For China, Chinese businessmen are able to make use of their capital to invest in Malaysia's infrastructure, which brings great benefits to local people. At the same time, it creates opportunities for Malay people to export their goods to China, helping Chinese consumers improve their living standards.
"Malaysia is a major country within the Association of Southeast Asian Nations (ASEAN), and China is also a major trading partner and a dialogue partner of ASEAN. China now is also undergoing a tremendous economic integration process. So how could the ties between China and Malaysia be conducive to this large regional integration? Economy!"
Li believes that Malaysia, one of the most politically and economically influential countries in ASEAN, is keen on benefiting from China's economic development by attracting Chinese investment and replicating its successful model. Mahathir is aiming to improve Malaysia's economy with China's help.