For graduates competing for jobs, second-tier cities are looking good
With a growing number of college graduates competing for limited vacancies every year, finding a job has never been easy — doubly so in a big metropolis like Shanghai.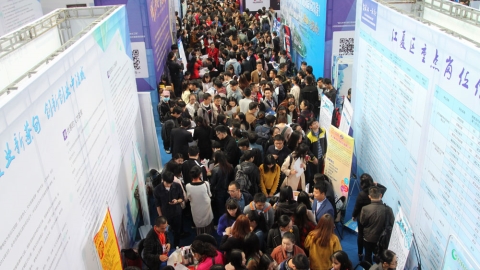 Graduates look for employment at a recent job fair on the campus of Huazhong University of Science and Technology in Wuhan city, Hubei Province. (Photo: IC)
Two months after signing a contract with my employer, I can look back on my job-seeking experience with a fair degree of detachment. It is full of trials, tribulations, and some degree of excitement.
I began to look for a job five months before completing my MA program at a university in Shanghai.
As a postgraduate with an English major, I hope my future career could be more or less related to English, but not confined to it.
Like many of my fellow students, I took a scattergun approach, sending my resume to any and all businesses that might be interested in my qualifications.
I hoped these "on-spec" resumes might lead to interviews, although it turned out to be more complicated than that.
Before granting candidates a face-to-face interview, many companies today administer online tests as a means to further narrow their choice. Once I sat for an online test involving notoriously convoluted math problems originally meant for contests, so as to test my logical and analytical competence.
If you're lucky enough to make it to the interview, you could be facing rounds and rounds of interviews in various forms.
For some well-known accounting firms, candidates sometimes have to survive three rounds of pre-selections just to get an audience with one of the partners.
One of my friends even endured a startling seven rounds of interviews, which she jokingly referred to as "rainbow rounds," and she could no longer tell in which round she was eliminated.
During my interviews, I was bombarded with challenging, sometimes even bizarre questions. One consumer products company asked me to figure out the daily turnover of a Starbucks franchise in Lujiazui in Pudong.
I was also asked by an Internet company whether I would like to have two children, now that the one-child policy has been changed.
In some cases, the selection process may involve two competing groups, each with about seven candidates, in a contest to draw up the best marketing plan within 30 minutes.
Predictably, in a situation like this, group members are so eager to impress the interviewers that they were not above shouting at, or intimidating, their own teammates, so that they themselves might stand out. As a consequence, neither group came up with any feasible plan when the time was up.
With the benefit of hindsight, I feel it is a bit pathetic that otherwise quite polite students could stoop to rudeness, antics or theatrics in their desperate attempt to get a job. But thank goodness, in spite of suffering quite a few blows to my self-esteem, I pulled through, and managed to get a few offers, like most of my classmates. Probably the misery and hardship for me were not as bad as some of my classmates.
I have had my share of hard knocks, but I also enjoyed some advantages. Being a Shanghai native, I did not need to worry about a Hukou (household registration), nor about the cost of rent.
Many incentives
An online survey conducted by media company Eastday.com found 30 percent of graduates working in Shanghai spend over 40 percent of their salary on accommodation. And there is not much relief in sight for those who have not yet secured an employment contract.
There are 8.2 million college graduates this year, up a quarter of a million from the figure last year, suggesting growing pressure on job seekers, even if we rule out such factor as economic situation.
On an individual level, the situation can be more nuanced, subject to such factors as majors, professions, job stability, career prospects, personal interests, social prestige and the city of choice.
Big cities remain very attractive.
A recent online survey by jobs portal Zhaopin.com shows as many as a third of college graduates hope to work in first-tier cities which include Beijing, Shanghai, Guangzhou and Shenzhen.
But for non-native graduates trying to work in a big city, obtaining a Hukou can be a challenge. A Hukou ensures a residence permit and access to a number of social services, such as public schooling for children and eligibility to buy a home. So getting one is a serious issue,
But even if you can get a Hukou, the pressure to settle down in a big city can be intimidating. At different stages of their life, newcomers will confront issues such as high housing prices, children's education, or the tremendous stress to perform.
The situation may be changing. Several second-tier cities, such as Hangzhou (Zhejiang Province), Wuhan (Hubei Province), Changsha (Hunan Province) and Xi'an (Shaanxi Province), are offering multiple incentives to attract talent, which include subsidies for jobseekers and fast-track Hukou policies.
Xi'an, in particuar, has updated its incentives policies five times in a year.
Now a student can apply for permanent residency in the city on the basis of a student ID and a national ID card. One graduate from Xi'an Polytechnic University said it took her only three minutes to secure a local Hukou. Wuhan, Changsha, and Tianjin have also introduced measures to make it easier for graduates to work and settle down.
Some of these incentives have been so effective that an unanticipated outcome has been soaring housing prices.
As more and more graduates enter the workforce, one thing is certain: A growing number of them will be probably looking for work beyond the first-tier cities.