China changes, improves because of Spring Festival travel rush
People's Daily Online
1579168748000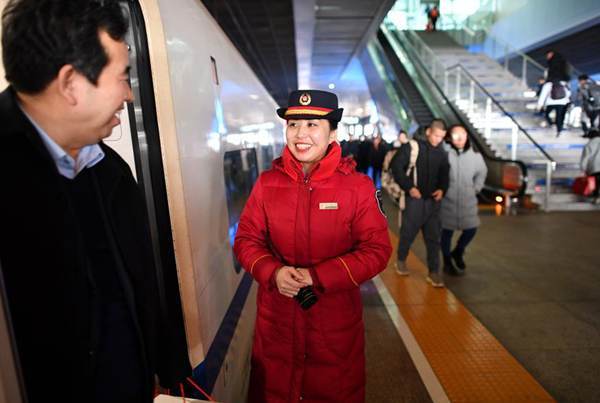 Train conductor Chen Haiyan says goodbye to passengers at Xi'an North Railway Station in Xi'an, northwest China's Shaanxi Province, Jan. 11, 2020. (Photo: Xinhua)
While it is regarded as an important window into the changes taking place in Chinese society, the Spring Festival travel rush in China also vividly reflects the institutional advantages of the socialist system, which enables the country to mobilize resources for major undertakings.
The travel rush for the 2020 Spring Festival kicked off on Jan.10, 2020. According to a conference between several relevant government departments, the country is expected to witness around 3 billion trips during this year's travel rush, which will last around 40 days.
Such a large-scale migration of people could not be realized without the support of a massive transport infrastructure. With China's high-speed railway network covering more and more areas, people in many impoverished regions and old revolutionary bases in the country now have access to high-speed trains.
Thanks to China's efforts to improve transport conditions across the country, a great number of important and major landmark projects, including Beijing's Daxing International Airport, have been put into operation, realizing seamless connection between different transportation means.
During the past year, China's traffic facilities improved day by day, people's means of transportation became more diversified, and imbalance between supply and demand during the Spring Festival travel rush was further alleviated, making the journey home smoother, and taking less time than before.
The Spring Festival travel rush is like an annual "end-of-term examination" for China's transportation system. Without first-rate governance and a large capability to ensure safety in production, provide quality services, and handle emergencies, the country would not be able to ensure safe, pleasant, efficient and convenient trips for its people.
Today, with close collaboration between various government departments and the institutional strengths of the socialist system, the whole country is working together as one in improving the quality of services in all aspects for the Spring Festival travel rush and ensuring greater convenience and comfort for every passenger.