White House infighting distorts US policy
Global Times
1529002337000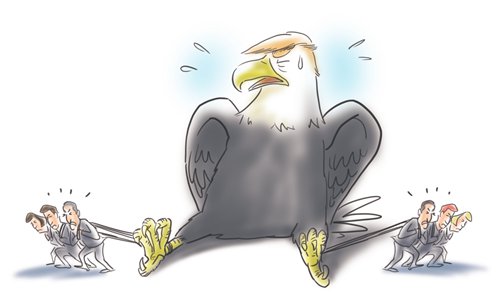 Illustration: Liu Rui (Photo: Global Times)

Following last week's disastrous G7 summit, Larry Kudlow and Peter Navarro, both high-ranking officials in the White House, blasted the Canadian Prime Minister Justin Trudeau respectively by saying he "stabbed us in the back" and "there's a special place in hell" for him.
This is not the first time that US President Donald Trump's team has made such remarks. The recent series of outrageous and embarrassing diplomatic moves by the US administration shows that conflict and chaos remain in the White House over 500 days after Trump took office.
At the end of last month, Trump's repeated flip-flop on his meeting with North Korean leader Kim Jong-un demonstrated the power of countervailing forces from the establishment.
In early March, Trump surprisingly announced acceptance of Pyongyang's invitation to meet Kim, leading to domestic opposition. The establishment accused Trump of grandstanding to win the Nobel Peace Prize and cast doubts on his ability to urge North Korea to abandon its nuclear weapons.
On March 19, John Bolton, who had not yet been appointed the US national security adviser, publicly laid down a mine for the meeting. He told an interviewer that he hopes the US would follow the Libya model in demanding North Korea give up its nuclear weapons. On May 21, US Vice President Mike Pence warned that North Korea would end up like Libya if "Kim Jong-un doesn't make a deal."
The warning of "Libyan model" that led to the lynching of Libyan leader Muammar Gaddafi angered Pyongyang. On May 16, Korean Central News Agency (KCNA) issued a statement saying "We shed light on Bolton's quality in the past, and we do not hide our feeling of repugnance toward him." In 2003, KCNA called Bolton "rude human scum" in an article after his remarks calling the then North Korean leader "tyrannical dictator."
On May 23, Bolton proposed to cancel the Trump-Kim summit, but Trump hesitated. The next day, Choe Son-hui, North Korea's vice minister of foreign affairs lambasted Pence as "ignorant and stupid."
Pyongyang's personal attack on Pence prompted Trump to decide to cancel the Singapore summit. But this angered US Secretary of State Mike Pompeo, who was bent on improving US-North Korea relations. Pompeo deemed that Bolton and others intended to derail the summit. Under his persuasion, Trump changed his mind the following day and said that the summit would proceed as usual.
On June 1, when North Korea's special envoy visited the US to meet Trump, Bolton was excluded. It was alleged that Pompeo attempted to avoid Bolton's "negative effect" on the meeting. The rift between Bolton and Pompeo on North Korea seems to have become public.
In recent Sino-US economic and trade talks, the US policy has repeatedly repudiated ideas within the White House. The divergence between proponents of free trade and nationalists remains.
US media reported that in the second round of Sino-US talks in Beijing, Navarro fought with Treasury Secretary Steven Mnuchin, shouting, cursing and even using the "f" word.
Kudlow, Commerce Secretary Wilbur Ross and Mnuchin sought to reach a compromise with China to avoid a trade war. But the economic nationalists headed by Navarro and Trump's US Trade Representative Robert Lighthizer tried to promote more protectionist measures.
As a result, despite the positive signals from China and the US after the second round of negotiations, the White House still announced on May 29 that it would impose a 25 percent tariff on China's high-tech goods worth $50 billion. Apparently, this should be attributed to Navarro and Lighthizer who were dissatisfied with results of the negotiations.
In the above cases, Trump was actually led by the nose by his subordinates, which hurt the integrity and international reputation of the US administration. Trump himself has a clear goal. He wants to see accomplishments for the Republicans before the midterm election, including rise in employment rate, drop in trade deficit and beneficial trade deals.
However, his advisers have their own calculations to push their agenda: Navarro, an anti-China obsessive, swore to launch a "trade war" against the country; trade liberals want to maintain the established global trade system so as to enable the US to continue to benefit from globalization; hawkish Bolton defies diplomatic means and believes that the North Korean issue and Iran cannot be solved without using military force; Pompeo has seen a window of opportunity to realize peace in Northeast Asia and wished to make a name by facilitating the Trump-Kim summit.
From this point of view, it's not surprising that there is indecisiveness and chaos in the Trump administration and the farce is all there for the world to see.