Chinese students unfairly targeted in US
Global Times
1539190952000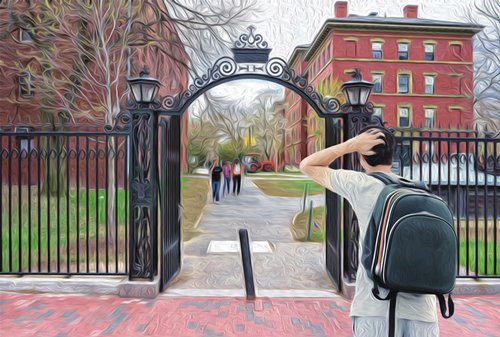 (Photo: Global Times)

US Vice President Mike Pence recently accused the Chinese Students and Scholars Association (CSSA) of alerting consulates and embassies whenever students or their American schools "stray from the Communist Party line" in his speech on October 4. But Chinese students play an important role in promoting Sino-US relations and cultural exchange between the two countries. Unfortunately, such tidings are ignored by the US government.

In Harvard Kennedy School, the CSSA helps students from China develop contacts, adapt to the American way of life, and showcase the culture of their country to foreign friends. Last year, they organized a boat cruise around the Mid-Autumn Festival. Students from different countries played traditional Chinese guessing riddle games. During the Spring Festival, they also organized a Chinese cultural exchange event at Harvard Kennedy School. Many foreign students enjoyed traditional Chinese songs and dances, calligraphy, painting, and tea culture. These are cultural exchange activities devoid of any political agenda. Such events opened the windows to those prejudiced against China, and also gave them a chance to set aside political differences and try to see the beauty of Chinese culture.

Not only student and scholar associations, many individual Chinese students are also making an effort to promote Chinese culture. What they have done is not dictated by the Chinese government, but comes out of the love of their own culture. This summer, the new Mason fellow of Harvard Kennedy School, Chen Jie, who is a prominent Chinese pianist, held a piano concert in Harvard Memorial Church. She said the purpose of the concert was to change people's misunderstanding about China. In school, she has heard various discordant voices. In the social network group, some foreign students shared anti-China articles; in class, there are professors talking about the threat of the rise of China. As a musician, Chen believes music is the universal language of the soul that transcends differences and boundaries. She invited all her friends in Harvard, who like or dislike China, to her concert. Surprisingly, when she played the traditional Chinese music Liang Zhu, hundreds of students from different countries stood up and applauded.

The mistrust of and misunderstanding about Chinese students have increased everywhere in the US. Two months ago, some days after President Donald Trump characterized the vast majority of Chinese students in the US as spies, I experienced a three-hour background check by a telephone company when applying for a new telephone number. I was sitting in the business hall, sending all my identity papers to different departments over and over again, explaining to them in detail why I came to the US, what I did before going there, and what I plan to do after graduation. The whole process was very frustrating.

Also, assaults on Chinese students are not uncommon in the US. Last week, I was assaulted by a white American lady in Los Angeles. She pushed me away with her elbows when I was paying a cashier. "It is very rude," I responded with a look of shock and anger, to which she rudely replied, "You Chinese deserve it." Many Chinese students have similar experiences. Some were physically assaulted on the subway. Some were told in the street, "Go back to China." Such incidents may hurt the feeling of Chinese students in the US. Many of them are afraid that the more the US people regard Chinese students as enemies, the more their chances of leaving the US.

The number of Chinese students has maintained a steady growth for a decade. There are more than 350,000 Chinese students in the US, which accounts for about one third of its international student numbers. If the number of Chinese students comes down, it will affect the US economy. As Jill Welch, Association of International Educators (NAFSA)'s deputy executive director for public policy said, "Generations of foreign policy leaders agree that international students and scholars are one of America's greatest foreign policy assets... Chinese students contribute $12 billion to the US economy, alongside countless other benefits, so even a modest reduction in Chinese enrollment would be devastating, and virtually every community in America would feel the impact if Chinese students decided not to study in the United States."

At least, the positive role of Chinese students in the relationship between the two countries cannot be ignored. They should not be made the victims of inflammatory political comments.