Climate change turns up the heat on deniers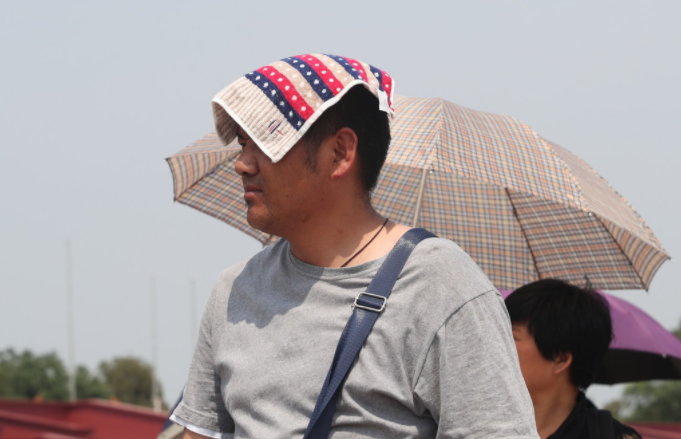 A man covers his head with a towel to cool himself from heat in Beijing on June 23, 2019. (Photo: China Daily)
Beijing endured its hottest day this summer on Thursday with the temperature reaching 39 degrees Celsius. But more than the temperature it was the unusually hot gust in the evening, when normally the city experiences a relatively cool and at times lilting breeze that brings respite from the daytime heat. Extremely high temperatures, drought-like conditions and floods have again marked this summer of extreme weather in China. And, as if those extremities were enough of an omen of the horrid weather ahead, a rare tornado hit Liaoning province on Wednesday causing deaths and devastation.
Extreme weather, however, is indiscriminate in its choice. Large parts of Europe are reeling under the impact of an intense heat wave. Germany, Poland and the Czech Republic have recorded their hottest-ever temperatures for June. The worst hit has been France, which experienced its hottest day on record on June 28, when the mercury reached 45.9 C in Gallargues-le-Montueux near Montpellier in the southern Gard region. And Girona, in the Catalan region of Spain, saw the temperature rise to 43.9 C.
In certain parts of Europe temperatures have exceeded the catastrophic 2003 European heat wave-Europe's hottest summer since at least 1540.
And it is not just Europe that is feeling the heat. The water shortage in India, especially in the southern commercial hub of Chennai, along with scorching conditions in many other parts of the country, has already hit international headlines. What many considered a water-surplus country until a couple of decades ago is now struggling to quench the thirst of its people, especially in places such as Maharashtra, India's largest province.
Yet some global leaders prefer to stay in a state of constant denial. At their summit in Osaka last month, when G20 leaders agreed to sign a climate change deal similar to the one inked at the Buenos Aires Summit last year, the United States refrained from doing so. Even in Buenos Aires when most of the countries reaffirmed their commitment to the Paris Agreement on tackling climate change, the US had taken the same rigid stance, affirming its "strong commitment to economic growth, energy access and security".
But it is this very "strong economic growth" the US and some other countries are recklessly pursuing that now faces a serious threat from climate change, as a new International Labour Organisation report says. Terming excessively high temperatures in workplaces an occupational health risk, the ILO has warned of large-scale productivity and economic losses across the world due to "heat stress".
Rising temperatures will cause losses of about $2.4 trillion a year, said the ILO report titled "Working on a warmer planet: The impact of heat stress on labor productivity and decent work". The damaging forecast is based on a global temperature rise of only 1.5 C by the end of this century. And all indications suggest we may have already crossed, or will soon cross, that threshold because of our business-as-usual attitude.
Unfortunately, yet again the poorest countries will suffer the most because of the temperature rise, with West Africa, and Southeast and South Asia being the worst hit. The ILO has warned that the lost output would be equivalent to 80 million full-time jobs-or 2.2 per cent of total working hours worldwide-by 2030.
If some developed countries assume they will escape the consequences of the "heat stress", they couldn't be more wrong, for even the most affluent US state, California, has experienced the disastrous effects of climate change such as wildfires, drying lakes and receding underground water tables.
It's time such countries and their leaders woke up and smelled the coffee.