Opinion: Xi-Putin summit boosts China-Russia ties
Global Times
1528580246000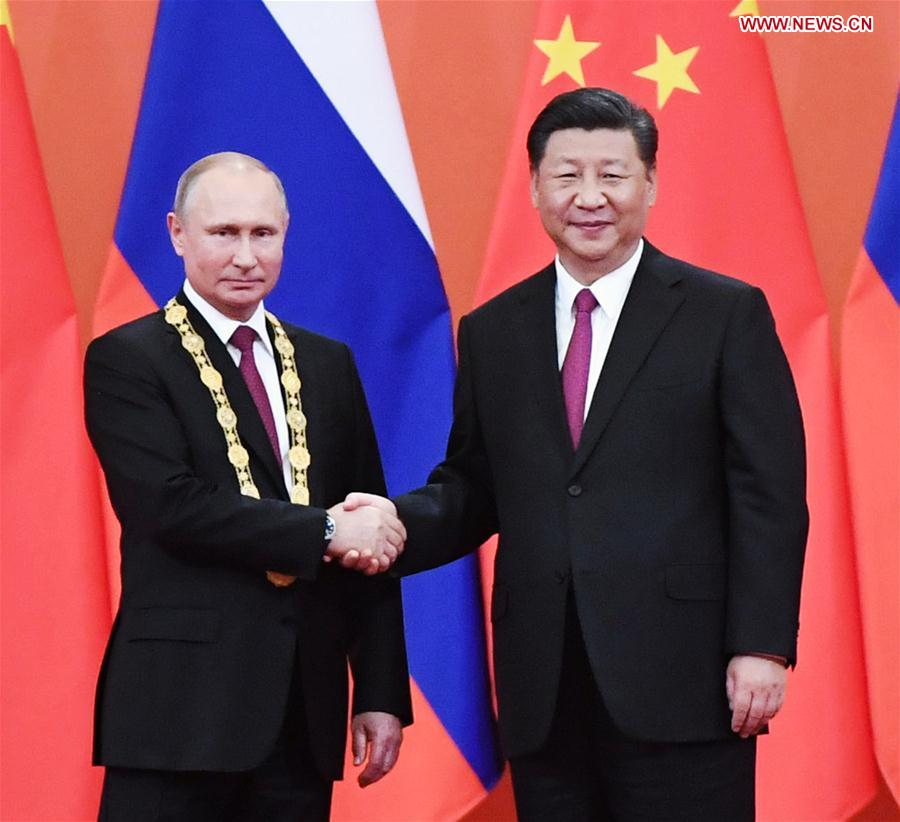 (Photo: Xinhua)
Russian President Vladimir Putin arrived in China on Friday to kick off his first state visit to the country since re-election and attend the Shanghai Cooperation Organization (SCO) summit in Qingdao. This is also Chinese President Xi Jinping's first meeting with Putin since Xi began his new presidential term. There have been five meetings in 2017 between the two leaders and each meeting was significant in reinforcing China-Russia comprehensive strategic partnership and broadening bilateral cooperation.
As one special item on Putin's agenda, Xi on Friday awarded the first Friendship Medal of the People's Republic of China to Putin at the Great Hall of the People. This is no doubt a cheerful moment for both countries.
International geopolitical environment has witnessed many complicated changes in recent years. During the time, China-Russia comprehensive strategic partnership has provided support for the diplomatic stability of both countries and played a constructive role in maintaining global strategic stability and balance. There are favorable contemporary conditions for China and Russia to become close partners, but the two countries are also subject to other disturbances. The strategic determination from both leaders to resolutely develop China-Russia relations as well as their leadership have played a primary and decisive role.
China and Russia share one of the longest land borders and yet that border has become one of the most peaceful borders in the world. The first bridge that spans across the trans-border river, the Heilongjiang River, is about to be completed, and another bridge is also under construction. China-Russia border regions are prospering based on peace and stability.
The US is strategically containing both China and Russia. Western media frequently attacked the two countries, yet the West cannot represent the entire world. Strategic composure of China and Russia is one of the major contributors to world peace and justice. China and Russia's mutual support upheld the sound atmosphere in the 21st century international relations and contributed to the protection of diversity of human civilization.
Openness in the China-Russia relations is valuable. The comprehensive strategic partnership suggests that the two countries support each other back-to-back, but both countries maintain a positive attitude in developing relations with other major powers, including those in the West. China-Russia relations were not used as leverage in hostile situations with a third county but played an active role in promoting exchanges with the rest of the world. When you have a powerful friend, making friends becomes easier but it doesn't mean other friends are less important. This has always been the inner value in China-Russia relations.
Both countries should cherish the good momentum of China-Russia comprehensive strategic partnership. Both countries should do more to improve friendly cooperation and promote friendly public opinions. There have been some extreme ideas viewing each other as potential threat. These ideas echo West narratives that aim to sow discord in China-Russia relations and pose a hidden risk in the bilateral ties.
For example, some Chinese people criticize China for being too close with Russia and they seem to believe that cozying up to the West is more "noble." We will not be surprised to see similar comments in Russia. This rhetoric showed that a small group of people in both countries have been brainwashed by Western values and cannot see clearly on national interests.
SCO summit will start on Saturday. The equal, mutually beneficial and cooperative China-Russia relations have deeply impacted the development of SCO. Western media are always able to find differences between SCO members but cooperation between SCO members only deepens. This is the charisma of a new type of international relations.