The 'biggest reality show' on the planet is for real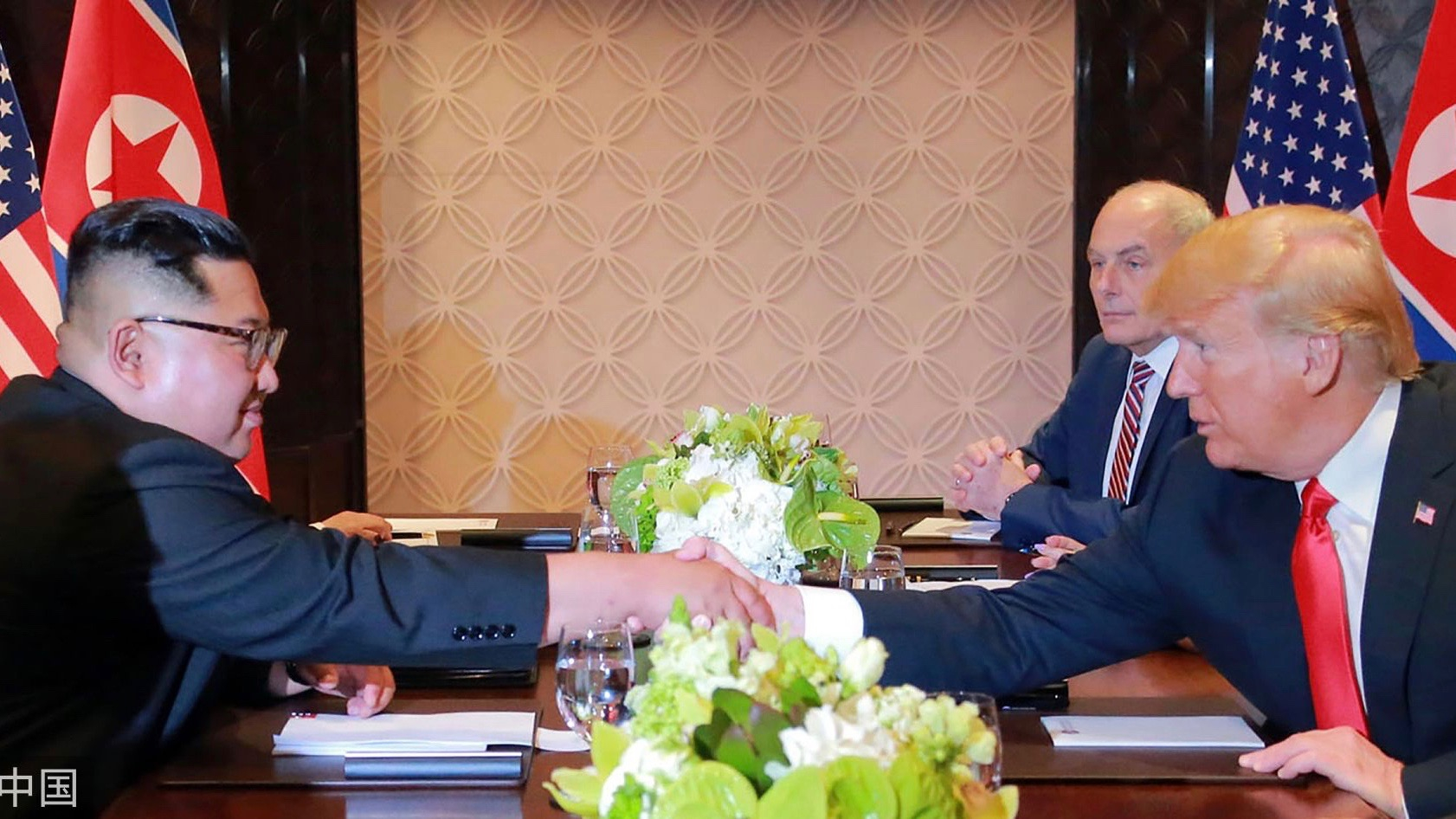 DPRK leader Kim Jong Un (L) shakes hands with US President Donald Trump (R) during the US-DPRK summit, at the Capella Hotel on Sentosa island in Singapore on June 12, 2018. (Photo: VCG)
A 13-second handshake, a five-hour negotiation, a four-point joint statement marked the day of the first-ever meeting between a sitting US president and a DPRK leader on the tropical island of Sentosa.
Wearing his signature red tie which he has sported since his days as a real estate mogul, Donald Trump, approaching 72, bristled with confidence. Kim Jong Un, the world's youngest head of state when he took power of a reclusive Democratic People's Republic of Korea (DPRK), put on his iconic grin.
The courtesy and manner they showed toward each other were poles apart from six months ago when they exchanged bellicose insults over nuclear brinkmanship, plunging the Korean Peninsula in a doomsday scenario.
It was much more than the world's "biggest reality show," as media had framed.
Four commitments
The pair are committed to establishing new US-DPRK relations, which came as a breakthrough in their frozen relations of 68 years. It's a smart decision. As the DPRK has yet to achieve complete, verifiable, irreversible denuclearization (CVID), it's impossible for the US to establish diplomatic relations with it.
"A new type of relations serves as an eclectic paradigm for the two sides to engage in dialogue and coordination," said Wang Chong, a senior research fellow of the Charhar Institute.
Once their new ties flourish, US allies, notably Japan, will provide plentiful financial assistance to its northern neighbor. Meanwhile, forging new relations also indicates that Pyongyang will no long pose nuclear threats to Washington and its allies.
For years, US negotiators on the Korean Peninsula issue were contacting DPRK diplomats at Pyongyang's UN mission through the "New York Channel," longing to seek direct diplomacy to facilitate negotiations over building a durable peace mechanism in the cockpit of Northeast Asia, according to Wang Chong.
Via the summit, they moved closer toward the goal of building a lasting and stable peace regime in concert.
The most critical part of the joint statement is the "complete denuclearization" which Kim reaffirmed. Though the wording falls short of the CVID that the White House has repeatedly called for, it's a hard-won outcome because both sides made compromises. Its appearance on paper demonstrates Kim's unwavering resolution to trading nuclear capability for peace.
To the American public, recovery of remains and repatriation of those already identified constitute an impressive step. Nearly 8,000 American service members never came home from the bitter Korean War. The commitment by Kim and Trump fueled the hope for Americans who had failed to bury their beloved family members and friends.
Charm offensive
The statement, though short on details, is proof that the pair travelled a long way to Singapore not for a mere photo opportunity.
For Kim, he has gained a substantial diplomatic breakthrough, paving the way for bolstering the DPRK's dilapidated economy. Over a rollercoaster ride in the past six months, he managed to reverse ties with Seoul, consolidate friendship with Beijing, and now Trump has disavowed "maximum pressure" and promised to stop expensive and provocative "war games."
Incredible rapprochement with major stakeholders on the Korean Peninsula also gives Kim a boost on the world stage. More decisive than his father and grandfather, he seized the moment.
For Trump, the day may well push him to the podium as a Nobel Peace Prize laureate, which can satisfy his tenacious penchant for self-promotion, noted Wang Chong.
More practically, the outcome may give a boost to his mid-term elections. Some 77 percent of Americans sampled approved of the Trump-Kim meeting and 53 percent agreed with Trump in approaching the DPRK issue, according to a CNN opinion poll this May.
Dow Jones surged 25 percent higher and US employers brought about 2 million more jobs in Trump's first year in office, Wang told CGTN. But to gain leverage in November's mid-term elections, he needs to put diplomatic deals on the table as well, now that he has upset the previous equilibrium by engaging in a withdrawal doctrine to a trade spat with China to the latest, rancorous "G6 plus one."
If the headstrong man comes to terms with the world's most mysterious country that has eluded his predecessors, it will win him tremendous favor with American voters.
Road ahead
Over the night following the historic day, most Western media outlets deemed the summit "void, generic and depressing."
In their eyes, the document merely codifies in broad strokes that the DPRK will work toward "complete denuclearization," without specifying that the process will be "verifiable" and "irreversible," which the West wants. In other words, Trump compromised, to the detriment of his position.
But under flashbulbs, the signed agreement is the culmination of optics of the highest order in modern geopolitics.
Ridding the DPRK of its nuclear arsenal requires time, perhaps over a decade, as the country had spent 20 years to build it. "Next, top US diplomat Mike Pompeo, a pragmatic negotiator, will engage DPRK government officials in negotiating the timing and modalities of denuclearization as well as how to technically verify it," Wang Chong said. The process will be brimming with twists and turns, but hopefully they can overcome distrust and join efforts if both leaders keep their promise.
On replacing the truce with a legally binding peace treaty, China and the ROK are indispensable players. Russia and Japan will also try their best to forge the long-awaited peace process.
The day on Sentosa was remarkable: It concluded the troubled 70-year history between the US and the DRPK while inaugurating a lengthy and high-stakes process.