China, Africa join hands to create better future
People's Daily online
1536323708000
The future of China-Africa cooperation has recently become a hot topic as the 2018 Beijing Summit of the Forum on China-Africa Cooperation (FOCAC) achieved success.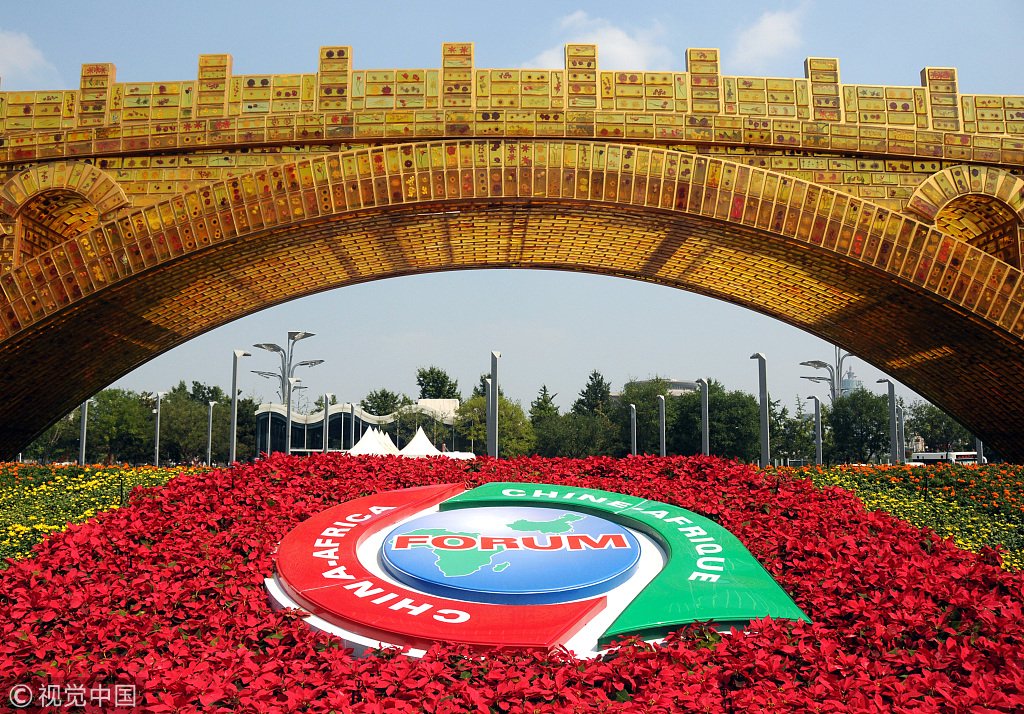 Photos: VCG

The vitality and energy of the China-Africa community with a shared future are bringing more hope to the African continent and the Chinese that have set foot on it.
A 38-year-old Chinese who runs an infrastructure company in Nigeria has climbed to the top of the local industry from scratch after 12 years of efforts, creating nearly 10,000 jobs for local community. But the man has bigger ambition, claiming that he would make greater accomplishment in the next decade.
At an industrial park in Tanzania's capital Dar es Salaam, 600 African young women at a China-invested jeans factory learnt textile skills from a dozen of Chinese female spinners from China's Anhui province. The Chinese "teachers" said that they would train about 5,000 more local spinners in the next 6 years.
Such stories are prevalent in Africa. Many skillful Chinese have found their positions in the continent through sincerity and hard work. According to incomplete figures, Africa is now home to more than a million of such workers and businessmen from China.
However, these Chinese hoping to realize their dreams in and contribute to Africa are sometimes misinterpreted or even neglected by western media who consider the efforts by Chinese as "Neocolonialism". In addition, some of the western media only focus on the risks and underdevelopment of Africa.
As a matter of fact, they will see the prospect of the continent as well as the visions of the people working hard on it, if they look at it in a different way. The common struggle of Chinese and local Africans well explain what Chinese President Xi Jinping has put forward.
China has followed the principle of sincerity, real results, amity and good faith and the principle of pursuing the greater good and shared interests. China has stood with African countries, Xi noted, adding that together, both sides have worked in unity and forged ahead.
The joining hands of China and Africa comes from the complementary advantages for development of the two parties. Thanks to China's complete industrial chain, the country can conduct international cooperation with and transfer technologies to developing countries. In addition, it also boasts cost-effective commodities, rich experiences of management and diligent work force.
Africa is a continent with over 1.2 billion people, in which younger generations take the majority. Most of the countries on the continent have rich resources and huge potential of social consumption. They are willing to learn and develop. The cooperation between China and Africa, which is mutually complementary and beneficial, is of vital significance to the sustainable development of both sides.
China's African policy is different from that of the western world, which is another reason for China and Africa to work in unity and forge ahead.
China follows a "five-no" approach in its relations with Africa: no interference in African countries' pursuit of development paths that fit their national conditions; no interference in African countries' internal affairs; no imposition of its will on African countries; no attachment of political strings to assistance to Africa; and no seeking of selfish political gains in investment and financing cooperation with Africa.
The approach is the foundation and premise for China to be Africa's good friend, good partner and good brother. Thanks to this approach, China and Africa will implement more practical cooperation and focus on economic growth and livelihood improvement.
Besides, China-Africa cooperation is also a result of the unprecedented change in the recent century. The two parties have similar situations and common destiny that both of them hope to maintain peace and development from the bottom of their hearts. They want to see a brighter future and a better life quality of the people.
The author, Wang Wen is executive dean of Chongyang Institute for Financial Studies, Renmin University of China.