US tech giants 'bask in' Trump govt's crushing Chinese apps
Global Times
1600265566000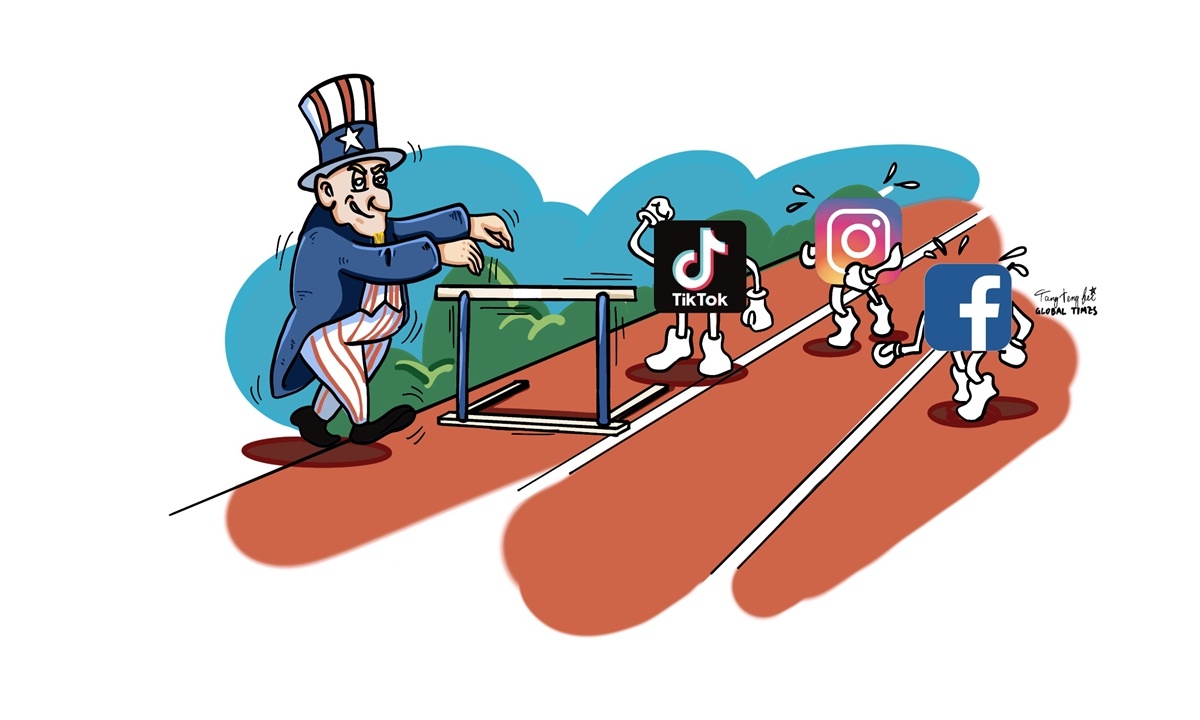 (Illustration: Global Times)
With a sweeping government ban on Chinese apps, India has presented a "rosy market" for US firms who had lost advantage to compete with Chinese firms in that market. Right after Chinese short-video platform TikTok being banned by New Delhi, YouTube rolled out its TikTok-like app, ready to take over the market share.
The new-born US app named YouTube Shorts is set to roll out in India market first, before expanding to other countries, CNBC reported.
And in August, Facebook's Instagram also launched a similar app named Reels against the backdrop of the market leader TikTok facing a broad crackdown from New Delhi.
The populous India, as an emerging market in Asia, has been a hot land for multinational IT giants across the world. Chinese tech firms, with favorable technology and advanced insight, had been cultivating the market for many years, offering huge facilitation for local start-ups and had achieved some progress.
US tech firms, as the other major investor in India, has missed the bus to compete with their Chinese rivals.
According to an industry report released by Sensor Tower in April, TikTok had been downloaded more than 2 billion times globally, with India as the biggest driver of the app's installments, generating 611 million downloads, or 30.3 percent of the total.
There were 44 Chinese apps in India's top 100 app list as early as January 2019, reports said.
However, India has been recklessly trying to confront China in recent months, from provocative acts on the border to decoupling moves in economic area in which a series of bans on more than 200 Chinese apps has been one of its major moves.
While causing huge losses for Chinese investors, New Delhi has thrown its international reputation into trash as well. In the meantime, Trump administration, together with US tech giants were preparing a crackdown on TikTok US operations, which has also won high popularity in the US market.
The strong ideologically biased Trump administration has never been hesitant to bully Chinese tech firms, from 5G frontrunner Huawei to social media platform TikTok. It has offered an ideal environment for US technology firms represented by Facebook to take the opportunity to squeeze their Chinese rivals out.
With TikTok sweeping the US market, American tech firms have realized that their superiority is weakening as Chinese companies have been taking leading roles in some areas.
Trump administration's attack on foreign firms due to ideology is not a normal operation and goes against international market rules. As for TikTok, it was hard to foresee such hostile crackdown from foreign governments. However, the event has offered a crucial lesson for Chinese firms and the government.
With US government tirelessly suppressing Chinese firms and American companies taking the advantage or even raising antagonism, Chinese firms and entrepreneurs should act more bravely to explore the global market place, firmly protecting their lawful rights and interests, and courageously sanding up to bullying.
The article was compiled based on an interview with Zhao Gancheng, director of the Center for Asia-Pacific Studies at the Shanghai Institute for International Studies.