Compliance with Iran nuclear deal only way to solve crisis
UNITED NATIONS, July 7 (Xinhua) - Iran announced on Sunday it is raising the purity of its enriched uranium beyond limits of the 2015 landmark nuclear deal, in response to US withdrawal from the tension-defusing agreement and a slew of sanctions.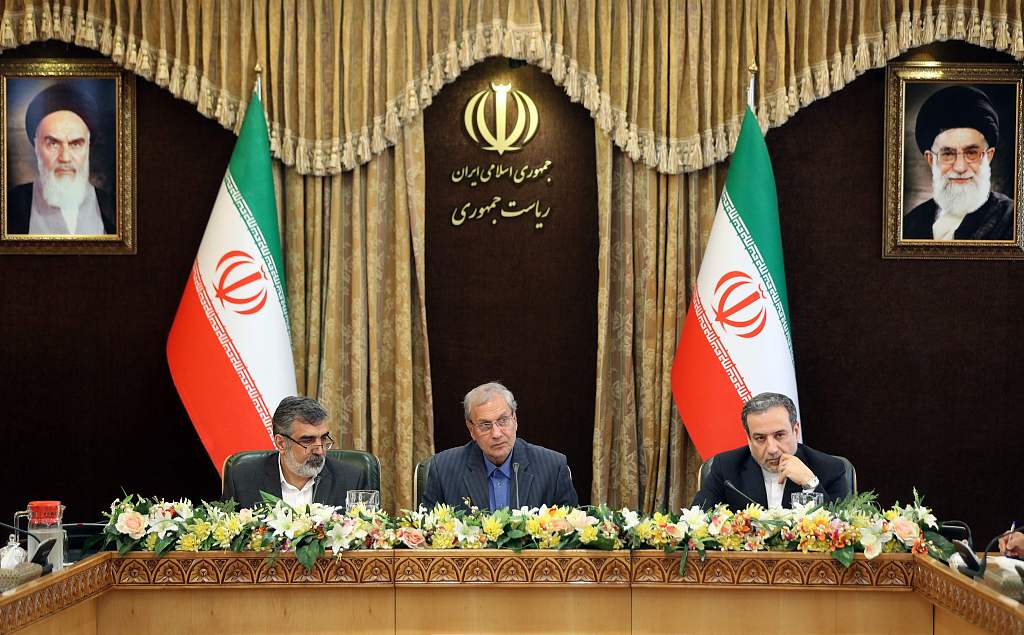 Iran's Atomic Energy Organisation spokesman Behrouz Kamalvandi, government spokesman Ali Rabiei, and Deputy Foreign Minister Abbas Araghchi give a joint press conference at the presidential headquarters in the capital Tehran on July 7, 2019. (Photo: VCG)
The further retreat came only days after Tehran surpassed the limit of the low-grade enriched uranium stockpile under the deal Iran inked with Britain, Germany, France, China, Russia and the United States.
The White House has recently commented that Tehran is "playing with fire." However, it is clear to all that Washington started the fire by unilaterally withdrawing from the deal and tightening anti-Iran sanctions.
The situation remained jittery and fragile amid a series of tit-for-tat measures and actions. As US sanctions on Iran have showed no sign of abating, Tehran and Washington are locked in barbs trading over the shooting down of a US drone. The seizure of an Iranian ship by the British navy in the Strait of Gibraltar on Thursday adds more fuel to the fire.
To prevent the situation from spiralling out of control, fully and effectively implementing the Iran nuclear deal is the only realistic and effective way to ease the tensions and eventually solve the Iran nuclear issue.
The Iran nuclear deal is a multilateral agreement endorsed by the United Nations Security Council. It is an important achievement of multilateralism and is of crucial significance in safeguarding international nuclear non-proliferation regime and maintaining peace and stability in the Middle East.
The importance and effectiveness of the deal should be recognized.
Washington should respect the fact that the International Atomic Energy Agency has for 15 consecutive times verified Iran's compliance with its nuclear related commitments under the nuclear deal.
The Iranian nuclear issue covers a very important area and involves the interests of different parties as well. Therefore, compliance with the 2015 nuclear deal is critical to the implementation of the nuclear non-proliferation regime, the pursuit of nuclear disarmament and the peaceful uses of nuclear energy. It is vital to stability in the Middle East and even the entire world.
To prevent a spiral of escalation and solve the issue, all parties to the nuclear deal should take an overall and long-term perspective, exercise the utmost restraint and make sure the full and effective implementation of the deal.