New alliance nothing but a farce
People's Daily
1591533940000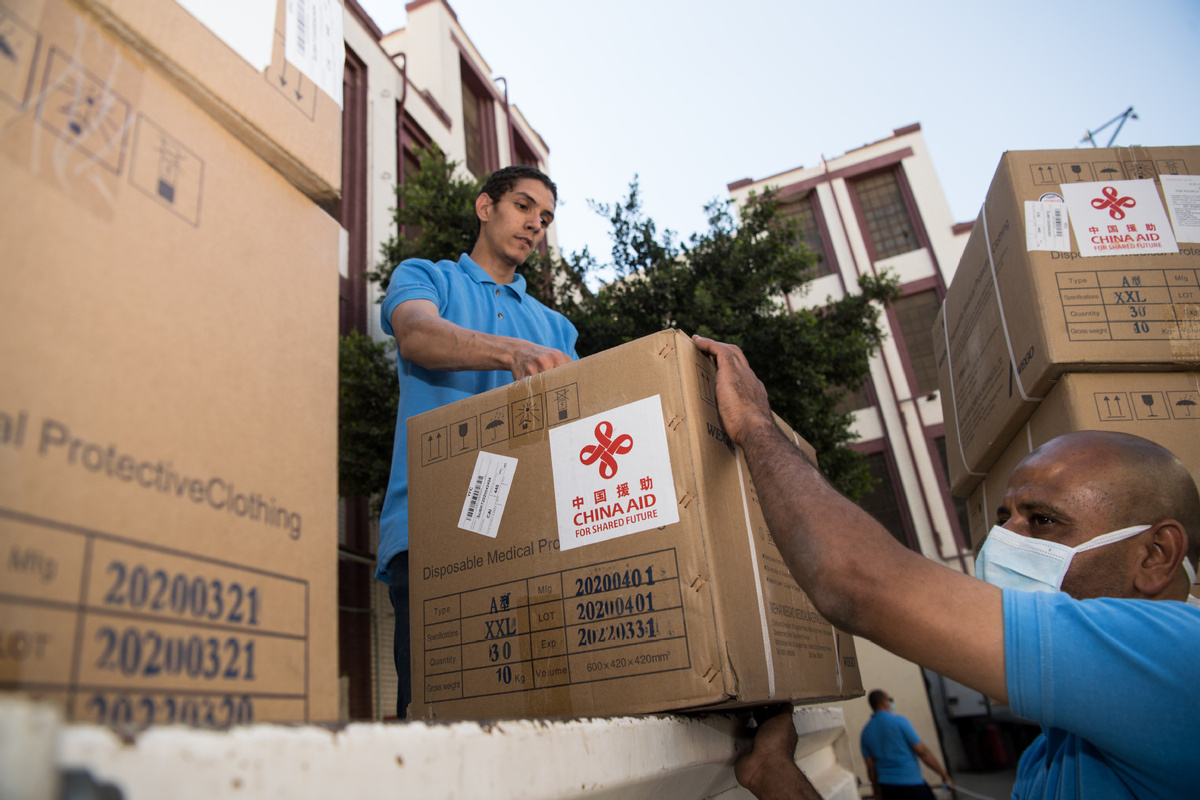 Workers transfer medical supplies from China in Cairo, Egypt, on May 10, 2020. (Photo: Xinhua)
It is not just ludicrous that parliamentary members from eight countries should form an alliance to counter the so-called China threat. It is also narrow-minded and feeble-minded of these politicians to turn a blind eye to what the world badly needs to avert the suffering that the COVID-19 pandemic and the subsequent unprecedented economic stagnation have caused.
Initiated by hawkish US Senator Marco Rubio, the lawmakers from the United States, United Kingdom, Japan, Canada, Norway, Sweden, Germany, Australia and the European Union are trying to pull the wool over the eyes of people around the world when it comes to the role China has played in promoting global solidarity against the pandemic and in doing whatever it can to save the world economy.
It is China that immediately after prevailing over its own epidemic has extended a helping hand to as many countries as possible to support the global fight against the pandemic. It is this country that has supported the leadership of the World Health Organization, both morally and financially, in the war to save the world from the devastation of the pandemic.
It is China that has called for concerted efforts from all countries to get through the pandemic and maintain the development of the world economy.
It is China that has offered aid of all kinds within its means to the most impoverished countries in the world to help with their economic development and social progress, and now in their fights against the pandemic.
It is China that has always maintained that negotiations should be the primary choice to solve conflicts or disputes instead of resorting to force. It is this country that has proposed to shelve differences with other countries for better bilateral ties.
Instead of withdrawing from multilateral treaties, cutting its ties with the WHO and other international organizations and protecting its interests at the cost of other countries, China has been doing whatever it can to make sure that its cooperation with other countries produces mutual benefits. It never rides roughshod over the interests of any other country.
Are these the ways in which China poses a threat to the world?
Had they no political bias against China and not a mindset deeply rooted in the Cold War, these politicians would not turn a blind eye to what China has done to benefit the world economy and global governance.
China will continue its engagement with the rest of the world and by opening its doors even wider will contribute whatever it can to the development of the world economy and the progress of global governance.
Let's see how this alliance continues its farce.