Expert: China's shrinking trade surplus isn't only from US tariffs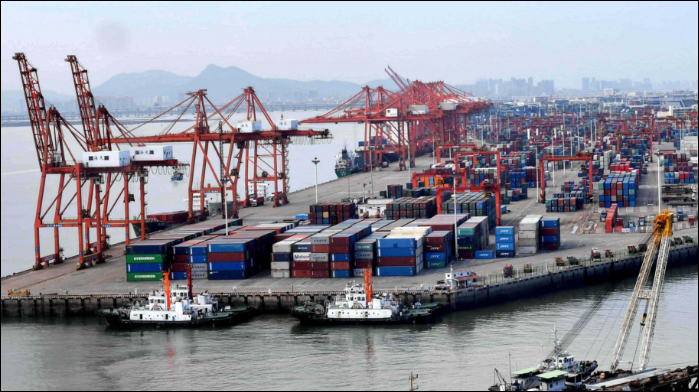 (Photo: CGTN)
In July, China's global exports surged 12 percent, higher than in June. At the same time, the value of gross imports to China jumped 27 percent last month. And it came with China's global trade surplus narrowed by 40 percent from a year earlier to 28 billion US dollars.
Is the decline of the trade surplus due to tariffs enacted since July 6?
He Weiwen, a researcher at the Center for China and Globalization, gave his perception of the massive shrinking of the trade surplus in July during his appearance on CGTN's Dialogue.
"That`s true in RMB terms. But in dollar terms, it`s another picture," He Weiwen said.
"Tthe single month in July, we are still in a good surplus of up to 28 billion US dollars, about the same similar monthly average as the previous six months of this year."
"The export growth is still at over 12 percent from over a year ago. So we say that we should follow this trend, so far the trend is OK," He added.
As well as that, the chief strategist of Cinda Securities, Jiahe Chen, pointed out other cause of surplus decline.
"The trade surplus did drop when compared with that in previous months. That is not due to the shrinking trade, but the huge rising in the imports."
"That is because China is delivering some of its promises to import goods in the international market." said Chen.
It is still unclear how much further China's trade will be impacted as the tariffs have implemented. However, China is still making its effort to find a way out of this dilemma.
"We (China) should have different tools in pocket and use them when necessary."
"We should find alternative export market or we should try to sell domestically. That means to encourage domestic consumption and expand domestic market."
All these steps and strategies share the same confidence that China's market cannot be easily replaced by that of US.
"Many Chinese products in the US will not be replaced very soon. At least, 50 percent of total items that US depend heavily on are imported from China."
In addition, "the reason of the depreciation of the RMB also helps."