China's success is source of pride for developing world
People's Daily app
1509625273000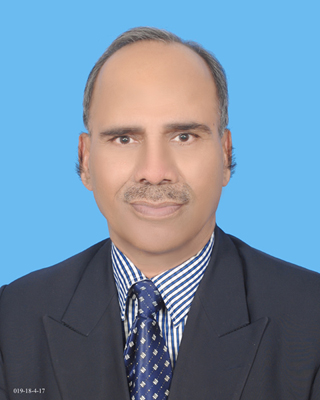 Syed Hasan Javed (Photo: Provided by Syed Hasan Javed)
The Communist Party of China (CPC) began its 19th CPC National Congress on October 18 in Beijing. China has succeeded in transforming itself under the able leadership of the Party from a position of Underdevelopment, Poverty, Weakness and Vulnerability, in a short period to Development, Prosperity, Strength and Influence. This has remained a "puzzle" for many China Watchers, particularly in the West. Not only Sinologists hold their strong opinions, but even among the ordinary people in the world there is a rich variety of explanations. I happened to be fortunate to witness the "China Story" unfold in front of my eyes not for a few months and years, but for nearly a decade, in two diplomatic assignments in my country's embassy in Beijing and regular visits to the great country after that.
China's rise is one of the major positive developments in international relations over the past seven decades. It comes as a source of Pride for the Developing World in particular. China has helped reduce the "Haves and Have Nots Divide" globally and within societies. China has achieved its success in its own unique way, combining Marxism, Leninism Path with its own social and cultural values, known better as "Chinese characteristics."
The work of Foreign Ministry, Economic Ministries and diplomatic missions were re-oriented to achieve the objectives of "Economic diplomacy." China also enhanced its regional and global presence by establishing regional and global cooperation Forums such as Shanghai Cooperation Organization (SCO), BRICS, Boao Forum, Asian Infrastructure Investment Bank, Silk Route Fund, and playing a positive role as a Member State of G-20, Asia Pacific Economic Community, Asian Regional Forum, East Asia Summit, etc. China is also an active member of United Nations Security Council, UN specialized Agencies and bodies, as well as the International Financial Institutions such as IMF, World Bank, Asian Development Bank etc.
China's successes in positioning itself as a major player in regional and global arena, has been courtesy of a number of factors. In my view, the omnipresence of Visionary Leadership is the major element. I think this has been China's greatest fortune, in a contemporary world confronted by "leadership crisis" on the top of all other challenges.
The last Five years have been particularly, a spectacular period of the rise of China and its influence regionally and globally under President Xi Jinping. President Xi has steered China to great heights of success in building "a Modern, Prosperous, Developed, Democratic, Socialist country with Chinese Characteristics." The international Community has been impressed. China's successes are many. In the domain of governance, President Xi's efforts to promote Rule of law and tackle corruption, in the field of economy such as aiming for high quality inclusive growth and prosperity, banishing poverty and further opening up to the world, in the sector of ecology by promoting 'Beautiful China' through improving environment and cutting greenhouse gas emissions, in defense, by making China's military a aorld class institution, with integration of cyber Warfare etc.
Like all great leaders of China in preceding decades such as Chairman Mao Zedong, Deng Xiaoping, President Xi Jinping has proved to be a great visionary. His every speech is inspiring, reflecting correct understanding of historical trends and ground realities, whether in governance, economy, security or foreign relations. His China Dream, One Belt One Road initiative, new rra with new thought and two stage Development Plan (2020-35 and 2035-50) for making China great Modern Socialist Country, etc are all epoch making Paradigm Shift Policy Initiatives. From these strategic moves, it is obvious and apparent that the quality of Chinese leadership has been improving with each successive generation. This is indeed courtesy of Chinese Characteristics, there is deep underlying lesson for other societies in it. President Xi Jinping's Vision for the world rightly states that "Innovation is the only way forward."
It is in the field of foreign relations, that the speech of President Xi Jinping at the 19th CPC National Congress was most significant to China watchers abroad. President Xi stated, "Irrespective of what stage of development China achieves in future, it will not seek hegemony or expansion."This has been essentially core policy in China's foreign relations for not decades, but centuries. Even when, China commanded great power and influence in ancient times, it has never looked beyond its borders. From Han dynasty to Sui, Tang, Yuan, Ming, Qing the Chinese people have adhered to their core belief system of non – interference in other countries' affairs. China's deeds have actually proved its words. The Chinese have refused to be provoked, but have defended themselves, when subjected to aggression.
The successful launch of President Xi Jinping's One Belt and One Road initiative in 2013, for building a "Community of Shared Destiny" through Six Corridors of connectivity linking China with 65 countries in Europe, Central Asia, Middle East, West Asia, South Asia and South East Asia is actually a defeat of the protagonists of Cold War for "Containment of China." The initiative is a powerful win-win diplomatic paradigm.
The successful hosting by China of the Belt and Road Summit on May 14-15 attended by 128 Head of State / Government and Representatives of International Entities, was a historic event proving that "China's Story" is being gradually understood. The successful expansion of SCO to include India and Pakistan holds greatest prospects for peace in the South Asia region. The successful defusing of tension in South China Sea, created by "Extra Regional Powers," was another achievement, which was made possible by China's positive attitude to solve the problem by dialogue with ASEAN (Association of South East Asian Nations) Member states under a Mutually Agreed Code of Conduct. Further, China successfully hosted the 11th Summit of G20 Nations in September 2016. It was like no other Meeting. The historic address of President Xi Jinping stressing "Inclusiveness in development end to double standards, injustices, discriminations and Cold war mentality," were well received globally.
(Syed Hasan Javed, usted to served as Pakistan's Ambassador to Germany, Singapore and Mauritius. He spent nearly a decade in China in two diplomatic assignments and speaks Chinese fluently. He is the author of four books, Chinese Made Easy, Chinese Soft Power Code, Pakistan's First Chinese English Urdu Dictionary and Rise of China and the Asian Century. He retired from the Foreign Service in December 2015. He now is the director of Chinese Studies Centre in the National University of Science and Technology, Islamabad.)