Trump cares less about US businesses in China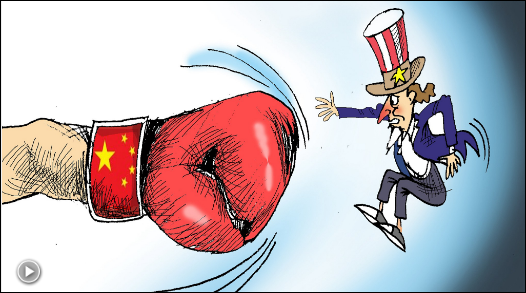 (Photo: CGTN)
"The Trump administration does not care as much about what's going on with American companies in China," said William Zarit, chairman of American Chamber of Commerce in China.
"I don't want to overstate it," worried the chairman of AmCham China representing about 3,000 American member companies in China. "But I think that's real."
His remarks came after the Trump administration threatened with additional tariffs on 200 billion US dollars Chinese imports that will be effective on September 24 on top of the earlier duty on 50 billion US dollars imports. China said it would be "forced to" retaliate with tariffs on US' goods that worth 60 billion US dollars.
"American companies are suffering both from China's retaliatory tariffs, and—ironically—from US tariffs designed to harm the Chinese economy," said a recent survey by AmCham in China and AmCham in Shanghai.
For US companies who responded to the AmCham survey, three-fourths have suffered lost sales or lower profits due to that increase, Zarit cited, adding 40 percent of them will be "very seriously and adversely" affected by the US tariffs and one-third by the Chinese tariffs.
At this point, six percent of American companies would move operations back to the US while 60 percent may not, Zarit referred to what the survey found, implying that one of President Trump's goals is to push more to come back.
He suggested that those companies dislike Washington's tariffs policy and didn't expect such "tactics," especially "applying pressure" while "not communicating well."
Instead, advocating for a "level playing field" and a "fair and reciprocal" commercial relationship are high on American companies' wish list for the US government in talks over China's market and tech policy, according to the survey.
Trump's new decision came days after his trade advisors invited China to the fifth trade talks that Beijing appears hesitant to attend amid tariffs threat.
"This is not a new threat," said Fred Zuliu Hu, chairman of Primavera Capital Group. "Even the entire Chinese imports might be subjective to [US] tariffs."
China needs to take the tariffs risk very seriously, Hu warned. "No one would really win in a tariffs war… The longer the tariffs last, the broader the scope of the bilateral trade will be covered by the tariffs."
Hu said that it is time for China itself to step up efforts to address trade barriers and create level playing field to boost confidence for foreign investments, which has been "clearly stated" in China's reform and opening-up agenda.