Innovations in science and technology indispensable for quality development
chinadaily.com.cn
1600001670000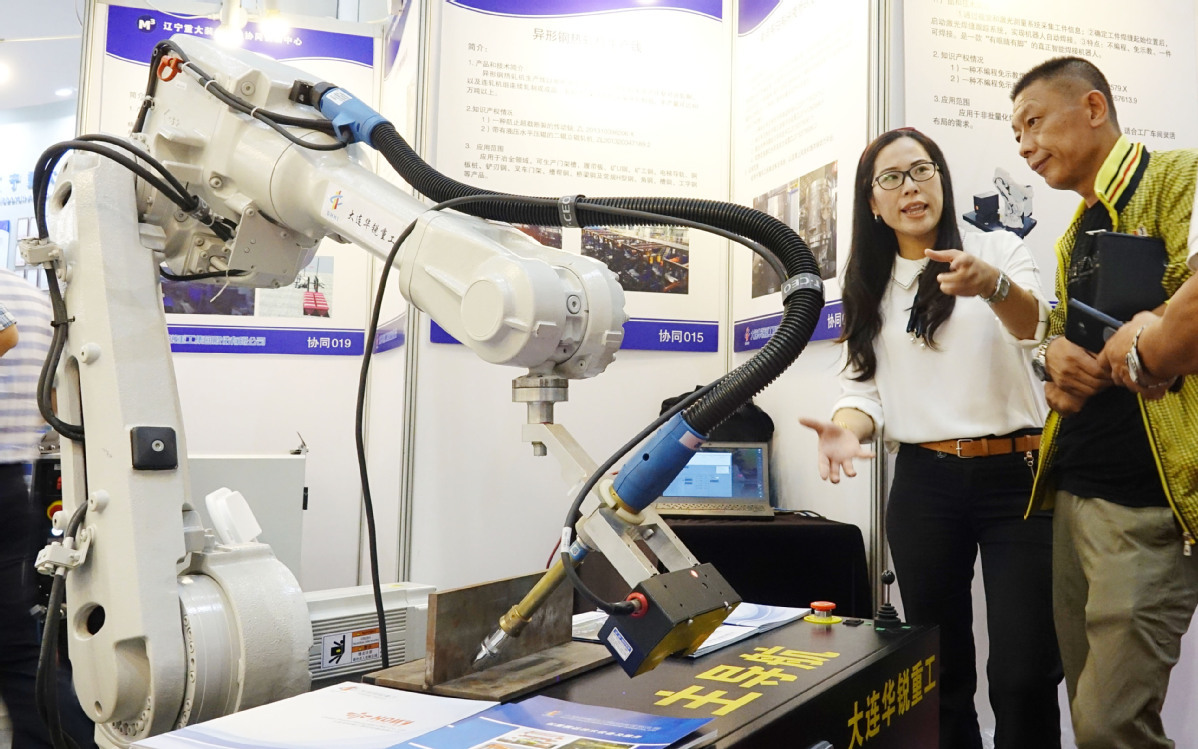 An employee (left) answers visitor's queries about smart robots during a high-tech exhibition in Dalian, Liaoning province. (Photo: China Daily)
China has achieved a great deal in a wide range of areas as far as the progress of science and technology is concerned since 2012 when the 18th National Congress of the Communist Party of China was convened.
In the country's fight against the novel coronavirus early this year, innovations in clinical diagnosis and treatment of the infected as well as control and prevention measures to curb transmission of the virus have played a significant role in keeping the fatality rate and number of infected relatively low and finally in containing the spread of the pathogen.
Indeed, the country has been catching up with the world's frontier technologies and is at the forefront in a number of areas. From the space lab Tiangong II to the deep sea submersible Jiaolong, from the most advanced high speed railway to the Beidou Navigation Satellite system and so on, the country's development of science and technology has resulted in furthering human knowledge and advancing the country's social and economic development.
But the importance of technological progress and innovation for the nation can never be overstated. This explains why President Xi Jinping emphasized the significance of expediting innovation in science and technology during the 14th Five-Year Plan period (2021-25) at a forum with scientists on Wednesday, in which he encouraged scientists to shoulder the historical responsibility of scientific development.
He stressed that they should target the global science frontiers, and strive to meet the needs of the country and improve people's lives with their work.
Facing a much more complicated domestic and international environment, accelerated innovation in science and technology is indispensible, as it is the primary driving force for economic and social development and improving people's living standards.
Higher quality socioeconomic development, which is indispensable to the overall strength of the Chinese nation, would be impossible without accelerated innovation in science and technology. That is why Xi called for reform of the nation's science and technology ecosystem so as to unleash the potential of innovation and transform it into a productive force.
It is more than necessary that more resources and policies are provided to strengthen the country's basic research and ensure scientists have the confidence, determination and capability to scale new heights and explore new frontiers. Scientists and technological workers must cherish the mission of making breakthroughs in key technologies, which will help break the technological barriers some countries have set up.
An environment in which intellectual property is protected, knowledge and talents are respected, and scientists are reasonably remunerated should be established.
That calls for down-to-earth efforts at all levels to provide scientists and technological workers with what they need to propose new theories, open up new fields and explore new paths, so that they can produce more high-level and original achievements that have practical applications.
That will enable the country to blaze a trail for innovation.