How Brazil's polarized presidential race heads to runoff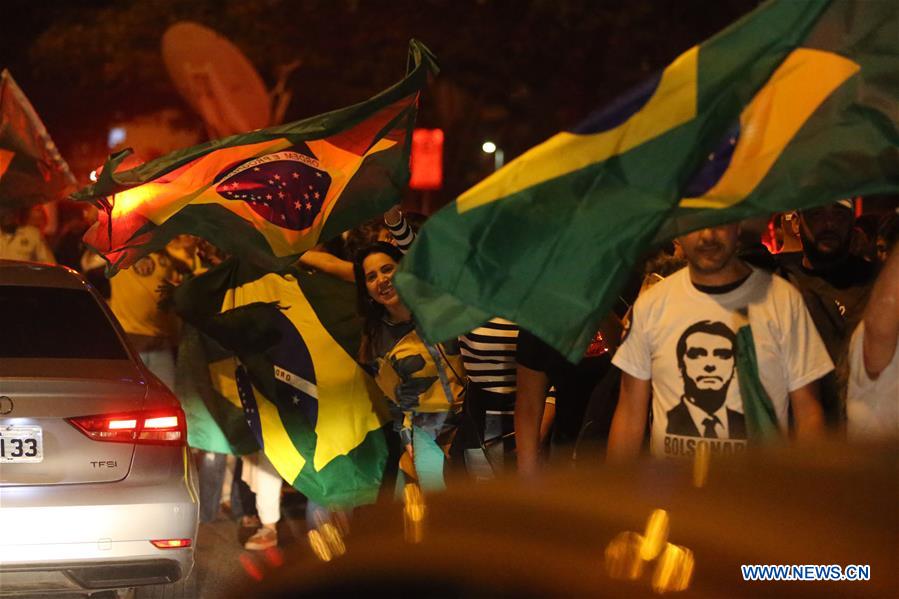 (Photo: Xinhua)
BRASILIA, Oct. 7 (Xinhua) -- Brazil's polarized presidential elections head to a runoff in late October between the front-runner of Sunday's initial round, the right-wing Jair Bolsonaro and runner-up Fernando Haddad of the left-leaning Workers' Party (PT).

Bolsonaro handily won the first round with more than 46 percent of the votes while Haddad had over 29 percent, followed by center-left candidate Ciro Gomes with over 12 percent and center-right Geraldo Alckmin with nearly 5 percent.
Since Latin America's largest economy once again became a democracy following a military dictatorship, no presidential election has been marked by such a major difference in ideology between the leading candidates.
How did Bolsonaro and Haddad come to lead the polls?
This polarization follows recent economic struggles, which culminated in the impeachment of ex-president Dilma Rousseff in 2016, and a string of corruption scandals.
Code-named Operation Car Wash (Lava Jato), a long-running investigation uncovered a massive bribery and kickback scheme revolving around state oil giant Petrobras, and involved officials from practically all political parties, especially the then-governing PT.
The combination of economic hardship and revelations of corruption created the kind of widespread discontent that can lead to more extremist views among voters, the rise of political outsiders and election upsets, said Paulo Kramer, a political observer at the University of Brasilia (UnB).
"Operation Car Wash unleashed an overwhelming amount of information on corruption ... to that was added the worst economic crisis in our history, with gross domestic product falling 9 percent in just three years," said Kramer.
Bolsonaro, a former military officer turned politician, has served as a lawmaker for years, but he is not a member of Brazil's major political parties, which made him the outsider many voters were looking for, Kramer said.
While Bolsonaro champions a liberal economic policy that favors deregulation, he focused his campaign on other topics of interest to voters, such as fighting Brazil's high crime rate or defending traditional family values, a stance that contrasts with the diversity that the PT champions.
Professor David Fleischer, who also teaches at the UnB, believes Brazil's changing demographics also played a role in the elections, with an increasing number of voters now over 60, nearly 18 percent of the electorate, compared to 15 percent between the ages of 16 and 24.
"Polls showed that this group over 60 is more conservative," said Fleischer.
Haddad, meanwhile, was somewhat handicapped by his late entry to the race, only after the PT's initial candidate, ex-president Luiz Inacio Lula da Silva, was disqualified due to his conviction for corruption.
He nevertheless firmly garnered the support of women, securing more than 52 percent of the female vote, and solidly won Brazil's PT strongholds, the poorer north and northeast regions.
Haddad also refrained from going on the offensive, as Bolsonaro spent most of the past few weeks in the hospital, recovering after having been stabbed at a campaign event.
Brazilians are now bracing themselves for the campaigning to come, as the two jostle for voters in the days leading to the Oct. 28 runoff.
Bolsonaro went into the second round with immense strength and political capital; almost 20 percentage points ahead of his opponent, he does not need much more votes to become president.
Haddad, on the other hand, has an extremely difficult challenge: to overcome the massive rejection of the PT, which faces corruption and the conviction of the party's main leader, with the help of a partial media and justice system.
He needs to gather the support of the center. Though Gomes has practically confirmed his support for Haddad, not all of Gomes' voters will automatically embrace Haddad. In fact, many of those who voted for Gomes did so because they did not want to vote for Haddad or Bolsonaro, according to observers.
The last time the PT had such a small share of votes in a first round was in 1994, when they lost the election in the first round to Brazilian Social Democracy Party's (PSDB) Fernando Henrique Cardoso.