Tiny houses are trendy, unless they go up next door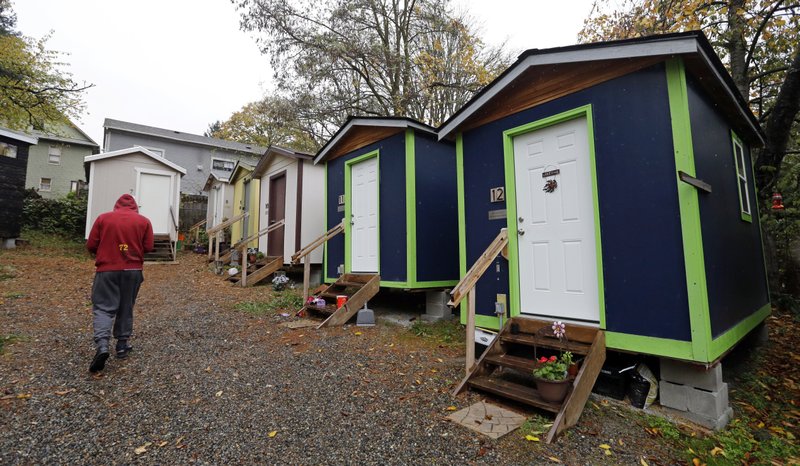 As he tows a 96-square-foot house around Des Moines, Joe Stevens is overwhelmed by the intense, sometimes tearful support he receives from churches, schools and service groups for his plan to use the trendy little structures to help homeless people.
But when Stevens actually tried to create a village of the homes in Iowa's largest city, the response was far different.
"We got shot down," said Stevens, who leads a group that proposed erecting 50 tiny homes on a 5-acre industrial site north of downtown Des Moines. "It was a sense of fear, uncertainty and doubt, a kneejerk situation."
Tiny homes have been promoted as the solution to all kinds of housing needs — shelter for the homeless, an affordable option for expensive big cities and simplicity for people who want to declutter their lives. But the same popularity that inspired at least six national TV shows about the homes often fails to translate into acceptance when developers try to build them next door.
In at least a dozen cases across the nation, neighbors organized to stop tiny house projects, including in Charlotte, North Carolina; Nashville, Tennessee; San Jose, California; Tulsa, Oklahoma; Tallahassee, Florida; and Bend, Oregon. Sometimes the efforts moved ahead despite objections, but in many cases, the communities were blocked.
The president of the American Tiny House Association said opposition arises even among people who feel an affinity for the homes.
"People say, 'Tiny home are great and cool, and you can put that village anywhere but right across the street from my subdivision,'" said Chris Galusha, who is also a Fort Worth, Texas, area builder.
The current interest in small houses follows a steady growth in the median size of homes, from 1,200 square feet in the 1940s to about 1,860 square feet in this decade.
As home sizes spiraled up, tiny house pioneers in the 1990s began promoting the austerity and frugality of spaces smaller than most garages. The idea captivated millions of Americans, even those who remain in more spacious accommodations.
"It's an aspirational lifestyle, and it's fun to watch people try to do something difficult, which is to live contrary to the general trend, which is more space," said Ben Keys, a real estate professor at the University of Pennsylvania's Wharton School.
The opposition is often focused on developments for homeless people, as in Des Moines. But in many cases, it also extends to tiny home communities designed for the open market.
That's what happened in Charlotte, North Carolina, where a developer had hoped to build 56 tiny homes near a neighborhood filled with ranch houses and split-levels. Opponents argued that the tiny homes would clash with existing housing, cause traffic problems and fail financially due to the cost of the 500 square-foot homes, which would be priced at about $90,000.
"The tiny houses, we feel they're a fad," said Robert Wilson, who helped lead the opposition. "It's a niche market, and we think it is not less expensive."
A similar story unfolded in the high-desert resort city of Bend, Oregon, where owners of a development inspired by author J.R.R. Tolkien's vision of a Middle Earth paradise were shocked when they learned of plans for a 22-lot tiny home development that would wrap around many existing houses.
"I think tiny homes are great and people can enjoy them if they like, but please don't put them in our neighborhood," said Joanna White Wolff, who fears existing home values could drop by $100,000 if the tiny development proceeds. "My home is my sanctuary, and it's going to be destroyed by different thinking."
Wolff and her neighbors are considering legal action to block the development if city leaders approve the plan, she said.
For his project to help the homeless, Stevens arranged for high school and college students to build the houses, with donations to cover costs. But after being thwarted in the search for a building site, the Des Moines group he heads, called Joppa, turned to the nearby city of Van Meter about locating the village there.
"We're not giving up because we really do believe this is an answer to a serious problem," said Stevens, who noted that about 250 people are typically homeless in the Des Moines area.
The homeless population in San Jose, California, is much larger — an estimated 4,000 people. That city would like to offer tiny houses as a solution, but one middle-class neighborhood has threatened to file a lawsuit.
"People are sympathetic toward the homeless, but to put this in an established neighborhood doesn't make sense," said Jon Kanter, a retiree who has lived in the neighborhood for nearly 40 years.
It's a comparable situation in Nashville, where residents went to court to stop the zoning board from approving a church's plans to build a village of 22 tiny homes for homeless people.
Some homeless advocates also oppose the move to offer tiny houses to homeless people, saying the money could be better spent subsidizing their move into traditional apartments.
In Tallahassee, Florida, a privately funded development called The Dwellings will open this fall, with 11 of an eventual 130 tiny houses intended for homeless people who have some resources. Residents will pay $550 to $850 a month for homes up to 410 square feet, a price that also includes meals and a range of other services.
Before the development could become a reality, backers had to give up on plans to locate it within the city because of zoning issues and then successfully fight a lawsuit filed by neighbors.
Tiny home supporters point to successes in Madison, Wisconsin, and in Seattle and Portland and Eugene, Oregon.
Sometimes communities actually seek out tiny home developments, although it is rare.
That's what happened in Colorado, where Pueblo-based Sprout Tiny Homes has been building tiny houses and then trucking them to communities that need affordable housing. More than 40 of the homes serve as seasonal housing for workers in the exorbitantly expensive resort city of Aspen. Others serve as overnight rentals in the city of Lyons, near Rocky Mountain National Park. The latest effort is a market-rate development of 200 homes on nearly 20 acres in the city of Salida.
Company President Rod Stambaugh said the key to avoiding opposition is to fill a need and take pains to be clear about your intentions.
"You have to have a full-blown plan that's well thought out," he said.