Vladimir Putin's visit to China marks advancing China-Russia relations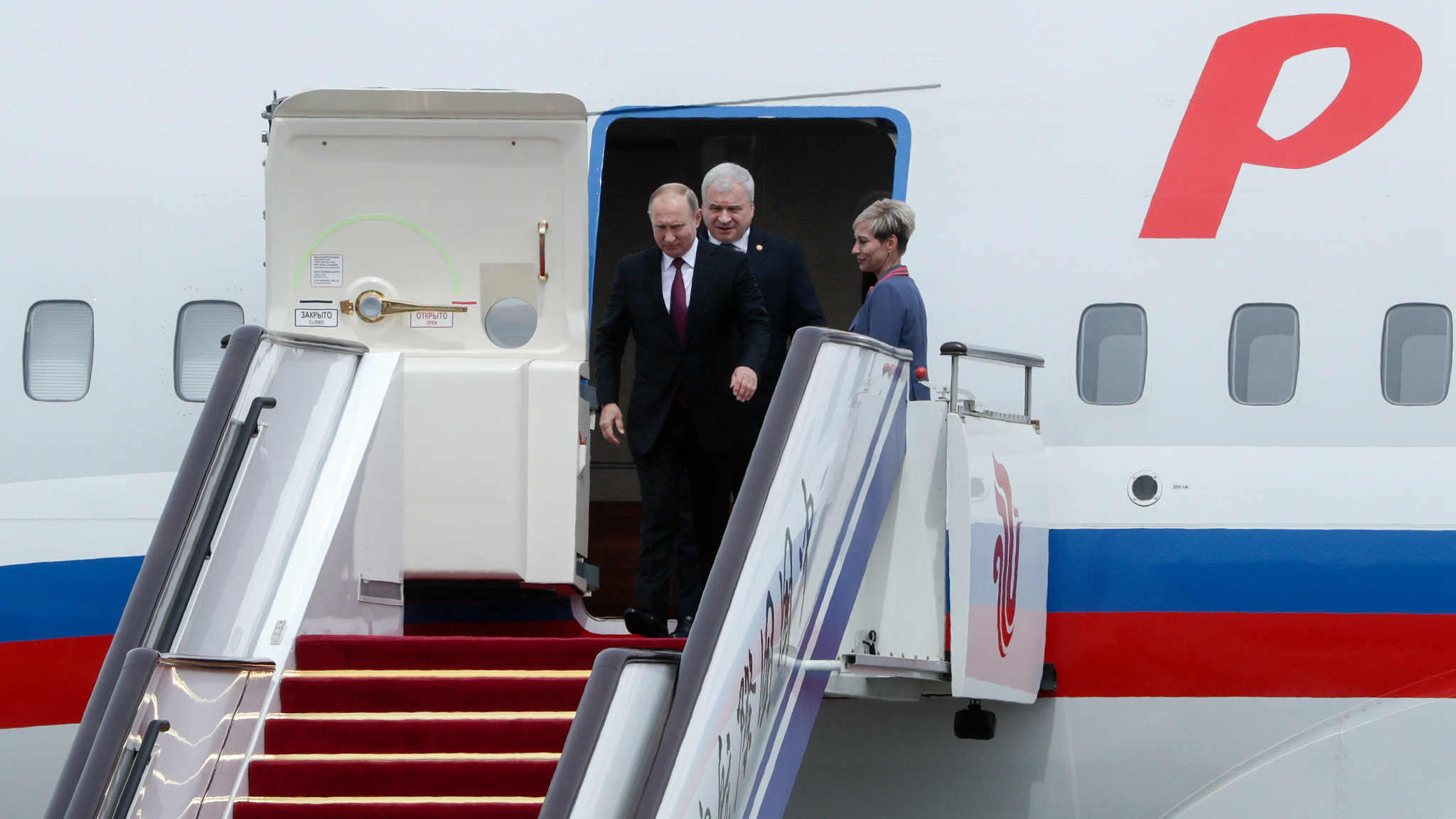 (Photo: CGTN)
Russian president Vladimir Putin will be attending the 2018 Shanghai Cooperation Organization Summit in Qingdao while paying a state visit to China today.
This is the first time that the leaders of China and Russia meet in 2018, and China is also the first country that Putin has officially visited since he began his fourth presidential term.
According to the report, the two sides will issue political documents and sign cooperation deals.
At present, China has entered a new era of socialism with Chinese characteristics. Russia has entered Putin's "4.0" era and China-Russia relations, which have maintained a high level of development, will enter a new period of historical opportunities.
In the past 27 years, the internal and external environments of China and Russia have undergone major changes. The two countries have made concerted efforts to overcome difficulties and develop bilateral relationships.
Bilateral relations have risen from "mutually regarded as friendly countries" to "constructive partnerships" and then to "comprehensive strategic partnerships."
"In recent years, China and Russia have maintained close relations. This is not aimed at any third party country but is instead a strategic appeal between China and Russia," said Guan Xueling, a Professor at the School of Economics at Renmin University of China.
Before his visit to China, President Putin accepted an exclusive interview with Shen Haixiong, the president of the China Media Group, on May 31, during which, he said Russia and China share the same goal of improving the lives of their people, which is among the broad consensus that binds the two countries together.
"Economically, both countries have made it their highest goal to improve people's living standards. In China, President Xi proposed the 'Chinese Dream' and 'the two centenary goals'. In Russia, President Putin is also committed to continuously improving people's living standards."
"Therefore, this is the common aspiration of both countries and is also a necessity for the development of bilateral economic and trade relations. China and Russia not only strengthen bilateral cooperation, but also actively promote the development of multilateral cooperation," Guan said.
"During the Shanghai Cooperation Organization Summit in Qingdao, I predict that the 'Belt and Road' Initiative will be written into the SCO declaration. Most of the SCO member states are countries along the 'Belt and Road' and they also very much want China's support. In this context, China and Russia will continue to strengthen trade links."
"Politically, the complex and changeable world pattern has had a greater impact on Sino-Russian relations. Especially since Trump took office, this uncertainty has gradually increased. China and Russia are considered to be the deterrents in the way of a US-led world order. This pushes China and Russia together and increases the possibility of further cooperation."
In Guan's opinion, the United States imposed sanctions on Russia's energy development and caused a severe blow to it. The relationship between Russia and Western countries has gradually deteriorated as a result of it.
The alleged incidents of poisoning and killing of agents has enabled the West to impose new sanctions on Russia, causing Russia to continuously challenge the Western order in the security field. Therefore, Russia began to turn to the East and turned to the Asia Pacific region to strengthen cooperation with China.
On the other hand, China's achievements in its 40 years of reform and opening up have also benefited from the existing trade and financial order.
However, in recent years, trade frictions between China and the United States, the South China Sea issue, and the Taiwan issue have caused problems for China. In order to safeguard its own interests, China also needs to strengthen cooperation with Russia.
China has maintained the status as the largest trading partner of Russia for eight consecutive years.
In 2017, the Sino-Russian bilateral trade volume reached 84.07 billion US dollars, an increase of 20.8 percent year-on-year.
"Traditionally, Russia has advantages in the fields of energy, raw materials, oil and natural gas, while China advances in finished products, but the cooperation between the two countries is relatively simple. At present, the trade volume between the two countries continues to increase in e-commerce, agriculture and trade in services."
"In the future, cooperation between the two countries in the energy field will increase. China can also learn about Russia's advantages in aviation and space technology," Guan added.
Guan's words were echoed by Mr. Cui Hongjian, a senior fellow at the China Institute of International Studies, who said "China is now trying to develop other sectors or trade with Russia, such as the digital economy, cross-border e-commerce and agriculture. In the digital economy sector, China has more mature technology and experience; we also find our advantage, for example, our huge population, therefore, it is a good time for China and Russia to cooperate in this field. "
In 2018, the China-Russia national development strategy accelerated the docking and entered into a new phase led by system. The cooperation between the two countries in energy, military, agriculture, and finance continues to deepen.