Why Macron's Beijing visit is important
Global Times
1515359076000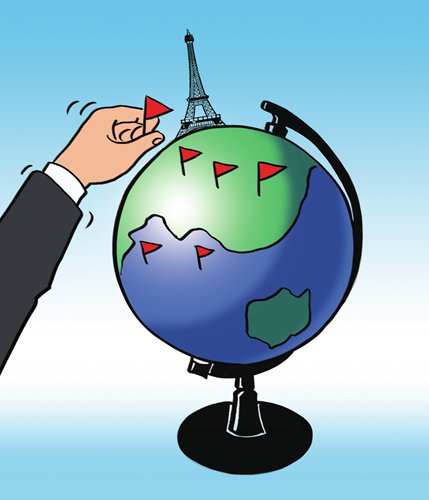 Illustration: Liu Rui/GT
French President Emmanuel Macron is the first leader of an EU country to meet his Chinese counterpart Xi Jinping after the 19th National Congress of the Communist Party of China in October. This lends a special character to his first visit to China after his electoral victory in May 2017.

Macron is extensively investing in foreign policy. In his New Year's message to French diplomatic corps, he laid out priorities for 2018 hoping to re-establish his country as a significant global player. Despite its rise in the last few decades, France's international standing has taken a beating in the recent past, and Macron is trying to redeem it.

In this context, the French president believes that the role of China is important and the advancement of Sino-French relations critical. Noting, for example, that security remains the main challenge in his foreign policy calculations, he cannot but see China as a valuable partner. The fight against terror - mainly against the Islamic State - as well as the potential denuclearization of the Korean Peninsula are issues in which the two sides are expected to cooperate more.

Moreover, Xi Jinping, Chinese president, and Macron have shown a sense of responsibility in keeping the Paris Agreementalive following US withdrawal from the pact. They confirmed their backing of the deal in July when they met on the sidelines of the G20 Hamburg Summit. Last month, Chinese Vice Premier Ma Kai, who was in Paris to attend the One Planet Summit as Xi's special envoy, met Macron and reiterated their joint commitment to work together on climate change by honoring their countries' commitments.

China and France are both permanent members of the UN Security Council and have traditionally agreed on principles such as multilateralism and legitimacy in international relations. This gives them the opportunity to seek common ground for the resolution of important international crises. One should not lose sight of the fact that despite being a Western power, France has kept some distance from several American foreign policy choices.

Paris, for instance, has differed from the US stance on Iran. It strongly believes that the nuclear agreement reached three years ago should not be jeopardized after US President Donald Trump spoke about scrapping it. Paris does not agree with the encouragement of Iranian protesters from abroad either. From a Chinese perspective, it is encouraging that the American stance can sometimes be challenged by dovish voices, especially when they emanate from the Western hemisphere.

Moreover, Beijing appreciates the emphasis Macron attributes to revitalizing the project of European integration. Beijing wants that the EU can stay united and the eurozone remains strong because unexpected developments - such as Brexit - are causing unnecessary turmoil in international relations. The French president certainly has a vision to transform the EU and the eurozone despite being restrained by Berlin and delays caused by the formation of a new government in Germany.

China and France are interested in expanding ties for economic reasons. In 2016, the bilateral trade volume reached 62.4 billion euros ($75 billion) to continue its rise in the last two decades. Investment opportunities exist for both sides. It's not only about energy and nuclear power, a field where they will closely collaborate on development of the Hinkley Point C in the UK. Other areas deserve equal attention. A Sino-French innovation fund created in 2015 specializes in startups seeking to invest in internet-related companies. Tourism has huge potential as Paris is one of the cities clearly preferred by numerous Chinese visitors. About 2.2 million Chinese tourists visited France in 2015. The number went down by about 600,000 in 2016 due to the terror attacks in French cities.

In a nutshell, the visit of Macron to Beijing and his meeting with Xi can only work to develop Sino-French and Sino-European relations. The momentum is excellent not only for aspects already outlined but also because the continuous implementation of the Belt and Road initiative is reaching the French door. Macron's support for the initiative is increasing expectations from high-level dialogues on cooperation.