Exports display robust health
China Daily Global
1589764682000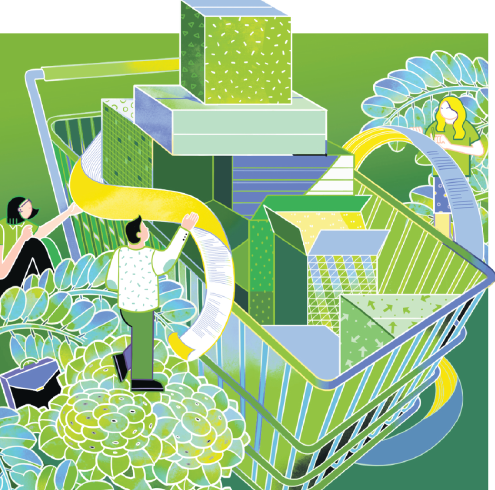 (Photo: CHINA DAILY)
Data released by the General Administration of Customs on May 7 indicate the value of China's imports and exports in goods in the first four months reached 9.07 trillion yuan ($1.28 trillion), a decline of 4.9 percent year-on-year, narrowing the growth rate of the first quarter by 1.5 percent. The value of China's exports dropped by 6.4 percent to 4.74 trillion yuan while imports shrunk by 3.2 percent to 4.33 trillion yuan.
However, to the surprise of many experts and rating agencies, China's exports in April amounted to 1.41 trillion yuan, an increase of 8.2 percent year-on-year, turning the negative growth positive.
The positive export growth in April was probably largely due to the efforts of private enterprises. In 2015, the exports of private enterprises surpassed that of foreign-invested enterprises for the first time, reaching 45.2 percent, and they have continued to grow ever since. Against the backdrop of the worldwide slump in international trade caused by the pandemic, the continuous hard work of Chinese private enterprises has paid off. Imports and exports contributed by private enterprises in the first quarter reached 3.92 trillion yuan, up 0.5 percent, accounting for 43.2 percent of the total volume of foreign trade, an increase of 2.3 percent year-on-year, while in the month of April, exports from Chinese private enterprises accounted for 51.7 percent of China's exports, more than half for the first time.
Some may wonder, how have private enterprises rebounded so much faster than foreign and State-owned enterprises? And can such growth be sustained?
The robust performance of private enterprises is mainly due to the following four factors:
First, the central and local governments have created a favorable policy environment for exports. In supporting private enterprises, the central government has introduced not only a series of fiscal policies to cut taxes and fees, but also taken steps to facilitate customs clearance, inspection and quarantine. Demonstrating greater vitality, private enterprises have risen to be the main driver of the growth in China's foreign trade. In addition, local governments have also launched measures to help them grow in foreign trade.
Second, private entrepreneurs have proactively changed their business concepts and explored diversified markets, greatly boosting China's general trade. For example, at the 126th Canton Fair in November, 21,393 exhibitors were private enterprises, accounting for 85.57 percent of all the participants. From January to April this year, 2,920 freight trains traveled between China and Europe carrying 262,000 TEUs of cargo most of which are small and intermediate commodities, daily necessities and medical supplies produced by private enterprises who are playing their part in the fight against the pandemic. As the novel coronavirus rages around the world, China is meeting people's needs for necessities, textiles, household appliances, children's products, sanitary wares and other products. These goods are exactly the ones that Chinese private enterprises are good at producing and exporting. Meanwhile, taking a long-term perspective, private enterprises are shifting their focus from the US-Europe market to the Southeast Asian nations and other Belt and Road countries.
Third, private enterprises have backup plans in place to deal with the pandemic. In response to the lack of consumer goods in Europe and the United States due to the lockdowns and shutdowns, those in Zhejiang, Guangdong, Jiangsu and Shandong provinces in particular, made preparations in advance for recoveries in production and export. That's why they can handle urgent orders from some European countries effectively.
Besides, private enterprises are quite united and supportive of each other during the pandemic. They share international orders when necessary, and promote cross-border e-commerce when the domestic market is weak.
Some people argue that such growth is only temporary because of the outbreak and private enterprises will eventually be marginalized by foreign companies and State-owned enterprises. But I don't think so. In my view, private enterprises will play a much bigger role in exports, taking up 60-65 percent in the next five years. But there are still things that can be done to support their growth in foreign trade.
First, the government needs to introduce more favorable policies to help private enterprises export. It should continue to cut tariffs, facilitate customs clearance, and provide preferential policies for small-and micro-sized enterprises, so that their roles in future exports will be further boosted. Policies should aim at allowing private enterprises the same treatment as foreign and State-owned enterprises, give small and micro enterprises more support in finance and credit and encourage cross-border e-commerce to develop just as general trade and other trade.
Second, the government should enhance the role of private enterprises in exports. By observing their export growth in the first four months, their importance in securing foreign trade and employment, two of the central government's six major tasks, has become clear.
The next move is to offer private enterprises more preferential policies to build the most desirable business environment. Among the 1.26 million newly registered enterprises in the first quarter of 2020, more than 1.25 million were private, accounting for 99.42 percent of the total. Regardless of the epidemic, private enterprises remain resilient and vigorous.
Third, private enterprises should be allowed to play a greater role in market-based resource allocation. Governments at all levels should build a bigger market platform for them to play their roles as major players. For instance, the Canton Fair and the China International Import Expo should attract more private enterprises and give them more preferential treatment.
Judging from the current global foreign trade market, what the Chinese private enterprises have achieved during the epidemic is far beyond expectations, which also indicates that the government's policies are working. I am sure that private enterprises will continue to play a bigger role in foreign trade.
The author is former vice-minister of commerce and vice-chairman of the Beijingbased China Center for International Economic Exchanges. The author contributed this article to China Watch, a think tank powered by China Daily. The views do not necessarily reflect those of China Daily.