The UK by-election that may help block Brexit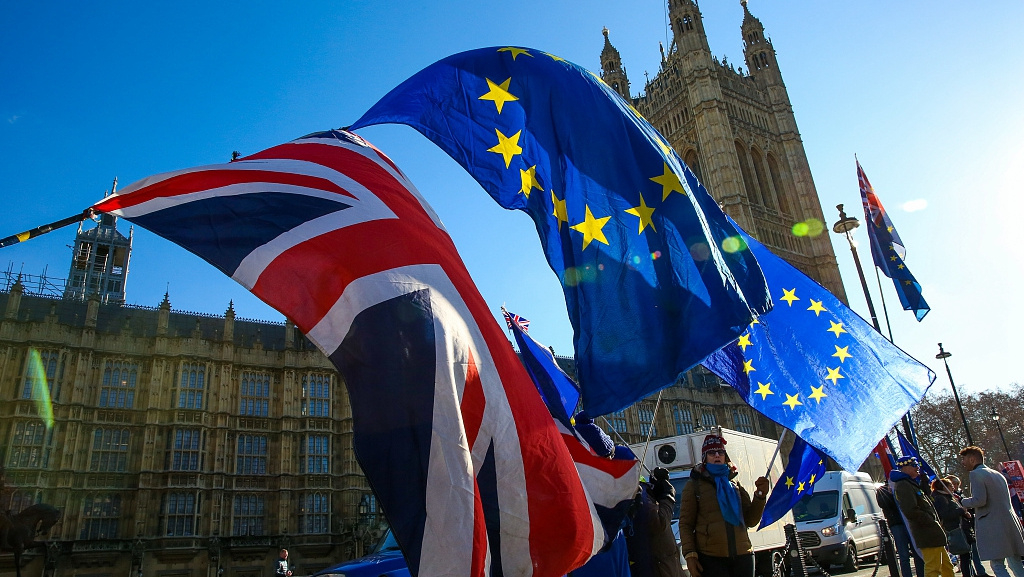 (Photo: VCG)
Editor's note: The author Chris Deacon is a postgraduate researcher in politics and international relations at the University of London and previously worked as an international commercial lawyer.
It was decided on Thursday that the upcoming parliamentary by-election for the UK constituency of Brecon and Radnorshire would be held on August 1. The seat, previously held by a Conservative MP, is now up for grabs and, should it be won by a Remain-supporting party, could put a dent in the next UK Prime Minister's plans for implementing Brexit.
The seat of Brecon and Radnorshire was previously held by Conservative MP Chris Davies. Davies, however, was convicted of a false claim made under the MP expenses system and, under a relatively recent UK law, such a conviction is one of the triggers for a "recall" process.
In essence, residents of the constituency concerned are able to sign a petition for the removal of their MP in such circumstances. A successful recall petition requires 10 percent of constituents to sign and, in this case, roughly double this number (over 10,000) did so, meaning that Davies was ousted from his seat.
A by-election is now necessary to decide who will take over as MP. In normal times, while by-elections are important, they tend not to generate huge amounts of interest because they only result in one out of 650 MPs changing (if they change at all). However, as the current government is functioning without a majority in Parliament, every single MP counts.
This has been shown in some of the recent voting in the House of Commons, particularly regarding Brexit. During Theresa May's final weeks trying to get a Brexit deal through Parliament, certain motions and "indicative votes" on a Brexit solution passed or were defeated by a single vote. Losing just one seat, therefore, could be extremely damaging to the government.
Before the recall petition, with the support of its "confidence and supply" partner the Democratic Unionist Party (DUP), the government had a working majority of five. With Davies's removal, this has been reduced to four and should the Tories fail to win back the seat will be reduced further to three.
Given that there are already multiple Remain-supporting Tory MPs who are happy to vote against the government on Brexit – and some who have even committed to bringing down the government by voting against their own party in a "confidence motion" should the new Prime Minister pursue a no-deal Brexit – the next government is already in serious trouble. Losing the Brecon and Radnorshire by-election will only make this situation worse.
The likely result of the by-election is difficult to predict. The seat previously belonged to the Liberal Democrats, before they lost it in 2015 – an election in which the party was punished by their former supporters for going into coalition with the Tories from 2010 to 2015. The Lib Dems are now, however, experiencing a revival principally driven by their policy to have a second referendum on Brexit and to remain in the European Union.
This policy saw them take votes from the main opposition Labour Party to come a strong second in the recent European elections, won by the newly-formed Brexit Party. Capitalizing on this in Brecon and Radnorshire will not be straightforward for the Lib Dems, however.
The seat itself voted roughly in line with the national average in the Brexit referendum – with just under 52 percent of constituents voting to leave the EU. National opinion polls have, however, moved since this time and generally show an even split, or marginal support for remaining in the EU.
It seems likely that Brecon and Radnorshire would also be roughly split down the middle at this point too, then, meaning no Remain-bias for the Lib Dems to take advantage of.
Combined with this, there are other parties that support the same Brexit policy. The Greens and the Welsh nationalist party Plaid Cymru also support a second referendum and remaining in the EU. Labour, while still ambiguous, also appears to be slowly moving towards this position and might have got there by August 1.
Perhaps unsurprisingly, therefore, rumors are already spreading that the Remain-supporting parties will seek to field a single, jointly-supported candidate so that they do not split the Remain vote.
If they manage this and similar arrangements are not reached between the Conservatives and the Brexit Party, victory should be a lot more likely.
The Tories are also not helped by their decision to back Chris Davies to contest the seat in their name. Having a convicted expenses cheat as your candidate is unlikely to go down well with many constituents and is a perplexing decision for the party. It surely makes loss of the seat even more likely.
The Parliament would then have one more Remain-supporting voice within it – a voice, and a vote, that could make all the difference in a few months when the current Brexit deadline of October 31 is near. It will also be one more vote against the government in the event of a confidence motion being proposed.
The Tories are already hanging on by a thread. If they lose in Brecon and Radnorshire on August 1, it could contribute to pushing them over the edge and, with that, throw the prospect of Brexit ever being implemented into doubt.