Hong Kong-Zhuhai-Macao Bridge leads to a brighter future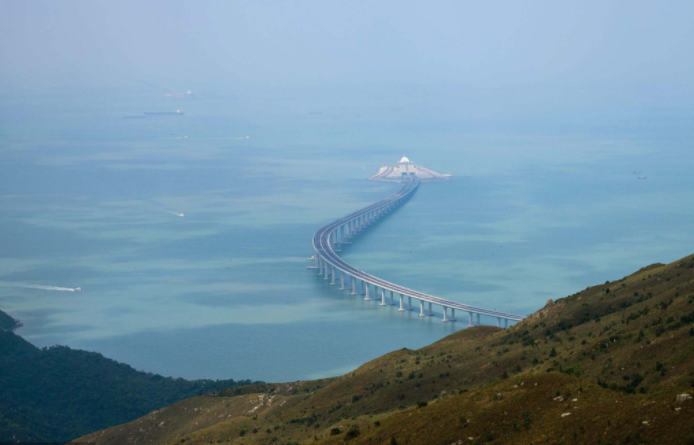 A section of the Hong Kong-Zhuhai-Macau Bridge (HKZMB) is seen from Lantau island in Hong Kong, October 7, 2018. (Photo: VCG)
The Hong Kong-Zhuhai-Macao Bridge (HZMB), the world's longest sea-crossing bridge has been officially opened to traffic on Wednesday, and the passengers already cannot wait to cross the bridge.
There is no doubt that the bridge has a very special significance for China. It tells the world about China and its successful merits in the past 40 years of reform and opening up.
It is a miracle achievement of China showing the high quality of bridge-construction and the talent of Chinese engineers. I do like to describe this bridge as Great Wall on the Sea. It will make a great contribution to the science of construction and the economic development in the Greater Bay Area.
China has its full Intellectual Property rights in the design, engineering and new building materials that helped the fulfillment of the project. It showed the intelligence and skills in various fields of different technologies.
The bridge will make the logistics in this area more convenient and efficient. The total time to travel through Hong Kong, Zhuhai, and Macao, will take about within one hour, compared to longer than four hours before the bridge was built.
It can save a lot in terms of transportation cost, thus enhancing the connectivity of these three cities and beyond. The economic efficiency will improve the exchanges of goods and personnel between Guangdong, Hong Kong, and Macao.
The bridge also shows that China will insist its policy of further opening up to the world, and welcome more foreign investors. China will follow its path of reforms to provide more opportunities for foreign companies to invest in Hong Kong, Macao, and the Chinese mainland as well
China had become the world largest destination for Foreign Direct Investment this year. And the recently released economic data shows that growth is still steady. This will give full confidence to the international market that China's economy is dynamic and promising and will remain as the main driving force to the world economy.
We should not forget the efforts we have made to overcome all technical difficulties and challenges in the past decade to construct this bridge, which reflects great changes happened in modernized China today: China is able to make miracles in order to improve the quality of life for its people.
The bridge will boost the whole nation for a shared future with Hong Kong and Macao. The great potentials in the Greater Bay Area will surely be explored and become one of the most attractive areas for foreign investors.