Remove political poison in HK's education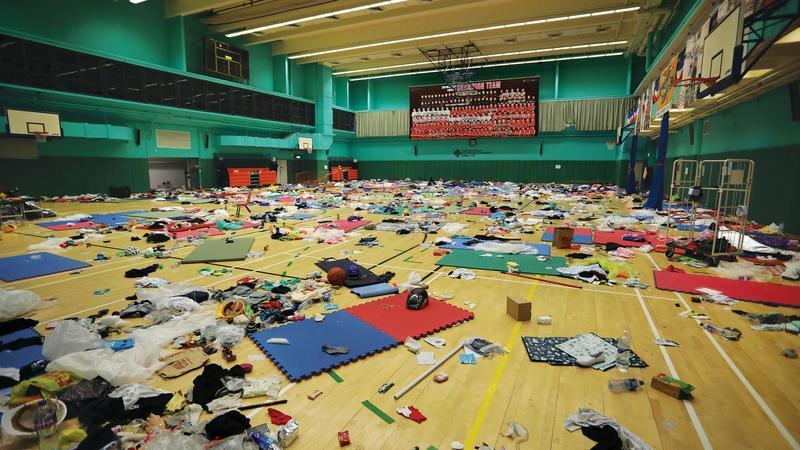 The main hall of Shaw Sports Complex at the Hong Kong Polytechnic University resembles a rubbish landfill on Nov 28, 2019. Mats, rags, rubbish and wastes lie strewn all over the floor. The hall was reportedly used by radical students and rioters to rest. (Photo: China Daily)
Two incidents show how wildly astray education in the Hong Kong Special Administrative Region has gone.
On Aug 24, the grieving mother and grandfather of teenager Chan Yin-lam, whose body was found in the sea off eastern Hong Kong on September 26 last year, were rudely insulted and harassed by dozens of political extremists — including a 17-year-old secondary student, who gave the two the finger aside from hurling verbal abuse — just outside the court where the two had just attended the coroner's court hearing on the death of the 15-year-old girl.
Instead of offering consolation, as has been the case on other similar occasions, the mob chose to rub salt on the wounds of the grieving mother and grandfather simply because their testimony did not fit into the politically motivated narrative that the girl was murdered by police rather than that she could have committed suicide due to emotional problems. Their cruel insensitivity demonstrates the loss of humanity among the young political fanatics in the SAR.
In the other shocking incident, a black-clad protester doused a 57-year-old man with flammable liquid and set him on fire on Nov 11 last year, leaving him with burns covering 40 percent of his body. The perpetrator committed this heinous crime just because the man opposed the vandalism of the city's mass transit rail system.
These two episodes, which are unimaginable and unacceptable in any civilized society, are the result of politicization on campuses. Over the past two decades, some teachers have prioritized their own ideological beliefs and political agenda over the well-being of their students by relentlessly brainwashing impressionable young minds with twisted and toxic ideas. Their systematic indoctrination has radicalized Hong Kong's younger generation with the open advocacy of "breaking the law to achieve justice".
As a result, of the some 9,000 people arrested by the Hong Kong police between June 9, 2019, and May 29, 2020, for various offenses related to the anti-government campaign, 1,707 were below 18 years of age and 5,640 were aged between 18 and 30.
The SAR government has realized the toxicity and harm of campus politics and has vowed to conduct a wide-ranging review of the education system. The recent moves to detoxify the liberal studies curriculum, which has been used as a key tool to indoctrinate young students with pernicious ideas and radicalize them, are no doubt a good start. But to put Hong Kong's education back on the right track, the SAR's education authority must take resolute action to rid the system of the demagogues who have been poisoning young minds under the cover of their profession as teachers.