Turkey-Israel crisis, new dynamics, old rules
Editor's note: Wang Jin is a research fellow of the Charhar Institute and a research fellow of Northwest University of China. The article reflects the author's opinion, and not necessarily the views of CGTN.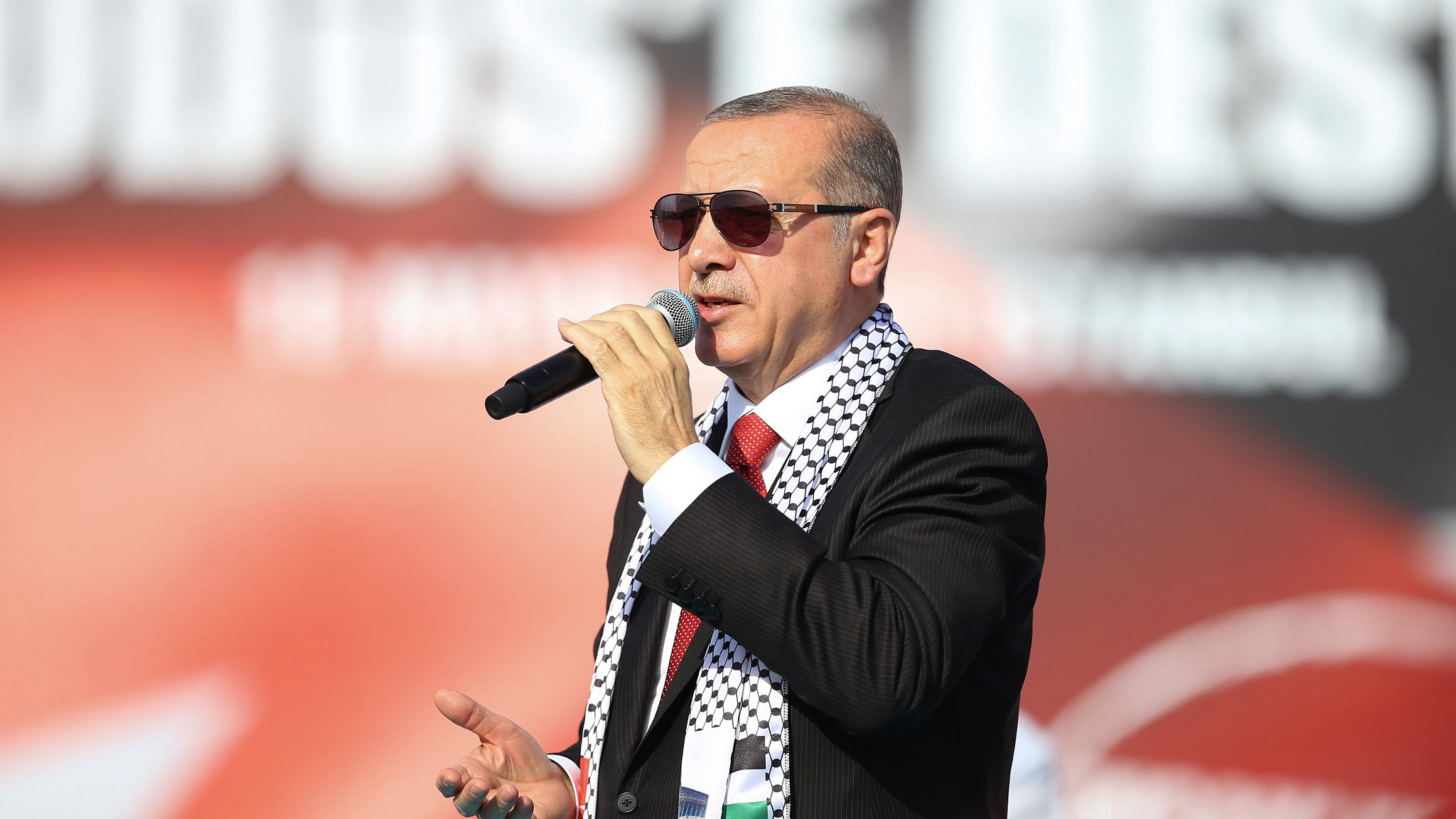 After the US moved its embassy in Israel from Tel Aviv to Jerusalem, and in protest against the killing of Palestinian protesters by Israel Defense Forces (IDF) soldiers along the Israel-Gaza Strip border, Turkey decided to recall its ambassadors from Israel and the United States while instructing Israel's ambassador to Turkey to leave.
To retaliate, Israel also demanded the Turkish consul-general in Jerusalem to leave the country. The recent diplomatic crisis between Turkey and Israel is a clear sign that the Israel-Turkey relation is full of complexities and challenges.
Meanwhile, the recent Turkey-Israel crisis is so familiar to many Middle East observers. In 1956, 1980 and 2011, Turkey downgraded its relation with Israel due to Turkey's sympathy for the Palestinians and Arabs.
However, Turkey's relation with Israel has become more sensitive since Turkey's Justice and Development Party (AKP) led by Recep Tayyip Erdogan assumed power in 2002.
As a leader sympathizing with the Islamic political parties and harboring the ambition of "neo-Ottomanism," Erdogan successfully earned Turkish public support as a result of his harsh rhetoric against Israel.
As the Turkish election will be held on June 24, 2018, Erdogan and AKP's major concern is how to regain the diminishing public support, largely because of the looming economic decline.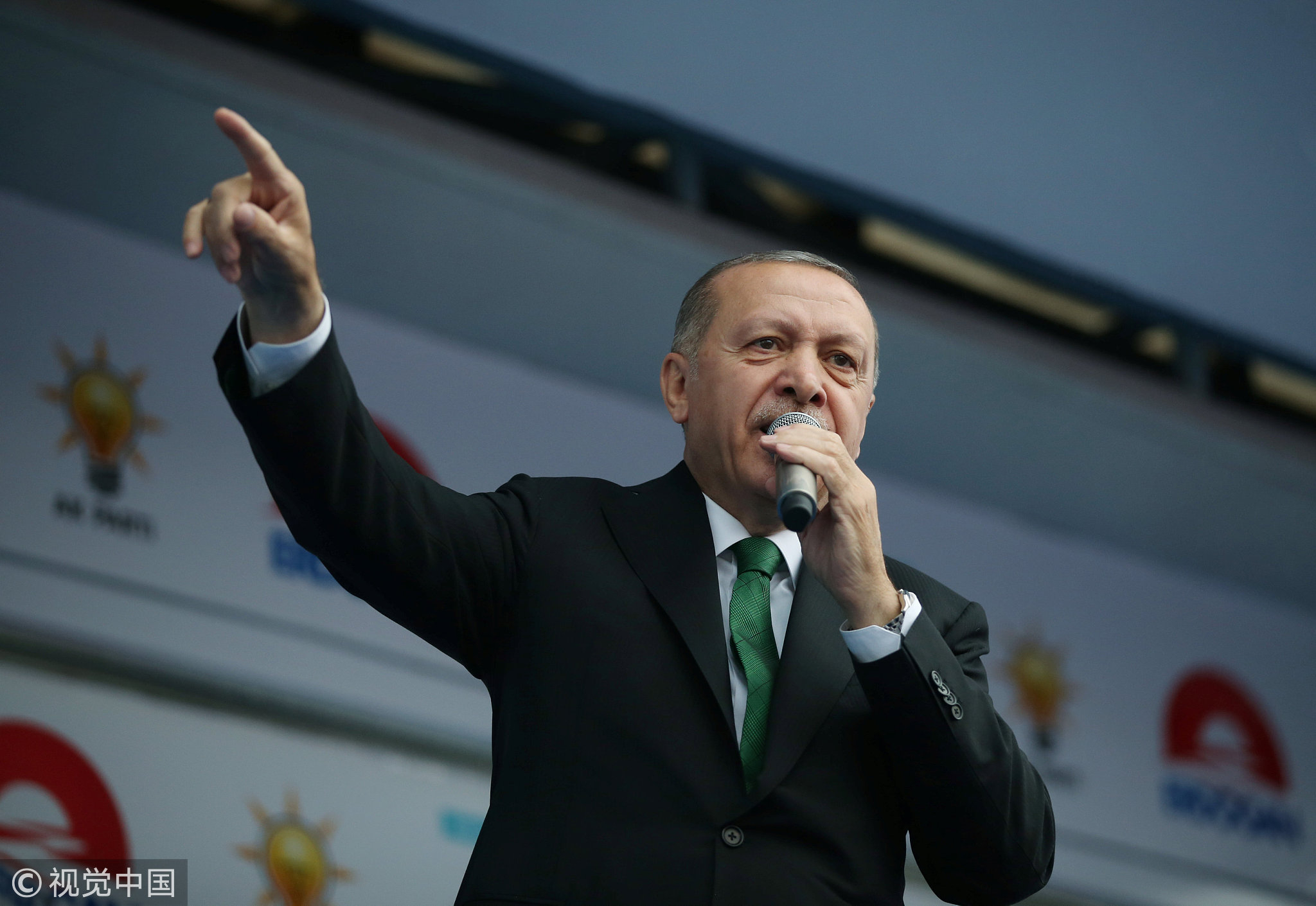 Turkish President Tayyip Erdogan speaks during an election rally in Malatya, Turkey, May 31, 2018. (Photos: VCG)
The upcoming election will be the first election for Turkey after its constitution was ratified by a controversial political referendum last year.
Against this backdrop, Erdogan called for a public rally in Istanbul to support the Palestinians on the first Friday of Ramadan with harsh criticisms against Israel and the United States.
The last crisis between Turkey and Israel occurred in 2010 after the IDF navy intercepted a Turkish flotilla loaded with humanitarian goods to Gaza Strip, and several Turkish crew members were killed and injured by Israeli soldiers.
In the Israeli "Operation Protective Edge" against Hamas in Gaza Strip, Turkey called Israel "murderer" for the killing of innocent Palestinians, and Israel also views the growing presence of the Hamas structure hosted in Turkey by the AKP as a potential threat to its own security.
Although the relation between Turkey and Israel is very sensitive, the interdependence between the two states is also apparent. Israel imported large amounts of oil from Kurdish Regional Government of Iraq, and the oil comes by tankers to Israel through the Turkish port of Ceyhan.
Turkish trucks arriving on ships docking in the Haifa port use Israeli highways to transport goods to Jordan and from there eastward.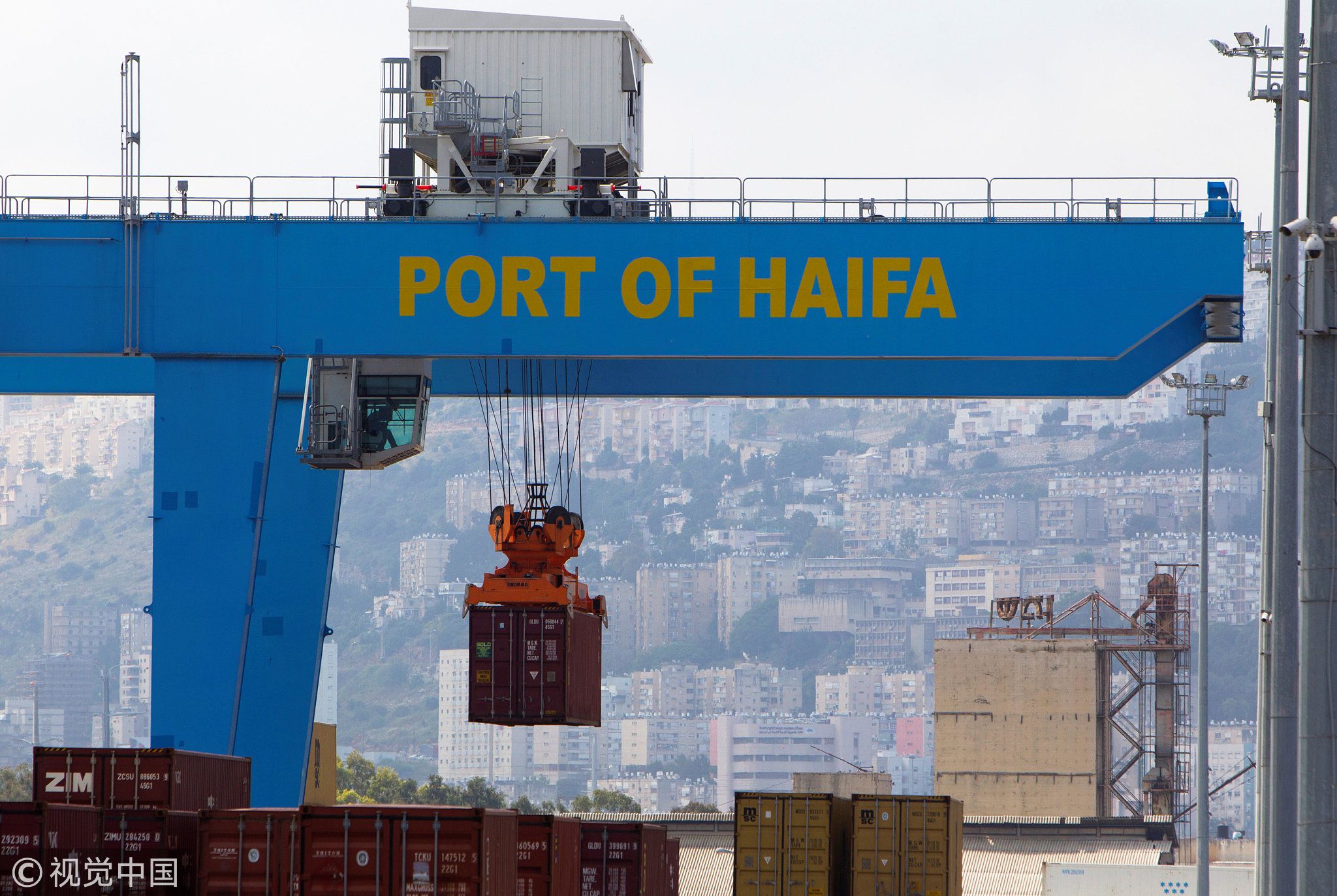 A crane unloads a container at the port of the northern city of Haifa, April 23, 2013.
Meanwhile, many Israelis choose Turkey as a tourism destination, while many Turkish tourists visit Jerusalem, especially the al-Aqsa mosque, for pilgrimage.
Although Turkey is Israel's persistent opponent, especially over the status of Jerusalem and Israel-Hamas relations, we should not forget that Turkey also needs Israel's friendship in several regional crises.
In Eastern Mediterranean gas field exploration, Israel, Greece, Egypt and Cyrus stand firmly with each other, while Turkey and Northern Cyprus are isolated. The regional isolation of Turkey and Northern Cyprus makes the settlement of the Cyprus problem more difficult.
Meanwhile, Israeli media's efforts to recognize the Armenian genocide committed by Turkey in World War I, to support the Kurds in southern Turkey, and to criticize Turkey's role in protecting Islamic extremists and terrorists in northern Syria, especially Idlib province, all demean Turkey's international image.
The recent crisis between Turkey and Israel is not new. However, given the interdependence between Turkey and Israel, both states need to, or have to, repair their relations in the future.
Top image: CGTN