Law can make waste sorting drive a success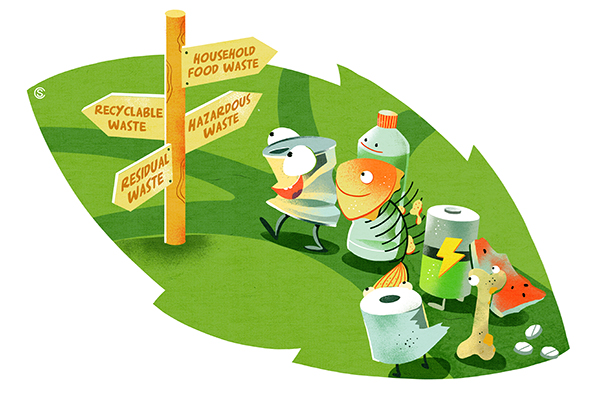 (File photo: VCG)
Editor's Note: China is trying to accelerate the garbage sorting campaign nationwide. Shanghai, the first place to join the nationwide campaign, required all households and offices to start sorting their trash from July 1. Which household waste management rules are the hardest to implement and what measures should be taken in the next phase to make the campaign a success? Two experts share their views with China Daily's Yao Yuxin. Excerpts follow:
Raising public awareness vital to garbage sorting
To properly dispose of the garbage generated by more than 1.3 billion people whose standard of living has greatly improved over the past four decades, the State Council, China's Cabinet, on June 5 approved a draft resolution on sorting of solid waste and decided to propose it to the National People's Congress, the country's top legislature.
Shanghai took the lead in launching the campaign by making garbage sorting mandatory from July 1.
To emulate the success of comparable policies in countries such as Japan, China should enact laws and regulations to make garbage sorting a beneficiary cycle for all. But before working out policies and laws, the authorities should take into consideration the social and cultural differences between China and Japan, and therefore refrain from blindly copying the Japanese model.
The four waste categories in China-household food waste, recyclable waste, hazardous waste and other wastes-are clear enough for households to understand, which will help local governments to avoid unnecessary increase in the costs of transportation and labor.
In Japan, for example, despite garbage sorting, the rate of recycling was just 20.8 percent in 2012, lower than the 25.8 percent in the United States, the world's largest waste producer, according to Waste Atlas, a non-profit organization which maps waste worldwide. And most of the sorted waste in Japan still ends up in incinerators.
China began setting up test sites for garbage sorting in some cities such as Beijing and Shanghai in 2000, by placing in public places a set of two trash bins marked recyclable and nonrecyclable waste. But the move didn't yield the expected results.
The immediate priority therefore is to raise people's awareness of the importance of garbage sorting and urge them to sort waste by setting rules that household and office garbage must be disposed of in trash bins at a certain place and at a certain time.
As garbage sorting is closely related to public welfare and environmental protection, the onus is on the government to facilitate the entire process-from sorting, collection and transportation to recycling and disposal-and ensure that different departments cooperate to make waste recycling more efficient. Besides, making the success of garbage sorting a part of local governments' performance evaluation could produce better results.
Du Huanzheng, a professor of the United Nations Environment-Tongji Institute of Environment for Sustainable Development
Delivery firms should take steps to curb waste
China can learn from many countries' experiences, including that of Japan, to encourage people to separate waste at source by, for example, passing new legislation on waste management.
Japan has about 20 laws, of which seven were enacted during the past two decades, to reduce waste generation at source. Based on these laws, Japanese citizens sort garbage at home and enterprises in workplace.
Apart from legislation, the economic leverage to reduce garbage has proved effective in Japan. Japanese people have to bear the expense of disposing waste by purchasing garbage bags, and the quota control has prompted people to further reduce their household garbage because they will be fined for generating excess trash.
Besides, enterprises should be required to make more durable products so consumers can hold on to them for a longer period of time or sell their used commodities on second-hand trading platforms instead of throwing them away as waste.
Enterprises are also obliged to decrease the amount of waste and raise their reusable rates. And given the boom of the food delivery business and therefore the phenomenal increase in packaging materials in recent years, it is incumbent upon the platforms providing such services to devise ways to deal with the rising volume of delivery packages.
Technological innovation, too, can ease the pressure of garbage disposal. For example, since contamination of the water table is a big problem in China thanks to the huge number of landfills, improved incinerator technology with minimum emission could help better protect the environment and human health.
Yin Liangfu, a researcher with the Institute of Economics, Shanghai Academy of Social Sciences
The views don't necessarily represent those of China Daily.