Shanghai Spirit: No forced smiles for China-Iran trade relations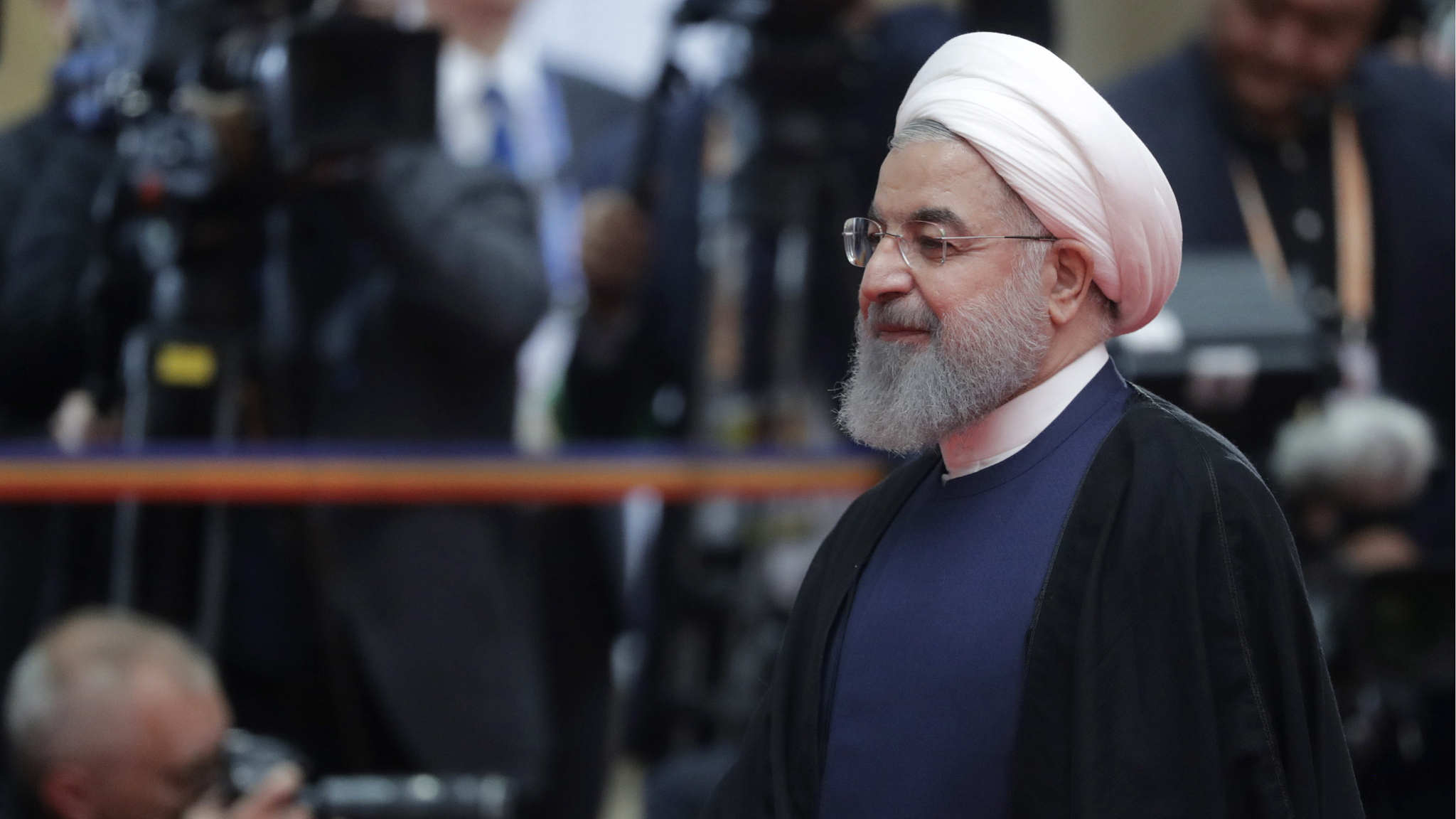 (Photo: CGTN)
At this year's Shanghai Cooperation Organization (SCO) Summit in Qingdao, China, moral courage and the like was not that rare.
Addressing the large-scale opening ceremony on Saturday, Chinese President Xi Jinping highlighted the Shanghai Spirit, calling for unity and harmony among member states.
Noting that Shandong is the home province of Confucius and the birthplace of Confucianism, President Xi Jinping said "Confucianism's emphasis on unity and harmony has much in common with the Shanghai Spirit," the backbone of the SCO, which refers to a set of values including mutual trust, mutual benefit, equality, consultation, respect for diversity of civilizations and pursuit of common development.
The president's comments came after Chinese Foreign Ministry Spokeswoman Hua Chunying said at a press conference earlier that Beijing has always objected to any imposition of unilateral sanctions against other nations based on domestic laws; China and Iran have always maintained their economic and trade ties; and they will continue such relations based on international rules and regulations.
She also said global powers must be the role models and pioneers for respecting international agreements.
This should be welcome news for Iranian President Hassan Rouhani who traveled to China following the US exit from the 2015 nuclear deal to participate at the 18th SCO Summit and to further discuss Iran's full membership.
Courage and clarity
It is said appearance blinds, whereas words reveal. It would be no exaggeration to say that the willingness of China to engage with Iran and its economic vulnerability in these tentative times determines the depth of Beijing's courage and the clarity of its purpose in foreign policy – the level to which the global industrial power employs pragmatism to protect itself within the confines of international law from being vulnerable to US President Donald Trump's bully-boy foreign policy tactics and blackmail.
On balance, like President Xi Jinping, all preceding Chinese leaders have, at crucial moments, made such courageous decisions for national and international interests.
Throughout China's history, at times of crisis and urgent need, it has been important for Chinese leaders to summon the moral courage to dismiss what are merely empty foreign threats and pressure – and the wisdom to do that for causes that later the international civil society will come to admire, i.e., lasting peace, shared security and common prosperity.
It is against this backdrop that Beijing has once again pledged to continue trade with Tehran and to "seriously" continue its cooperation with the European Union to safeguard the 2015 Iran nuclear deal, also known as the Joint Comprehensive Plan of Action (JCPOA) with "power and authority."
It is also against this promising backdrop that President Rouhani decided to travel to Qingdao to attend the 18th SCO Summit. He knows that there is still some good in this world, and it's worth fighting for.
Trust and confidence
It is true that Russia's role in implementing the nuclear deal has been "important and constructive." On Saturday, President Vladimir Putin, for his part, criticized the US unilateral and illegal move to pull out of the agreement and said Russia will continue to hold talks with the other sides to support the nuclear accord.
He also stressed the importance of Tehran-Moscow consultations to promote regional stability, and maintained the two sides will continue cooperation on regional issues, particularly the settlement of the crisis in Syria. During the summit, President Putin even threw Russia's weight behind Iran's full membership in the SCO.
However, it is equally true that when it comes to protecting international trade relations and witnessing reliable partners throw practical support behind Iran in the face of US threats and sanctions, China has always reigned supreme.
Whatever the truth is, there were no forced smiles on the faces of Iranian and Chinese leaders and officials as they exchanged words with each other to that end on the grounds of the SCO Summit. If you felt good about it, it is because there is no institutional decay in the SCO.
Perhaps we should also remember the statements made by President Xi Jinping who welcomed Iran's full membership in another historical moment in the summit that many of us will surely remember.
As is, the position by the Chinese president means everything as there is meaningful discourse on his policy, as well as trust and confidence, a great leader who is accountable to his people and to international law – unlike President Trump who seeks new thrills and who has no interest in the rights and concerns of any other nation other than a tiny handful of wealthy patrons on Capitol Hill.
Measured response
Considering the amount of anti-Iran disinformation that comes out of the Trump White House and the abuse of top-secret and classified status, there is no reason to believe that Beijing will change course after the summit, or that it will limit its trade and economic relations with Iran in the face of US threats.
One thing we can be sure of: China, a top buyer of Iranian crude oil, despises the rituals of a fake friendship as per the Shanghai Spirit. The Asian powerhouse is determined to ignore any illegal re-imposed US sanctions which could have a negligible effect on its buying attitude – unlike other Asian countries like Japan and South Korea who either will feel the most pressure from the unilateral American action, or like India will try to negotiate for wiggle room and exemptions.
With trade skirmishes between the US and China and all kinds of trade disputes and political issues between the US and the European Union, Beijing can and will keep its response measured as the world's second-largest economy.
Should the Trump administration decide to wield sanctions to punish companies that continue to do business with Iran, the Asian market in general, and the Chinese market in particular, will find ways to circumvent any sanctions as per the international laws, the UN Charter and the JCPOA, such as transferring supplies between floating storage, using barter trade, or not using US banks and dollar. The Chinese market will be resourceful anyhow.
Optimism, certainty and reason
What seems to be certain is that the decision to pull out of the Iran nuclear deal was the final nail in the coffin for American diplomatic legitimacy.
The US today is ignoring international law and the conventions of diplomacy to a degree unprecedented since the US was founded. In consequence, the US is in uncharted and dangerous waters, globally isolated and despised.
In contrast, China is seeking to strengthen mutual trust among the SCO member states through optimism, certainty and reason; promote effective cooperation in all spheres; make joint efforts to maintain and ensure peace, security and stability in the region; and move towards the establishment of a fair and balanced world order.
Quite the reverse, war-party Washington is planning for the division of fossil fuel resources in the Middle East, after the regime change, or after war – a policy that has been farmed out to for-profit organizations like the military-industrial complex that are not accountable.
Whatever tweets Trump may be sending out, we won't be seeing China declaring that the NPT-illegal sanctions (NPT-Treaty on the Non-Proliferation of Nuclear Weapons—by editor) by the US, which wears a mask that grins and lies, must stay in place until the impossible task of complete Iranian capitulation is accepted by the Trumpsters – an administration that has neither the international support nor the will to do such a thing. Any doubters should ask Chinese President Xi Jinping.