Will Trump's 'worst hour' become GOP nightmare in midterm elections?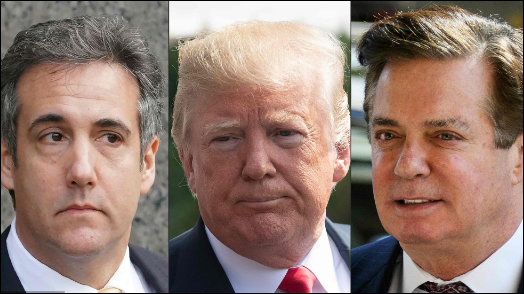 (Photo: VCG)
No one knows how President Trump felt when he was exhorting voters of West Virginia to back his Republican colleague in the mid-term elections hours after Paul Manafort was found guilty of eight financial crimes and Michael Cohen pleaded guilty to eight felony counts – including two violating federal campaign finance law.
Contrary to his "luck" at securing some economic achievements, though remaining controversial over his trade wars with the rest of the world, Trump's "worst hour" came, with bad luck this time, landing him a huge double blow that potentially leaves the president himself in legal jeopardy.
Details of the story revealed that Trump's long-time personal lawyer Michael Cohen had implicated Trump in a criminal conspiracy, during the 2016 campaign, to pay hush money to women who alleged affairs with Trump, an act violating campaign finance laws. Also, Trump's former campaign chairman, Paul Manafort, was convicted by a jury on tax- and bank-fraud charges.
"Beauty and beast" and "money and greed" are perhaps the best words describing the chaotic situation.
It is jaw-dropping, however, for many Americans, who cast their votes of trust to President Trump. Now it is an ordeal for voters to really make a choice, namely, to vote, or not to vote, for Trump-backed Republicans during the November mid-term election.
Still powerful as a sitting president, Trump does not seem to care much about how his constituents feel and think about the former campaign chairman's conviction and his ex-lawyer's plea. His first response was to draw a line between himself and the Manafort case, saying "doesn't involve me". He then chose to ignore the perilous Cohen guilty pleas by saying nothing.
Is he figuring out an art of the deal?
"I must tell you that Paul Manafort's a good man, Doesn't involve me, but I still feel, you know, it's a very sad thing that happened. " Trump said. "This has nothing to do with Russian collusion. . . . This is a witch hunt that ends in disgrace."
As in his tweets, there is a lack of logic in what he said. Referring to the two legal cases as "witch hunt that ends in disgrace" does not seem to be as a strong argument as it was during the investigation process.
The two cases are done "deals." He will have to understand the cards he has in his hands.
Legally, the president has the power to pardon federal crimes, according to the New York Times. Will he use his presidential privileges to revoke the two cases? Dangerous, as it can easily become a target of obstruction of justice.
On the "hush money" story, Trump needs to come up with a new story to convince people that the money and the women do not involve him and the payments were a crime for Mike Cohen only. Difficult, because of the Trump defense on Russian collusion is going to be his last bulwark, which now seems to be evaporating, with the allegations from Lanny Davis, Cohen's lawyer, that his client (Cohen) has knowledge that "would be of interest" to the special counsel.
If he is likely out of the frying pan, Trump would probably get into the fire. In the foreseeable future, he would have to focus on the dangers that are approaching him, such as impeachment, a likely scenario that Trump's opponents may want to take actions on.
Will he continue to go on the midterm elections campaign to support the Republican candidates? Will the drama as it has evolved today have damaging effects on Republican positions in the elections?
The answer is not a simple "yes" though.
Republicans are facing a dilemma in the Trump quandary. John Cornyn, the No. 2 Republican in the Senate, declared "People who do bad things, who break the law need to be held accountable." However, he wasted no time to clarify his statement wasn't aimed at Trump.
The Republicans' attitude toward the Trump-related cases is critical and they can't afford to remain indifferent about Cohen's revelations and continue to treat them like any of the previous Trump controversies.
The Democrats' leader in the House of Representatives, Nancy Pelosi, has denounced the "rampant corruption and criminality at the heart of Trump's inner circle." The pressure is piling up.
The ramifications of the outcomes of the congressional investigations and the future dynamics could extend to this fall's midterms and beyond.
More courtroom dramas will come, if unchecked, and new developments will change the political turf and tilt the scale between Republicans and Democrats. The worst hour might be the beginning of the GOP's nightmare.