The hidden anxieties of cashless transactions in China
People's Daily app
1510904374000
In China, the world's largest smartphone market, cashless transactions have thoroughly penetrated Chinese people's lives. Companies like Tencent and Alibaba are developing innovative ways to drive mobile commerce, and they're seeing significant growth. China's third-party cashless transactions market has continued its rapid expansion as they gain increasing popularity in the country. However, as cashless transactions rise, so too has the negative impact.

A Blow to Traditional Banking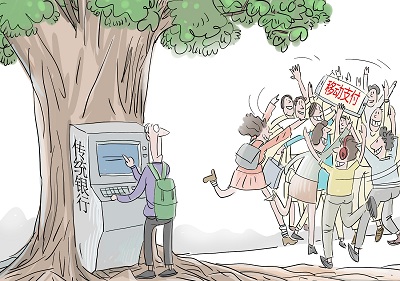 Photo: VCG
"Since last year, our bank has reduced its staff and closed some branches," said Zhang Jie, China Construction Bank employee, "because only a few clients conduct business at the counter. "
Due to the convenience of cashless transactions, more people use their mobile devices (usually mobile phones) to pay for goods and services. As a consequence, traditional banks have to lay off employees, in particular bank tellers, to deal with the drop in business. According to the semi-annual reports of major banks in China, by the end of 2016, the total number of employees of China's four largest banks, Industrial and Commercial Bank of China, China Construction Bank, Agricultural Bank of China and Bank of China, dropped by nearly 20,000.
Jack Ma Yun, founder of China's online trading empire Alibaba, claims that "If the bank doesn't change itself, we'll change it." Alipay has launched several financial products in recent years, such as Ant check later and MYbank, strongly shaking the foundation of traditional banks. People can make financial transactions like transferring money or getting a loan without going to banks. Consequently, mobile and cashless payment services of Alibaba and Tencent continue to eat into the market share of traditional banks. Faced with the change in Chinese consumers' banking habits, China's traditional banks are undergoing a period of transition and innovation.
Potential Threats to Users' Accounts and Information Security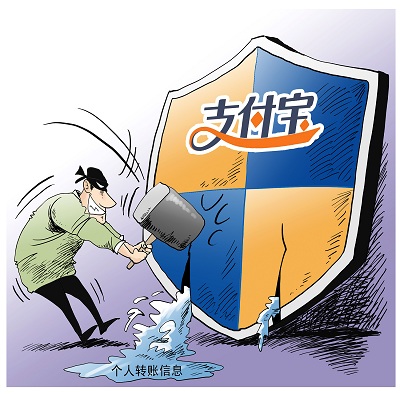 Photo: VCG
"Several days ago, I scanned a QR code to pay for the product I bought at a small shop, but I didn't notice that I also downloaded an app of the shop when scanning the code. The result was that I have been receiving spam messages from that shop ever since. I'm really annoyed," college student Zhang Jian said.
Such an experience illustrates the risks involved in cashless and mobile transactions. Although they greatly improve the efficiency and convenience of transactions, security breaches have occurred more frequently in recent years, causing people to worry about the security of their own money and personal information.
According to the 2016 Mobile Payment Security Report released by China UnionPay, telecom fraud and the risks of cashless payments increased compared with 2015. The report also showed that SMS Trojan links and hacked verification codes may may have compromised cashless payments.
Cao Xiaoqing, deputy general manager of the China Financial Certification Center, thinks that security concerns will become one of the main obstacles to the development of cashless transactions in China, and the risks involved in the disclosure of personal information would trigger greater concern and caution.
Inconvenience For Older People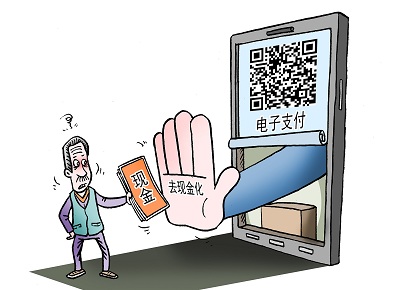 Photo: VCG
"I don't deposit money in my Wechat Change," a 71-year-old woman told us. "I'm afraid that someone will steal the money. It's also too difficult for me to learn how to pay online."

Mobile and cashless transactions have spread to every corner of society, but most older people remain unacquainted with its procedure, such as registering with online banks, binding bank cards, and scanning QR codes.
At the same time, they don't have the chance to learn about it from younger family members, because they are usually too busy with their work or studies. Furthermore, the older generation do not learn new things as quickly as young people do, so learning to use smartphones and other modern technologies itself is a great challenge for them.
Since China has a large population of senior citizens, it is necessary to consider their anxieties about mobile and cashless transactions, and make greater efforts to develop mobile and cashless transaction procedures that will reduce such inconvenience.